Joining Online Course Affiliate Programs is definitely a great way to help spread the word about learning new skills. When you promote these programs, you can help to change lives. Apart from helping others, you can also earn some extra income. So the key focus of this post shares 8 Online Course Affiliate Programs that you can join and earn commissions.
Do you know students who would like a prep boost for certain tests/exams? Or, would you like to help others achieve their career dream? Learning online allows these dreams to be a reality. Not having the "hustle and bustle" of traveling to campus for classes can be a relief.
Point is that you can learn anywhere and anytime you choose. Do you have a hobby that you would like to learn more about? Without a doubt, hobbies can make you money. Registering for an online course is one of the easiest ways to learn about a hobby these days. Look at the upward tick on Google Trends.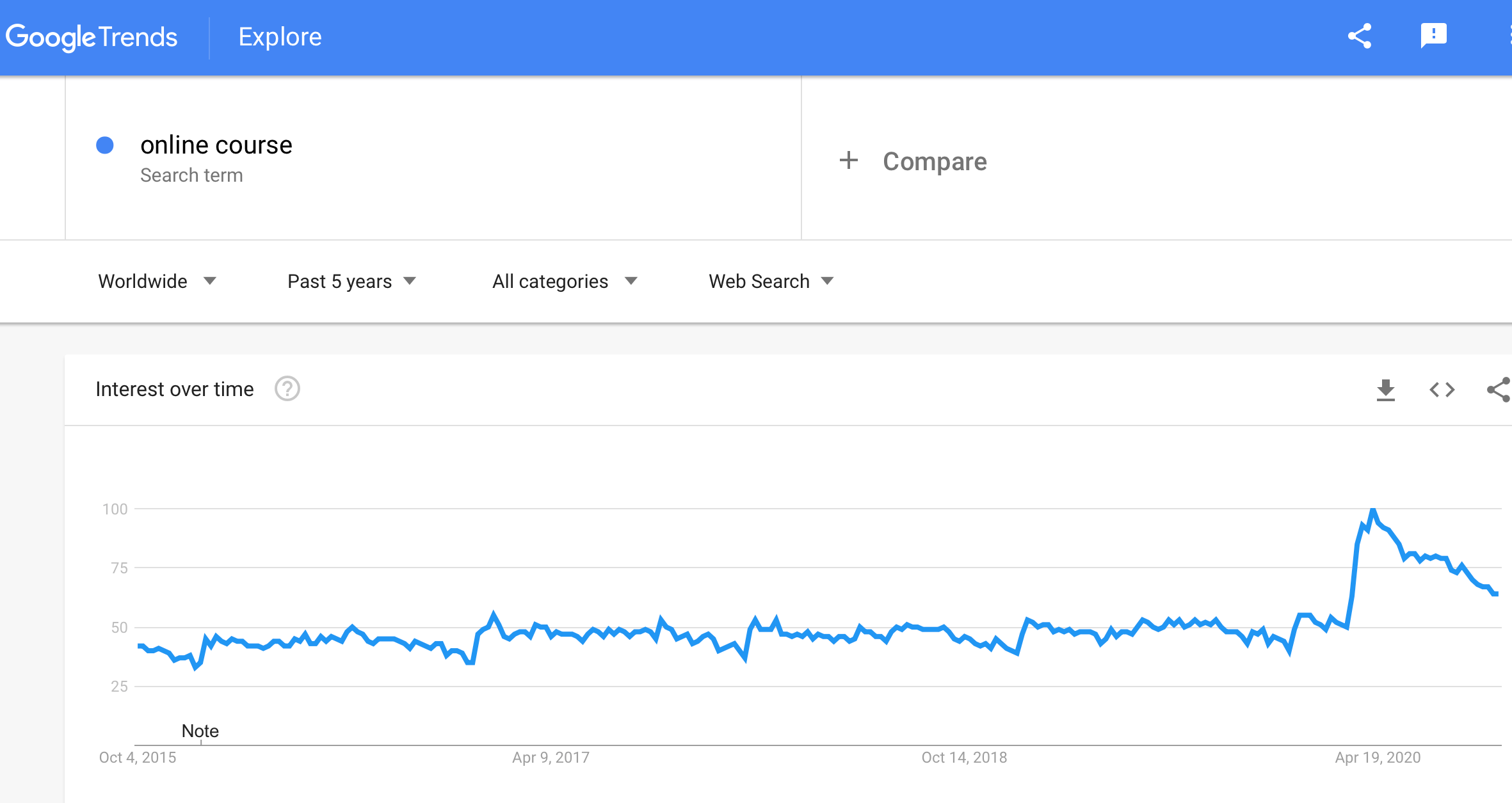 Author's Note: Let The Pros Show You How You Can Turn Your Hobby Into A Business.
"Yesterday is gone. Tomorrow has not yet come. We have only today. Let us begin." (Mother Theresa)
8 Online Course Affiliate Programs (Realistic Earning Potential)
First and foremost, you need to join an affiliate program. Any program you share will have its own specific links. Ideally, you can promote these courses on your website, through your app, your social media platforms, emails, videos or other means.
Upon the purchase of products from customers, you earn commissions. Depending on the company, the percentage commission differs. Therefore, it's best to look carefully at the program you want to promote.
RELATED: Top Online School Affiliate Programs
1. Simplilearn Affiliate Program
The Simplilearn Affiliate Program rewards you for directing customers to their website. Subsequently, they pay you a referral commission when those customers make a purchase.
By joining Simplilearn affiliate program, you can "earn up to $290 per transaction." Here are some reasons why you should join this affiliate program:
Earn 10% commission, up to $290 per purchase
Long 30-day tracking cookie
Live classroom model to cater to a wide variety of audiences
For relevant Simplilearn courses, you can do a free trial, so you can see the high quality training that they offer.
Including among the courses are: Cloud Computing, Machine Learning, Project Management, Cyber Security, Digital Marketing, just naming a few.
Today, more than a million people have new skills and certification through Simplilearn courses. And the recognition of their training courses falls among the top providers on a global scale. Plus they have over 40 accreditation worldwide. Offering more than 400 courses, many people are able to accomplish their career dream.
How To Join Simplilearn
"In order to become a Simplilearn Affiliate, all you need to do is to register on Impact Radius or Commission Junction. Then, you search for 'Simplilearn' and send a request to join their affiliate program. After they approve your request, you can start promoting the unique links.
Finding and using various promotional tools on your website/blog may increase your sales. Promotional tools include banners, coupons, and text links. Writing product reviews and sharing them on your website/blog are also great. Additionally, you can also get "complete email assistance with regard to your promotions."
Rest assured that their banners are available in many sizes and they test them for conversion. Having customized links for all the promotions, they will track your sales. When any customer, that you refer makes a purchase, your payment goes through Impact Radius or Commission Junction. Payment is "every month for the previous month's sales."
In case you don't have an interest in online courses, you can learn more about the Best Alcohol Affiliate Program. Closely related is this post about the Best Wine Affiliate Program.
2. Edureka
Want to help people decide their next career step? Another engaging learning platform that you can promote is Edureka. A partnership with Edureka means that you can earn generous payments. Commission rewards can reach up to "15% of the sale value for valid purchases through your affiliate tracking links and banners."
Obviously, there is no shortage of promotional assets and tools to help you drive sales. Choosing from hundreds of banners, you can select course-specific links, site-wide links, custom links, or creatives.
Partnering with the LinkShare (now Rakuten) network, you can join Edureka's affiliate program. It's fast and easy. Most applications are reviewed within 1-3 business days. After you join, you will be given a unique referral link to embed on your website.
Typically, you can "place links on your blog/website where visitors are more likely to pay attention. Generally, the sidebar areas (left or right) are great for placement. Maybe, you can place banners above or below the top navigation bar. Below each "blog post snippet" is an ideal area to place them as well.
Payment to affiliates is on a monthly basis. The minimum cheque payment is $25. Less than that amount will have a carryover "until you reach $25 at the relevant monthly payout date."
Over 100 Courses And Specializations
Every course or specialization that a learner purchases will earn you a commission. Clicking on any of your promotional links, within the 30-day cookie duration may also bring in some sales. Over 100 courses and specializations are available to promote.
To realize your career goal, there are several courses to choose from. Just to name a few, here are trending certification courses:
DevOps Certification Training Program
Big Data Hadoop Training Course
Tableau Training & Certification Course
Microsoft Power BI Training
On the other hand, there are also trending master courses:
Cloud Architect Masters Program
Business Intelligence Masters Program
Post Graduate Certification Program in Data Science
Full Stack Web Development Masters Program
3. Brain Sensei Inc. Affiliate Program
Creating eLearning courses in a storytelling format, project managers can prepare for their "Project Management Certification." Or their Certified Associate in Project Management exam. Indeed, this is in a fun and interactive way. Mimicking real projects make learning highly effective. Particularly, people can "learn real life concepts" that will serve their career.
Improving the lives of many project managers can be a reality just by learning with Brain Sensei. Really, it is engaging and very enjoyable. Primarily, there are "9 interactive story-based eLearning modules." Plus, "4 practice exams with 800 practice questions." Interestingly, there are workers at some top companies like Apple, Microsoft, Disney, and Uber who receive their certification from Brain Sensei.
Unlike any other online course, the content is never boring. Moreover, it's easy for learners to absorb. Needless to say, they can study at their own pace. Compared to other programs, a 25% commission and a cookie duration of 60 days are quite high. Powered by two affiliate networks: LinkConnector and ShareASale, you can sign up and join Brain Sensei affiliate program.
Popular Posts 

Best Rated Wine Clubs
How To Do Wine Tasting At Home Virtually (And Earn From It)
4. EdX Affiliate Program
To apply for edX affiliate program, you'll need to have an account with awin.com. Thereafter, you can apply to the edX program. Important to realize that: "There is a small $5 activation fee associated with registering for an Awin.com account, but this is refunded in your first payment." (source: edx.org)
Shortly after you sign up, they will review your application. Approval takes 2-3 business days. Getting approval means that you can promote more than 2,000 edX courses and programs. Founding partners of EdX are Harvard and MIT, two top colleges. Throughout the world, anyone can learn anytime.
Based on valid purchases your starting commission rates are 5% for voucher/coupon/discount sites. All other affiliates earn a 10% commission. The duration of their cookie lasts for 60 days. That is to say, you get credit for any valid purchases made within that time of the initial referral.
EdX Is A Non-profit
One noticeable point to keep in mind is that EdX is a non-profit. Still, it brings the "best of higher education" to millions of people worldwide. Students can find "interactive online classes" in several subjects:
Law
History
Science
Physics
Engineering
Business
Social sciences
Computer science
Public health
Artificial intelligence (AI)
5. Pearson IT Certification Affiliate Program
Ever think about joining Pearson IT Certification? Specifically, Pearson "develops innovative study materials to help exam candidates." Teaming up with Pearson IT Certification allows you to earn extra income.
Using your website/blog, email marketing, or social media platforms, you can link from your website/blog to theirs. Referring customers who make purchases brings in 8% commissions and carries a cookie duration of 30 days.
Providing proven learning tools and educational training materials, Pearson has a track record of helping instructors and students. By the same token, they also help candidates succeed with their certification exam.
Those who can apply for this affiliate program are:
Pearson IT Certification authors
Partners
Community groups
LinkShare network members
If you would like to join their affiliate program, you'll need to register with the LinkShare (now Rakuten) network. Following that, you can apply to Pearson Education and copy the links to publish on your website/blog. Email newsletters, and social media platforms. Choosing high conversion marketing banners, and buttons, you can promote the products. Don't forget about using the text links too.
6. Teachable
Featuring a user-friendly website builder, Teachable offers advanced tools that you can customize and create your own online course. Literally, people can create interactive lessons within minutes and sell their courses. Not to mention that they can earn a lot of money. Albeit, the Teachable platform is well optimized, even for mobile.
Managing their own affiliate program, they offer affiliates 30% commissions with a 90-day cookie duration. Certainly, this is one of the highest commissions in the Online Course Affiliate Programs.
Realistically, you could "earn hundreds off a single email" because of the recurring commissions every month. Sending traffic to Teachable website just once can turn out to be a commission earner for quite a long time. As long as that person remains a customer for sure.
Granted that you use their conversion funnels, you can drive more people to make purchases. Can you reach an audience of course creators? Mainly, for individual courses, you'll need to connect with each one to promote each course.
7. Skillshare
"Skillshare is an online learning community where you can explore thousands of classes in design, photography, business, naming a few. New customers can get started with a free trial to get unlimited access to the entire catalog with a Premium Membership. All trial sign ups will count towards your referral payouts." (source: skillshare.com)
Typically, you can access Skillshare's entire catalog if you are an affiliate. Sharing any Skillshare link through your social media platforms, on your website/blog, emails, or however you choose.
Key point is that you can earn commissions for sharing "unique creative content." Every time you refer a new customer to Skillshare, you can earn "$7 for each new customer that signs up for a Premium Membership or free trial."
Creating a custom account through the Impact affiliate network, you can track your referrals at all times. Referrals have a 30-day cookie duration to use your link for signing up. Either as a premium member or for the free trial.
Tons Of Online Classes Available
Out of 30,000+ online classes and video lessons, you'll find more than enough to find and share with your audience. Showcasing over 60,000 student projects, you can also promote the creative work from Skillshare students.
Chiefly, you can share new classes and unique content from Skillshare each week. Added to that, you can also promote exclusive offers whereby you can share special promotions every month. Categories to share for online courses include:
Online Animation Classes
Film & Video Classes
Fine Art Classes
Photography
Web Development Classes
Leadership & Management Classes
Watching this short video will give more information about joining as an affiliate.
8. LinkedIn Learning
For individuals or groups, LinkedIn Learning offers an affiliate program that you can join via Impact Radius. Basically, filling out the form is quick and easy. Nevertheless, approval may not be immediate. After you complete and submit your application, their "affiliate team will review your submission and reach out to you with further information."
As an affiliate you can earn "up to $40 per monthly subscription or 35% of the sale from a standalone (individual course) purchase." Although the tracking cookie lasts for 30 days, the commission percentage may change depending on international orders.
Providing you access to banners, text links, and free trials, you can share hundreds of LinkedIn courses. Right now, there are over 15,000 courses, plus dozens more come on stream each week.
Courses for business, for higher education, or for the government are typically what you'll find. Usually, instruction for each course takes in real-life experiences which makes it easier for learners.
Concluding Thoughts
Overall, these Online Courses Affiliate Programs can definitely open up ideas to create your own affiliate website. What's more? Step by step, you can learn how to create your own online business with this training. Probably this can be your beginning to earn affiliate income. Be assured that many possibilities are there to earn.
Hope you are happy with your experience at theworkathomebusiness.com. If you have any questions, concerns or suggestions please let us know. Feel free to share this page or leave a comment.
Carol
theworkathomebusiness.com
P. S. Sign Up For My #1 Recommended Training Course And Learn How To Start Your Online Business For FREE.
"A year from now you may wish you had started today." (Karen Lamb)
P. P. S. Join in the first 7 days and Claim Your 59% Bonus.