When you join Home Security Systems Affiliate Programs, you can promote various products that can help home-owners secure their property. From cameras and video recording to smart door locks, alarms, and security lighting, there are several products to promote.
Joining Home Security Systems Affiliate Programs can no doubt be an income booster. As long as you make sales for sure. Evidence shows that in the United States for example people are willing to safeguard their property with one of these systems.
Considering that so many companies have various products on the market, it's good to know which ones have the top home security systems. Certainly, this can make it easier to decide which company to join.
Let me hasten to say that when you apply to join a company's affiliate program, approval may not be automatic. Most likely, the company will review your website to see if you can really send traffic to their business. Ultimately, some sales of course.
Writer's Note: Think you may want to start your own affiliate website with this idea? The pros can show you how when you Click This Link.
"A year from now you may wish you had started today." (Karen Lamb)
Best Home Security Systems Affiliate Programs (Earn Money With These)
Before home-owners install a security system, there are some things that they usually consider. Like whether they want to get wireless or stick to a traditional method. Or consider getting 24/7 monitoring. Will they get motion detection for just specific parts of the house?
Then, there is the cost. How much does it cost to install a security system and can I afford it? Should I get a DIY package? Point is that there is much "food for thought" here. Based on the fact that there is so much you can do with this topic, it's a great idea to create an affiliate website.
Even if you just focus on the smart home system, you can still appeal to a wide audience. Looking at the uptick on Google Trends is an indication that you can build your own online business with this idea.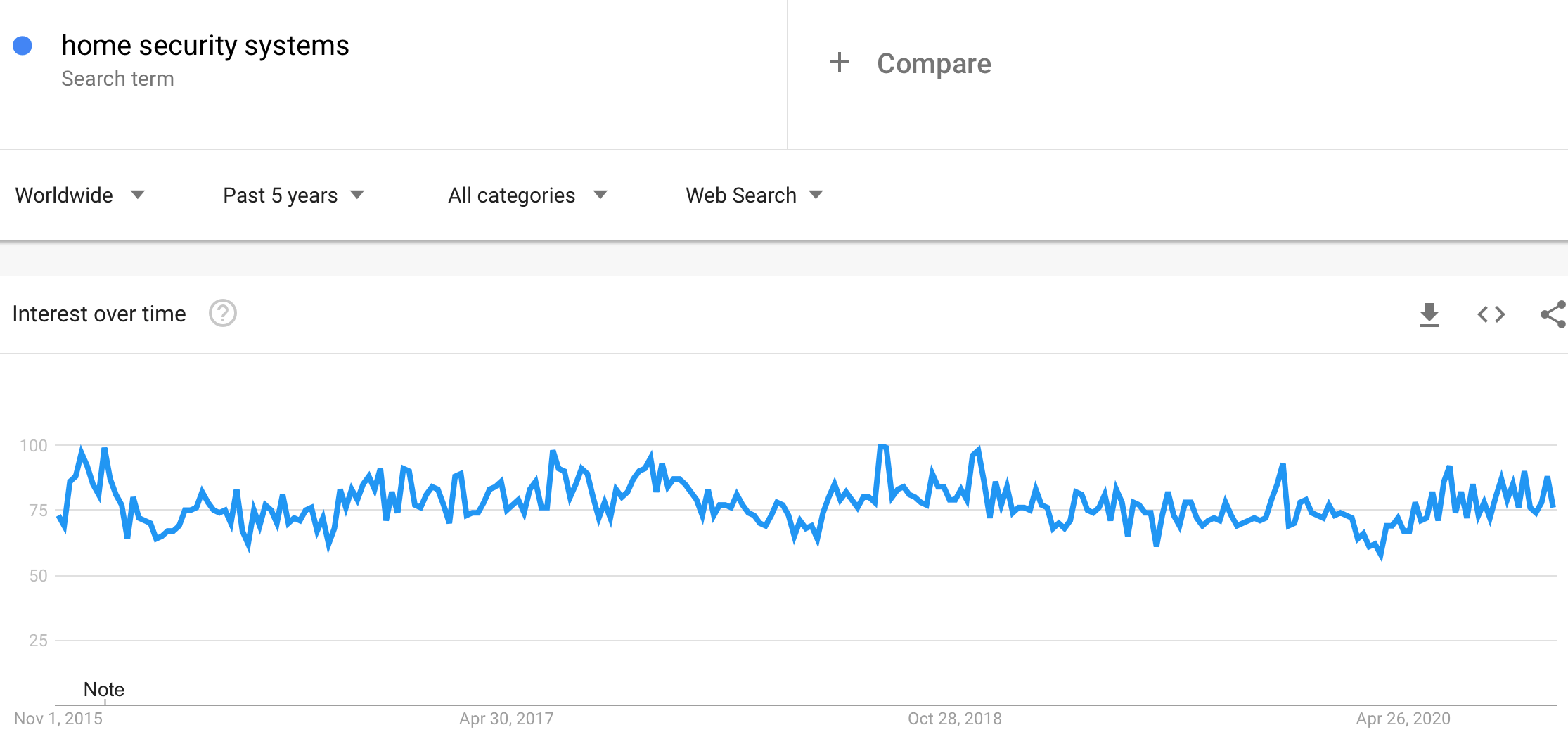 1. Brinks Home Security
One of the most popular home security providers is Brinks. No wonder the company ranks #1 in customer satisfaction for "pro-installed home security systems by J.D Power." Read more about the company here.
Offering effective solutions with a quick alarm response 24/7 is a top priority indeed. That's how reliable their home security solution is. Making it simple and affordable, it's a service that home-owners can trust. Watch this short video about how to install the Brinks home complete system.
How would you like to earn $200 in commissions per lead with a 30-day cookie?? All around North America (United States and Canada), plus Puerto Rico the company has more than a million subscribers. Can you see how far-reaching the target audience is?
Having a strong reputation, Brinks is no doubt one of the best companies to consider promoting. Assuredly, consumers have various package options, Plus, there is a 30-day guarantee policy.
To join their affiliate program, you can sign up with Pepperjam. Once the approval is given, you'll have access to their banners, text links, and other tools for your website.
2. Guardline Security
Primarily, Guardline Security deals with "wireless outdoor motion detector." Being highly successful, the company manufactures two versions: an original range and a long range.
According to the company, their original range is the "most reliable outdoor motion sensor in America. Reaching a realistic range of 500 feet, this wireless driveway alarm passes the test in even extreme conditions.
Because of the easy installation method, customers can have this device up and running within 30 minutes or so. Easy customization is also available as consumers can expand the device to 16 sensors. Essentially, this is to detect any motion in other areas around your property.
Similarly, customers can add extra receivers to get alerts throughout the home. Best of all, there are no contracts. Neither is there the need for Wi-Fi service or phone connection.
Ranks Best Seller
With a 4.5 star rating out of 5 stars, this 500 feet wireless driveway alarm is is the "#1 best-selling outdoor motion detector on Amazon." Although the set includes only one sensor and one receiver, many customers order additional ones.
Generally, the average total order value is $180. Affiliates payout is 25% commissions whenever they bring sales to the company. Earnings on average is $45 per sale. Cookie duration is 30 days.
The target audience includes: "DIY'er's, people who own property with land, survivalists, prepper community, and anyone who cares about security for their home/business/property."
3. Armor Concepts
Chiefly, the company provides products that "stop burglaries and home invasions." Unlike alarm systems, the design of their product is to keep intruders out.
Particularly, Armor Concepts offers "effective door security, door repair and personal security solutions." Helping to make more than 400,000 doors secure so far, and still counting. Most popular among their products is a "patented door security device." Designed specifically to reinforce existing doors, consumers find this very helpful.
Accordingly, your target audience as an affiliate would be "homeowners, apartment owners, investors and others looking to stop burglaries, vandalism and home invasion." Anyone who really cares about the family, their friends and their community can sign up for the Armor Concepts affiliate program.
Powered by ShareASale, you can put in a request to join their program. Upon approval, you'll get access to tracking links, marketing tools and reports. Choosing from banner ads and text links, you can place them on your website, in emails or on your social media platforms.
Together with a 10% – 15% commission, you can earn an additional 5% on each sale within 60 days of joining. A higher commission payout is given when you generate higher levels of sales. On average, the order value is $190. The long cookie duration of 120 days is a great incentive.
Tested And Tried
Being tested by police, consumers have that added assurance of security. Installation is quite easy and it can be a DIY for anyone who wants to protect their property. Using a drill, installation can take about 30 minutes. And there is no need to remove the door.
Apart from the company's website, their products are also available from popular stores like Lowe's, Menard's, The Home Depot PRO, and others across the US and Canada."
4. SkyBell
Ever wonder who is at your door? Providing full performance, SkyBell is a home security doorbell. Allowing you to "see, hear, and speak to the visitor at your door," this design has a video camera. Right from your smartphone, SkyBell makes "home security" easy and affordable.
Whether you are at "home, at work, or on the go," rest assured that you can see who is at your door. Obtaining an award for its design, the clear purpose of this product is to replace most wall mounted doorbells.
Given that SkyBell has a high demand, why not join their affiliate program? Incorporating a second manufacturer to help fulfill more orders is testament of their success in sales.
Through the ShareASale network, you can apply for approval to join their affiliate program. Given the approval to promote their product, you can earn a 12% commission on all the sales you send to them.
Besides, the average order value is about $220. Furthermore, the average conversion rate is 4%. Moreover, they have a generous cookie duration of 90 days.
5. Reolink
Selling high-quality smart security solutions, Reolink specializes in smart security systems. At competitive prices, they provide innovative smart-home products and high end "security solutions." Globally, the company has more than 2 million users.
Delivering "reliable and budget-friendly security camera systems, both homes and businesses can use them. Cameras are available for WiFi Connection, for indoors and outdoors. Noticeably, there is a 100% wire-free battery-powered camera, or solar-powered WiFi security camera.
Notably, the commission rates for affiliates range from 6% – 20%. Along with that, there is a cookie duration of 45 days. Having a "4-tier commission system," affiliates payout depends on their sales volume.
Signing up with ShareASale you can apply for approval to be a part of their affiliate program. Thereafter, you can get creatives and coupons to promote on your website.
6. Blink Home Video Security
First of all, Blink sells video home security and monitoring systems that run mainly on batteries. Delivering "instant home insight through the Blink app," these are perfect for tenants and home-owners.
Immediately after installing, you can be up and running as long as you have the app on your "iOS or Android device." Such "wireless design houses innovative HD video technology, plus motion and temperature sensors."
Powering their affiliate program is FlexOffers.com. After all, their product is "one-of-a-kind." Thereupon, you can sign up and start promoting. Notably, you can earn a 7% commission with a cookie duration of 45 days.
7. LOREX Technology
Known for their high quality products, Lorex Technology is always having some price package offers, some coupons, and some close-out offers. Hence, their affiliate program is ideal for coupon and deal affiliates.
"LOREX Technology is the premier manufacturer of business and consumer video surveillance security solutions. Manufacturing wired, wireless and Internet Protocol (IP) security surveillance equipment, including cameras, digital video recorders and all-in-one systems."
Following the approval to join their affiliate program, you will be able to place text links, "individual product links, and banners" on your website. Conversant, (also known as Commission Junction: CJ) is their preferred affiliate platform.
Soon after visitors click on the unique links, the company's "internal tracking system" tracks them throughout the browsing. Thereon, the system records any purchases. Even during the 30-day cookie? duration. Affiliates receive 5% – 10% commission on any of those purchases.
Payments are monthly once you make $25 or more. Provided that you reach the specified amount, the company will contact you to make the payment. Ideally, it's a good idea to have your contact details on your website.
8. Revo America
Manufacturing "security cameras and security systems in United States," Revo America produces surveillance systems with smart features. Markedly, the company has been doing well with retail and online sales for the last 9 years.
Wanting to expand their audience, Revo America is ready to pay out commissions to affiliates who want to promote their products. Why not get in on this opportunity and apply through ShareASale? Coupled with a 5% commission and a 60-day cookie duration, you can earn from your sales.
Almost entirely, their average order value falls between $500 – $600. Imagine just how much your commissions can add up with such great numbers.
9. Smarthome
Providing easy-to-use and affordable products, "Smarthome is one of the world's largest home automation retailers. Carrying about 14,000 products, they are like a "one-stop source" for convenient items.
Among the many products are "smart lighting control, smart thermostats, smart home security, wireless cameras, doorbell cameras, door locks," just naming a few.
Those who like to "do it yourself" installations can easily install anyone. Always striving to deliver new, cutting-edge products, customers can expect to get the best possible prices.
Now, their affiliate program is powered by Impact, so you can sign up with that affiliate network. Commission on your sales is 4% and the life of the cookie is 30 days.
10. SANNCE
Another company with top brand products in the security monitoring market is SANNCE. Ranging from video recording systems to smart doorbells, the company has a commitment to provide "easy and user-friendly video security and smart security solutions to all customers."
Throughout the world, customers receive SANNCE products quite well. Countries include the "United States, the United Kingdom, Australia." Several online retailers, including Amazon, Ebay, Walmart, Newegg among others also carry their products.
Again, ShareASale is the preferred affiliate network, so you can put in a request to join. Whenever you get others to make purchases, your sale commission is 3.50 %. The lead commission is $3.00 per affiliate referral. Significantly, the tracking cookie lasts for 60 days after the initial click-through.
Create Your Own Affiliate Website
Discovering these 10 Best Home Security Systems can definitely help with website ideas. Really, do you want to start your own online business? Granted that you have an interest in this idea, you sure have a great target audience.
Totally, you can just focus on Top Home Security Systems which is a cool niche idea indeed. Maybe, you can focus on video surveillance systems with no ongoing costs.
Probably, you can think about smart door systems: Like smart garage doors, smart doorbells, smart locks, smart door sensors, key less door locks, just naming a few.
What about the DIY'er's? Seriously, none of these ideas require paying someone to do the installation. Point is that your website can focus on all of these. Unless you want to be more specific.
Ready to create your own affiliate website? Let The Pros Show You How. Learn For Free.
Boosting Your Income
Undoubtedly, the idea to create an affiliate website is just a drop in the bucket for all the possibilities that are in store. Hundreds of affiliate programs are available for you to promote products, and earn commissions.
Normally, people want to know more about the products that you are promoting. Henceforth, writing reviews about the products are quite useful for customers.
Need help to start? I use this affiliate training to learn how to create my websites. Would you like to start your own online business with this idea?
Concluding Thoughts
Overall, promoting Home Security Systems Affiliate Programs can no doubt help to boost your income. Remember, doing so usually require your own website, so Let's Create This. Likewise, your promotions can be through videos and your social media platforms.
Hope you are happy with your experience at theworkathomebusiness.com. If you have any questions, concerns or suggestions please let us know. Feel free to share this page or leave a comment.
Carol
theworkathomebusiness.com
P. S. Sign Up For My #1 Recommended Training Course And Learn How To Start Your Online Business For FREE.
"If you don't try, you forfeit the opportunity." (Frank Sonnenberg)