Why Do The Best Products Sell Online? First of all, these products are not perfect, but customers find them helpful. Are you a newbie seeking to know Why The Best Products Sell Online? Key focus of this post shares some points to help you understand Why The Best Products Sell Online.
Seeing that there are no perfect products, it can be quite pressing to find the ideal niche idea. Do you plan to create your own product to sell online? Watching this short video can help with more information on how to choose the best product idea for your online business.
Apart from checking to see what is selling online, it is a good idea to check Google Trends. Specifically, you'll see if your product idea is trending up or down.
Also, you can compare it with other ideas you may have in mind. In addition, there are "break out" ideas that you can also take in consideration.
Related: What is a Niche Marketing Website
Compare With Digital Marketing
Given the fact that digital marketing is such a big deal these days, you can also compare your product with it. Thereby, you can see how well it matches up. Once your idea shows a better looking graph, that's an indication that your product can do well.
Using a keyword research tool like this one can also help. Particularly, the results from this research tool will give an indication of how many people are using the same keywords, how much traffic it attracts and also the SEO. Assuredly, this information helps to make your choice easier.
In case you need help to choose a niche for your online business, Free Training is available here.
"Doing the best at this moment puts you in the best place for the next moment." (Oprah Winfrey)
Best Products Sell Online (20 Examples Plus Tips)
Bluetooth Earbuds
Chalk Paint (Companies that offer a chalk business opportunity is in this post).
Charcoal Soap
Digital products
Dryer Balls
Eco-friendly products
Educational courses
Hobbies and craft
Related Post: Can You Make Money With Craft Direct Sales Companies?
Men's Watches
Microfiber Towel
Organic Tea
Pillows and cushions
Protein Powder
Resistance Bands
Security Cameras and Home Security Systems
Teeth Whitening Kit
Waist Trainers
Yoga Mats
Helpful Hint: Finding the right suppliers can be quite challenging. But if you want to try out a drop shipping business, SaleHoo can help with that challenge. Read this post to see how this company can help you find great suppliers for these products. Unless you intend to create your own.
Based on my check on Google Trends at the point of writing this post, all of these products show an upward trend. Take for instance pillows and cushions.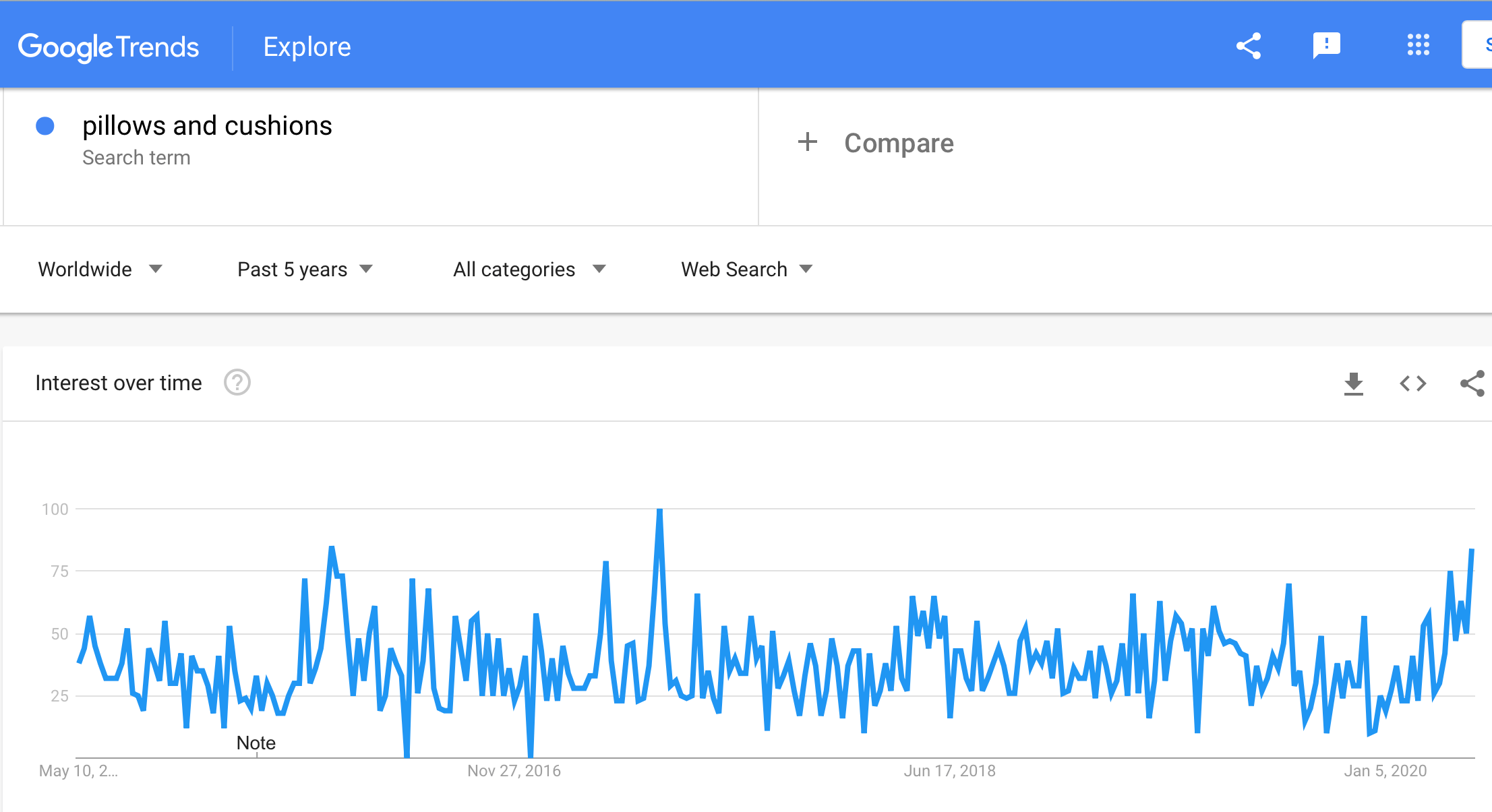 Related: How to Sell From Home
Thinking of Launching Your Own Product?
Ahead of your product creation, it is advisable to find out exactly what people would like to see in a particular product. Mainly, you need to get a feedback from them. Actually, these people may very well be your customers soon after you launch your new product.
Getting people's feedback is one of the best ways to find out the products or the services that they would like to use. Foremost, is providing a product or service to solve a problem. Knowing your customers and what they need allow you to help provide a solution to their problem.
When you can meet that specific need, it develops trust in what you have to offer. Seeing that you have direct information from your potential customers, you can now create a product or service that can help them.
Related: What is Alibaba for?
Amazon Product Ideas
Similarly, you can check out products on Amazon to get ideas. Especially, you can search for best-seller products that you have an interest in and read the reviews on them. Most important is that you want to make a note of what customers dislike and what they like about a product.
Equally important is that you are going to take the negative feedback and create a better product. That is to say, your intention is to improve on the weaknesses and make your own private label product. After making improvements, you can introduce the product with better features. Certainly, your product must be more helpful than similar ones.
"Tomorrow is too late. Yesterday is over. Now is exactly the right moment to start." (anonymous)
Launching Your Product
Once you figure out your niche, you can focus on a product to create. Not just any product, but one that can help people. Helping people is ideally the best way to go when you have a product to offer. As long as the product can help to solve a problem that people are facing, then it will most likely do well.
On the other hand, if the product doesn't help people, it won't sell much. No doubt, people will just return it and request a refund. Sure enough, you don't want that to happen.
Alternative to Launching Your Own Product
By the way, if you are not ready to launch your own product you can start with affiliate marketing. There are so many companies with great products that you can promote and earn commissions on the sales you make.
Don't know how to start an online business in affiliate marketing? Click This Link For Free Training. These guys are the pros. Throughout the step by step training, you get to create your online business at the same time.
Ideally, it is best if you have a niche idea in mind. Matter of fact, if you are not sure of what you want to sell, here are some posts with product ideas.
Best Smart Home System: Niche That Really Works
Men's Clothing Accessories (Trendy Niche Ideas)
Best Soccer Equipment Supplies (Highly Effective Niche )
Actionable Niche Idea: Best Kids Bedroom Furniture Sets
Cool Car Accessories Interior (High Potential Niche)
Life Changing Niche Idea: Best Stand Up Desk Workstation
Backup Generators Homes Use (Simple Solution Niche)
"The important thing is not being afraid to take a chance. Remember, the greatest failure is to not try. Once you find something you love to do, be the best at doing it." (Debbi Fields)
Reaching Out to Peoples' Needs
Obviously, there are different ways to get information from prospective customers. At the top of the list, there are different social media platforms through which you can ask questions and get comments. Likewise, the good 'ole' emails. Needless to say talking directly to family, friends and anyone in your field. Moreover, sending out surveys.
Whatever way you can reach out to people, you use that method to talk about their most challenging problem. Since a survey is one of the best methods to get a feedback from people, it's best to keep your questions to the point. In that way, you'll get the right response from people. Trying to reach up to 30 people and more would be great.
"When you find an idea that you just can't stop thinking about, that's probably a good one to pursue." (Josh James)
Keep Questions Simple
Another important point to note is that it is best to keep the questions simple. Basically, you just want to get insights on what people dream of to help them with a problem. For instance:
What is the biggest problem you would like a product/service to help you with?
Or what is the greatest pain that you would like a product or service to address?
How are you taking care of this need?
Do you have a challenge that you would like to crush? (name the challenge)
To what extent are you hurt by this challenge?
Is there a product/service/tool that you would like to see on the market? (name the product)
Questions About a Product
How do you use the product you are currently using?
Being that you do not have your product launch as yet, this question can help you to discover the problems from using a similar product. With this in mind, you can know what to focus on to improve the quality of the product.
Which is the most pressing concern you have about the product you are using?
Are there any problems that I can address with this product? (or what problems can I solve that this product isn't doing?)
Assuredly, this is one of the key questions you need to ask. Primarily, it will allow you to concentrate on how you can make a better product than your competitor.
Say what you dislike about the product?
Why isn't your need being met with the product you are using?
What ideas do you have to improve the product/service you are using?
Note: Although some questions I have here may overlap, l am just sharing the different ways you can form them. So the intention is not to have repeat questions on the survey.
"It's not about ideas. It's about making ideas happen." (Scott Belsky)
Make Use of Online Survey Templates
Quite noticeable, are several online surveys that you can use to collect feedback from potential customers. Within a few minutes, you can have a survey out. Here are a few that you can check:
Checking Viral Launch for instance can give you a pretty good idea of how well your product will sell on Amazon.
"Viral Launch Market Intelligence helps you find profitable products that you can source and sell on Amazon. See historical trends, monthly sales, monthly revenue, number of sales for the past 12 months, and much more."
(source: https://chrome.google.com)
Additionally, there is Qualaroo from which you can get an insight from prospective customers.
Furthermore, there is Question Pro with ready to use templates for your questions.
Then there is Survey Monkey which can also help you understand peoples' voice.
Bottom line is to make a connection with people and find out what they need or want. In this way you can provide a product that they expect to help them. Providing a great product may very well bring you repeat customers. That's the main purpose of having a good product anyway.
Create A Product That Brings Satisfaction
First and foremost, when you create a product you want it to satisfy customers. Hence, you want to see the solution that you propose "come to life" with lots of testing. Keep in mind that you also want your product to last for awhile. Albeit, not less than a month for sure. Failing that, you can lose customers. Three months seem to be the ideal.
Foremost in your mind is to make money of course. But you want your customers to feel good about your product. So keep offering them bonuses that are of benefit. In this way, you may have them as repeat customers.
"Get five or six of your smartest friends in a room and ask them to rate your idea." (Mark Pincus)
Make Sales With Unique Product Description
Literally, writing a well-thought-out and unique description for your product has a lot to do with sales. Remember, words are powerful. So use them to explain the features and uses of your product. Besides, there are the benefits which are most important to customers.
Of significance, is the fact that you want your description to be strong and compelling. Aside from that you want customers to make purchases. Additionally, your product keywords should be a part of the description. Naturally, this is a key factor for SEO.
Even though, you want to present a description that is "easy to read," it should include all the product information. Keep in mind that the more information you give customers, the more you may convince them to make a purchase.
Details can include the following:
Dimensions of the product
Weight of the item, plus shipping rate and return policy
Include both domestic and international shipping
Available color
Type of material
Concluding Thoughts
Overall, knowing why the Best Products Sell Online, can definitely set the pace for you to start your own business. Following the tips given here plus offering your product a bit cheaper can be a great starting point.
Hope you are happy with your experience at theworkathomebusiness.com. If you have any questions, concerns or suggestions please let us know. Feel free to share this page or leave a comment.
Carol
theworkathomebusiness.com
P. S. Sign Up For My #1 Recommended Training Course And Learn How To Start Your Online Business For FREE.
"If you don't try, you forfeit the opportunity." (Frank Sonnenberg)
"A year from now you may wish you had started today." (Karen Lamb)