Can You Make Money With The Pampered Chef Products Online? Selling Pampered Chef Products Online offers the opportunity to reach a wider audience. Along with a website and different social media platforms, you can certainly make money with these products.
Offering more than 500 gourmet kitchen tools: bakeware and cookware, consumers definitely have a wide selection. Needless to say, getting any of this kitchenware online can help make meal preparation easier.
Once you join the business as a salesperson, you will not just earn commissions. Additionally, you can enjoy some other perks like purchasing the products at a reduced cost. Also earning cash and vacation rewards.
Every month the company awards some lucky sales reps examples of their one-of-a-kind gear with their logo on it. How cool is that?
Look at the upward tick on Google Trends.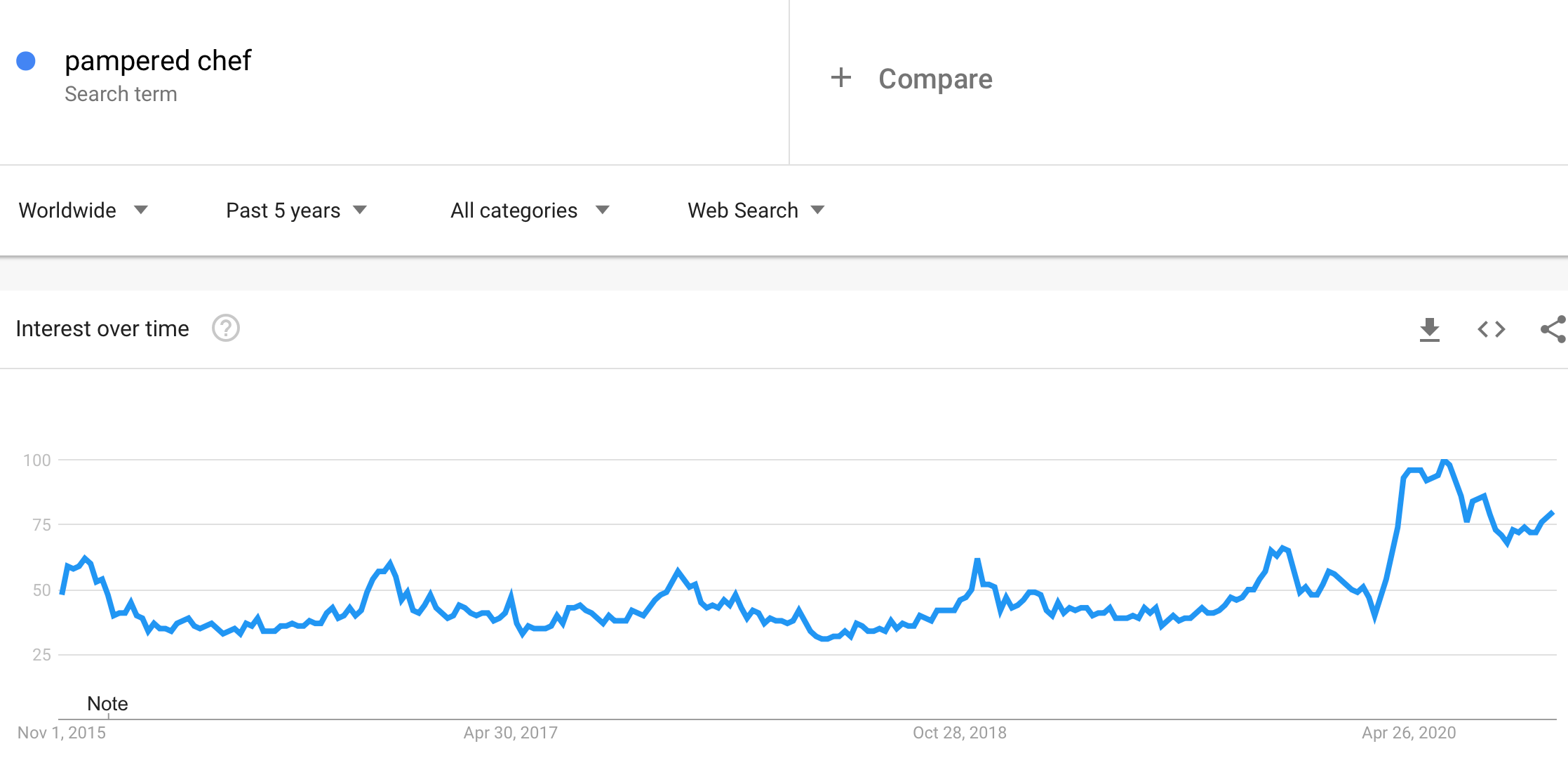 Going virtual is similar to the in-house party. Basically, you "share products, recipes, and tips." Usually, the party takes place on Facebook. Essentially, you can add your own variation with time and products. A one-hour party or maybe shorter depending on how much time you want to put into it.
Related: Can You Really Make Money With Tupperware Sales Online
Can You Make Money With The Pampered Chef Products Online? (Review)
Given that the founder of Pampered Chef is a former home economics teacher, you have the assurance that a lot of thought is into the creation of these products. Seeing the need for quality kitchenware, the founder Doris Christopher focuses on just how highly functional they need to be.
Company: Pampered Chef
Headquarters: Includes 3 countries (United States, Germany, Canada)
Business Type: Direct Selling
Commissions: Starts at 20%
Founder: Doris Christopher
Products: Kitchenware
Cost For Kits
At the time of writing this post, the following are the cost for the Pampered Chef kits.
Ideally, this is for newbies who have an interest in cooking and want to try out the business.
Particularly, this is for anyone who would like great tools to prepare meals, especially preparing dinners for the family.
Ultimate: $229
Want to experiment with recipes? Obviously, this kit has most items that you'll need. Seemingly, it is the most popular selection and it may come with a pressure cooker, a deluxe air fryer, or any other great item.
Whichever kit you choose, the design is to give customers the Pampered Chef experience in the kitchen. So for instance, you may want them to know how great this Micro Cooker can help with the quick preparation of family meals. From steaming vegetables, poaching chicken, heating soup, and making side dishes. Quite simply, it does the job easily within minutes.
Very smartly designed, you can clearly see the indicators on the lid for when ingredients melt, and when liquids begin to boil. Anything you want to steam is super quick and easy.
Related: Can The Best Direct Sales Businesses Survive
Access To Tools
Immediately after you join as a consultant, you'll have access to the tools that are necessary to run your business from anywhere. Getting access means that you will have the following:
Notably, this is free for 90 days. Thereafter, you'll pay $120 per year. "To enjoy the perks of being a consultant, you'll want to submit at least $150 in personal sales every month."
This includes images to promote your business
To help get your business off the ground, the company provides training and resources to keep your business growing.
Rest assured that there is always someone to help you grow your business. Every step of the way, you'll have support from a helpful community.
Pampered Chef Products
Do you want to be a better cook? Or would you like to learn how to cook some of your favorite dishes? Without a doubt, there are Pampered Chef products that can help with these questions.
Apart from cookware and bakeware, there are other items such as a few listed below:
Chiefly, nutrient powders like pea protein, kale, and fiber can help to boost meals. Adding enrichables to any recipe help to enrich daily mealtimes. Watch this short video for a demonstration.
Kitchen tools (examples: cutlery, utensils, food prep)
Small appliances (examples: pressure cooker, ice cream maker, air fryer)
Grill pans and griddles
Storage
Specialty cutting tools
Replacement parts
Entertaining (examples: outdoors, barware, serve-ware)
Examples Of Products That Customers Love
Comparable to many other products, customers may receive a defective item. Based on that, you may come across a few negative reviews. Below are a few products that many customers love and you may want to consider them. Also, you may just want to focus on items Amazon consumers need and wish for.
Food Chopper (#2585) White
While some consumers think that this food chopper is one of the best kitchen gadgets for every home, others say the opposite. Actually, the negative feedback is mainly because customers receive a defective item. But overall, this food chopper is quite helpful.
After all, most consumers seem to find the product quite handy. Matter of fact, some think that it is more like a gem. Because it is well-built with quality stainless steel and other premium materials, it usually lasts for a long time.
Virtually, anything that you want to chop: like your onions and carrots, this chopper does the job well. Maybe you want to make fresh coleslaw every day. Within a few minutes, you can have a healthy treat. Never mind the daily use because thorough cleanup takes just 2 minutes or so.
Mix N Chop #2583
With a 4.8 star rating out of 5 stars, this item has a comfortable soft grip and thumb rest. Considering that so many consumers use this tool for just about every recipe, it shows that it works very well. Talking about preparing a pot of chili? No doubt, this tool is very helpful for chopping, stirring, mixing, and separating ground meat.
Blending ingredients is definitely easier with this tool. Not to mention ground beef for tacos and mashed potatoes. Surprisingly, the edges are very sharp and obviously durable too. Want to try cooking ground beef? Be assured that this Mix N Chop can help it to turn out perfectly. Especially if you prefer a small size instead of chunks.
Pizza and Crust Cutter 1303
Love to make your own pizza at home? Here is another durable product that is of great value in the kitchen. Sure enough, it is one of the best pizza cutters with its large rolling blade and comfortable handle.
Do you like a thick-crust pizza? Using this crust cutter makes it very easy to get through the tough part at the edges. Until you use it, you'll realize that it is actually a great solution to the problem.
Salad Chopper
Want to make fresh salads daily? At least 4 times per week maybe? No doubt you will enjoy using this super sharp salad chopper. Given that you can have restaurant-quality salad cuttings you will be happy to serve family and friends.
Chopping salad, salsa, or fruit right in the bowl has never been easier. Having a double-blade chopper makes it ideal to shred even chicken breast. Cutting is so easy and clean-up is just as quick. Definitely, this is one of the best additions to any kitchen tool.
Related: Understanding How to Sell Products From Amazon
Making Money With Pampered Chef
Purchasing a consultant kit is just the beginning for a Pampered Chef consultant. Selling the products and building a team offer the challenge to increase your earnings.
How much you sell each month determines your earnings. Between $1 – $749.99, you can earn 20% commissions on your sales. Over $749.99, you can earn up to 25%. Accordingly, getting 25% applies when you make $4000 and more in product sales.
Remember, there are other bonuses to boost your earnings: Very much like when you recruit others to join and they become a part of your team. That's getting an extra 3% for each new member. Watching this short video gives answers to some of the most pressing questions that you may have.
Related: 8 Direct Sales Food Companies (Clever Business Ideas)
Features That I Like About The Pampered Chef Online
Make Purchases And Earn Rewards
Inspiration for consultants is not just selling and earning commissions. Added to that, there are monthly discounts on products, plus you can earn free products.
Consultants can realize a minimum of 20% discount on products or up to 50%. Noticeably, these discounts depend on the position that you hold as a consultant. Moving up the rank in sales and recruiting can get you a higher percentage.
No Requirement To Purchase Much Inventory
Based on your demonstrations and the interest from customers, you can focus on just those items.
Don't Have To Do House Parties
Going virtual is the ideal way to introduce products to customers these days. Organizing a virtual party on Facebook takes just a few clicks on the Pampered Chef website. Sharing recipes, products, and cooking tips with technology at your fingertips is a winner indeed.
Inspire Others To Be Creative In The Kitchen
Consistent with the training as a consultant you can help to inspire others to be creative in the kitchen. Holding online parties, you can bring people together to share the joy of cooking.
What I Don't Like
Compared to similar products, there is no doubt that the products are on the pricey side. Naturally, people like to have options. Once they know that there are other products that work just as well, they'll most likely choose the lower cost. Who likes to pay markups on products anyway? Realistically, there are many products that are similar and they fall within a reasonable price range.
Must Meet Monthly Minimum
Making a minimum of $150 in sales each month is a requirement to remain active. However, before the inactive status kicks in, the company usually sends a reminder letter. Thereupon, you'll have up to 11 months to reach the minimum sales. Failing to meet that, some consultants just make the purchases for their personal use.
Need To Sign up With A Recruiter
Becoming a member requires signing up with someone who is already a consultant. Forthwith, you'll become a team member. Can't find a consultant? Searching on the Pampered Chef website can help.
Unless you love hosting parties and can connect well with people, you may find it challenging to get sales. Clearly, earnings are likely to be small or possibly none at all.
Alternative Earning Potential
Be that as it may, selling The Pampered Chef Products Online is probably not the best opportunity to earn income. Why not learn about affiliate marketing instead? Truly, this is a great way to earn extra income.
Furthermore, there is no need to purchase a starter kit. Neither do you have to purchase products to demonstrate how consumers can use them. Instead, you are just promoting the products or services that other people make. Granted that you make sales, you will get commissions for those sales.
Does this alternative sound like something you would like to try? Wealthy Affiliate provides free training to give people a push start. Beyond this, they have all the tools that you need to succeed with affiliate marketing. Best of all, you can build your own affiliate marketing website with niche ideas like these:
10 Home Improvement Affiliates Programs (Most Profitable Ones)
Affiliate Programs For Education (Incredible Income Booster)
Online Course Affiliate Programs (Realistic Earning Potential)
Boost Your Earnings With An Affiliate Website
Creating your own affiliate website is definitely one of the best ways to promote products. First and foremost is that you will want a niche idea. Since Pampered Chef deals with kitchen products, your niche website could also focus on the kitchen.
Ideas that come to mind include kitchen appliances, smart kitchen gadgets, green kitchen products, kitchen renovations, and smart kitchen ideas, just to name a few.
"A year from now you may wish you had started today." (Karen Lamb)
Before discovering affiliate marketing, I have taken the chance with direct sales. Surely, it's not as easy as the training puts it. Indeed, there are challenges to getting sales and recruiting.
No wonder many sales representatives make very little or no money at all. Simple, affiliate marketing makes a better choice because you can promote any product. Plus, there are tons of them to promote. Need ideas? See how these popular posts about affiliate programs can help too.
Best Wine Affiliate Program (Earn Generous Commissions)
Alcohol Affiliate Program (Boost Your Income)
Solar Energy Affiliate Program (Eco-friendly Way To Make Money)
Baby Product Affiliate Programs (Increase Your Income)
Concluding Thoughts
Overall, people do make money from selling The Pampered Chef Products Online. Globally, the company has a "direct sales force of about 35,000 in addition to 400 corporate staff." By the way, you can learn more about the company right here.
Training to become a Pampered Chef consultant gives you the opportunity to inspire others to be creative in the kitchen. Holding online parties, you can bring people together to share the joy of cooking.
Apparently, though, the pitch to get sales may not be as easy. For this reason, some people may want to try affiliate marketing if they really want to earn money online. Owing to the fact that you can start without having money upfront, it's so much easier to realize your online business.
If you want to learn more about affiliate marketing, this is the training I recommend. Everything that you need to know about starting an affiliate website business is in the training. Go ahead and give it a try, it's free.
Hope you are happy with your experience at theworkathomebusiness.com. If you have any questions, concerns, or suggestions please let us know. Feel free to share this page or leave a comment.
Carol
theworkathomebusiness.com
P. S. Sign Up For My #1 Recommended Training Course And Learn How To Start Your Online Business For FREE.
"If you don't try, you forfeit the opportunity." (Frank Sonnenberg)