Can You Really Make Money With Tupperware Sales Online? Starting with just a virtual kit of digital tools may make it possible. In reality, making money with Tupperware Sales Online can be competitive indeed. So with the launching of the virtual kit, new consultants can give it a try and see if the opportunity can work for them. Notwithstanding the opportunity to earn some extra money, the virtual kit allows you to purchase some Tupperware items at a discount.
Notably, the cost of the kit seems to vary depending on the consultant that you sign up with. Nonetheless, "all the same digital tools" are available in this kit. Just like the basic demo kit, and the deluxe demo kit. There is no doubt that the Tupperware brand stands for high-quality products. And has been doing so for many decades. Realistically, however, some people do wonder if even the best direct sales businesses can survive today?
Being a Tupperware consultant offers absolute flexibility. Especially for new moms who want to take a break from their 9 – 5 work structure. Sure enough, they may find it the ideal direct sales company to join. Ideally, they can build a Tupperware business around the times when their baby naps. A close look at Google Trends shows a steady uptick in the search for Tupperware.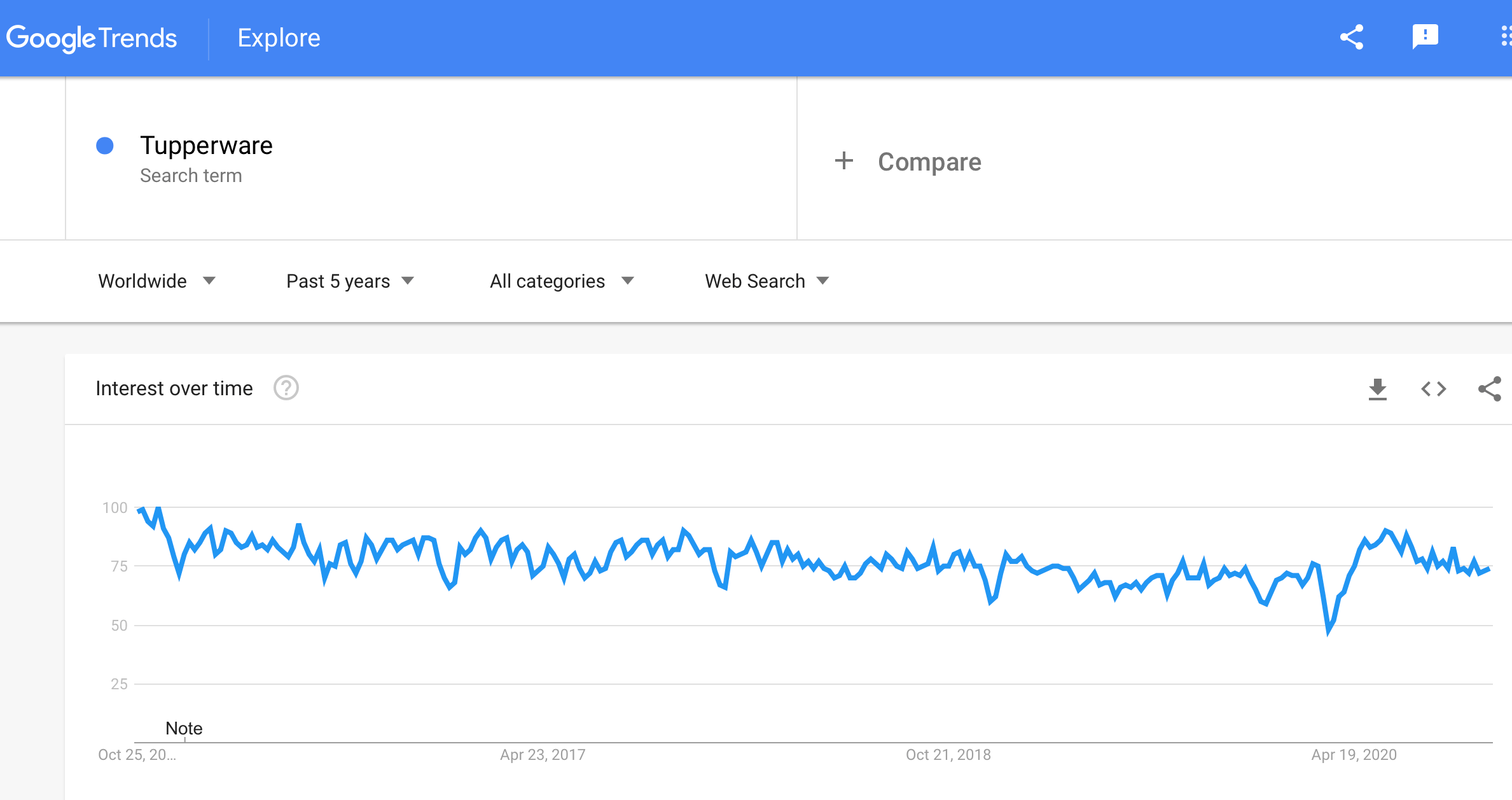 Can You Really Make Money With Tupperware Sales Online? (Review)
Being a global direct seller, Tupperware is no doubt one the most profitable direct sales companies. Since its launch in 1946 the company has been producing mainly high quality plastic products. Offering several brands of "kitchen and household products," you'll find great food storage containers, and items for preparation and serving. Discover more about the company here.
Provided that you become a consultant with the company, you'll find that presenting and demonstrating online is so much easier these days. Truly, there is no need to prepare house parties to introduce and sell the products. Basically, you can just use a smart phone to start. Additionally, you will have access to a website. Plus optimizing your social network is key.
"From products for demos to digital and social tools for marketing, Tupperware provides the support and training you will need to build customer connections, drive sales, and create the work-life balance you want." (source: tupperware.com)
Can You Sell Tupperware On Amazon?
Seemingly, some Tupperware products are on the Amazon marketplace. That goes to show that consultants are capitalizing on the sales opportunity. Regardless of the fact that the products are more on the pricey side, there are consumers who still love them. Finding the products on Amazon is a big deal for them.
Below are some of the best Tupperware sets that you'll find on Amazon. After using a few of these sets myself, here are the ones that I think are great for the kitchen. Of course, it all depends on the specific need that you have.
Tupperware One Touch Reminder Canister Set
Firstly, the viewing window at the bottom of each canister is quite large. Needless to say that makes it easy to see what is in them. Moreover, when the contents are running low. Whether it's after school snacks for little kiddos, or flour and sugar for baking, it's ideal for measuring cups to scoop. Definitely, this is one of the best sets for any kitchen. Lightweight and easy to clean, you will love these airtight canisters.
Be assured that the cover seal is perfect. Just do a test with water, and turn it upside down. For sure, there are no leaks. Certainly, that's a perfect airtight seal. Let me hasten to say that reading and following the instructions to open and close can definitely save time and frustration.
Airtight Storage Container Set (Set of 3 Bowls)
Admittedly, purchasing and using some other cheaper containers for food storage, do not work as well as Tupperware containers. Comparing them with even some popular brands can really make Tupperware stand out. Want to try how well these products work?
Simply take a fruit like an avocado, and cut it in half. Use one half and store the other in one of these airtight bowls. Curious to see how long the other half can stay fresh? Amazingly, after a few days the avocado will be just as fresh as when you first cut it. Almost like magic.
Like all Tupperware products, these bowls are very sturdy. And the size is great to put away leftovers, for small meals or for snacks. The colors are great too.
Fridgesmart Container 4 Pieces Set (Newest Design)
Actually, using this set is like magic to keep fruits and vegetables fresh. No longer do you have to throw out lettuce and other veggies. Wondering how to keep green onions, cilantro, parsley, and broccoli fresh and crisp? Try storing them in one of these Tupperware containers.
Not only is this set an amazing keeper for food, but is also the best value for your money. Looking for a great gift for the home? Consider this set and put it among the top items on your list.
Is The Virtual Kit Worth It?
Important to realize that the virtual kit does not contain any product. What it does is that it allows you to start an online business at a minimal cost. Primarily, the kit gives access to a 3-month trial period for free.
Except for the physical product, you get access to everything Tupperware offers to their representatives. Access to their digital tools include: catalogs, brochures, videos, and social media, visitors can make purchases.
Although you'll need to add your payment information, there is no immediate charge. After the trial period, that's when a monthly charge will go into effect. One notable point to keep in mind is that you can purchase products at a discount. Then use them to create your own Tupperware kit.
Generally, the virtual kit is great for anyone who is well into social media. Especially if you want to start selling immediately. Also, if you want to choose your own products to build a specific Tupperware kit.
Similar to other consultants, you'll get the benefits. Take, for instance, getting samples, and earning awards among several other things. Learn more about this virtual kit here.
Offers Three Choices For Business
As a new sales consultant, the company wants to make it as easy as possible for you to be successful. That's why they offer different ways of doing business. Getting an introduction to the company's "Online Business Binder" is one of the first things to check out.
Specifically, this gives an overview of the web accounts that they offer. "In your account, you'll find online business-building tools plus the latest product, promotional and training information." Three My.Tupperware business that you can choose from includes the following:
Starter
Plus ($7.95)
Gold ($15.95)
Whichever consultant you choose to be, there are several tools available. Plus lots of support to help you realize your online business.
Why Join Tupperware Direct Sales? (The Pros)
Controlling your time is just one aspect, but how much you can earn is even better. Making this business work around your lifestyle shows just how flexible it is.
Earn a commission on every sale
Handling and shipping and is not on you.
Training and Mentor Support
Enjoy the support from like-minded entrepreneurs
Cars and trips plus other gifts
Exclusive Discounts
Own Your Own Website
100% Online
Unlike other direct sales companies, you don't have to settle for a replicated website. Rather, you can build your own website to promote the products. A typical website with a blog to promote the products is ideal.
Writer's Note: Start Learning Here And Let The Pros Show You How To Create The Ideal Website.
"A year from now you may wish you had started today." (Karen Lamb)
The Cons
Since the products are high quality, they tend to be more on the pricey side.
Since the products are quite sturdy, they can last for years. Hence, customers do not have to replace them very often.
Direct Sales Have Some Real Downsides
Usually, joining a direct sales company involves recruiting new members to come on board. To be successful in any direct sales business, the emphasis is also on team building. Mainly, its all about earning extra commissions. Signing up new members however has its downside too. Point is that it makes the competition greater for you.
Each time you recruit someone, it increases the competition to get new members and to sell the products. Surely, this is not the ideal way to grow for a business especially for newbies. Think of how discouraging this can be.
Purchasing inventory and having somewhere to stock the products can be seen as another downside. Maybe not for everyone. But some people don't really like that idea because they may not have a storage facility. Paying for storage is an added cost along with other overhead expenses.
There Is An Alternative To Selling Tupperware
Looking at this Tupperware income disclosure gives an indication of how much money consultants can earn. Notwithstanding the average earnings of $653.63 per year for some consultants, others earn even less.
Considering that Tupperware makes its products to last for a long time, repeat customers don't come by often. Needless to say, it's very important to reach out to new customers regularly.
Being a consultant gives you the opportunity to earn up to 25% commission on all your sales. Despite the high quality products, earnings may still be small. Eventually, this will become a concern and you may not want to continue.
Markedly, there is an alternative that doesn't cost any money upfront. Particularly, it's all about promoting other people's products and earning commissions on your sales. It's all about affiliate marketing. See if it can work for you by clicking here for free training.
"Don't worry about funding if you don't need it. Today it's cheaper to start a business than ever." (Noah Everett)
Starting Your Own Affiliate Business Online
Firstly, you may want to have in mind a product and a target audience. Following that, you can create your own website. If you are not sure what niche to focus on, watch this short video. Then make sure your website offers products that you love and recommend for people to help solve a problem. Focusing on bringing products and services to help people is key.
Why start your own affiliate business? Rest assured that there is no need to do any of the following:
Purchase a starter kit
Build a team
Answer to an up-line or downline
Recruit new members to the company
Manage inventory
Handle packing and shipping of products
Deal with returns
Meet monthly sales quota
Pay monthly fees
Have a replicated website
Do face to face sales
Create Your Own Affiliate Website
Instead of doing just Tupperware Sales Online, you can create your own affiliate website. Assuredly, you can brand your business and bond with your audience. By the way, if you really love Tupperware products you can still promote them on your website. Through Amazon, you can check to see the products you like, promote them and earn commissions on your sales.
Depending on the focus of your website, you can also promote other kitchenware too. Sometimes, people aren't sure how to start. Yet this is so important. Clicking on this link takes you to the training that I use and recommend.
Concluding Thoughts
Overall, Tupperware Sales Online really offer an opportunity to make extra income. Remember, running your own independent Tupperware business may be harder than you think. Probably, even more than joining companies like direct sales food companies. Right now, there is no better time than now to work from home.
Hope you are happy with your experience at theworkathomebusiness.com. If you have any questions, concerns or suggestions please let us know. Feel free to share this page or leave a comment.
Carol
theworkathomebusiness.com
P. S. Sign Up For My #1 Recommended Training Course And Learn How To Start Your Online Business For FREE.
"If you don't try, you forfeit the opportunity." (Frank Sonnenberg)