How To Do Wine Tasting At Home Virtually is getting more traction these days. Especially if people are in a lockdown situation. Truly, winemakers are making it possible for you to keep your taste bud happy with virtual tastings. So if you miss going to an estate vineyard for a tasting, you can check out How To Do Wine Tasting At Home Virtually.
The key focus of this post looks at how some vintners are making that awesome virtual experience possible. From the comfort of your home, you can purchase the available wine kits or maybe you can customize your own. Within a couple of days or overnight, your order can be right at your door.
Showing people How To Do Wine Tasting At Home Virtually is a great way for wine companies to make some revenue. Matter of fact, you can promote your favorite wines by joining a Wine Affiliate Program, and make an income too. Of course, this is a great way to taste wine varietals before committing to any of the Best Rated Wine Clubs.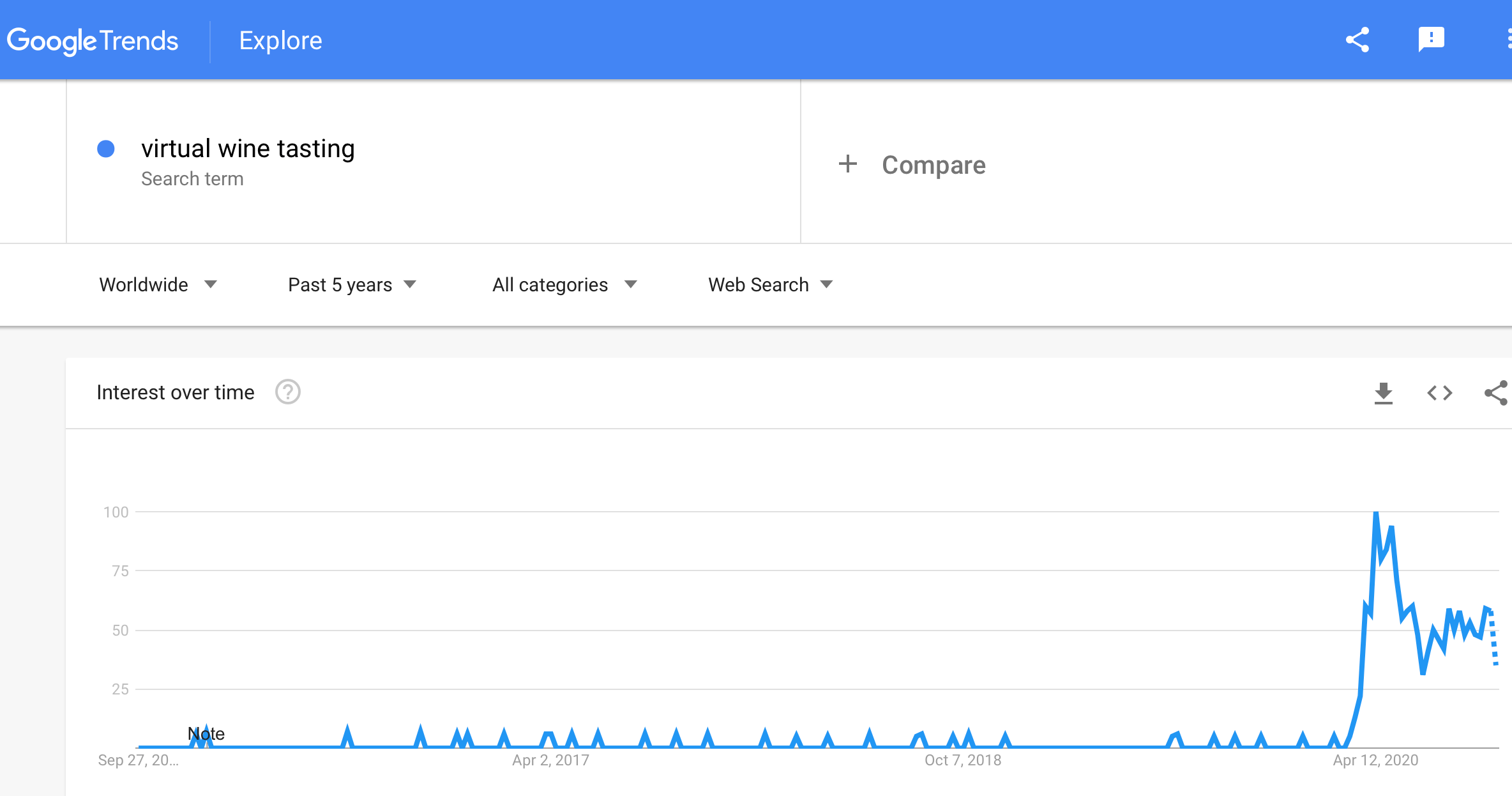 How To Do Wine Tasting At Home Virtually (And Earn From It)
Similar to visiting a tasting room at a winery, so is the virtual experience. Wine lovers can learn about the grapes and the wine, the process of wine making and even about the owners of the wine company.
Whether you want to enjoy your favorite wine or discover new ones, virtual tastings may be the new norm for a while. Usually, the tastings are through video calls, and you can check out the schedule that companies have and make a booking.
Instead of doing a live tasting, some companies create videos so wine lovers can watch them. Since many wineries offer tasting packages, it is best to order directly from them.
Quintessa Virtual Wine Tasting
$300 Per Tasting Kit
"Upon purchase, the company ships to your home: 3 half bottles (375ml) of 2013, 2016 and 2017 Quintessa." During the process, their "Estate concierge" will contact you to schedule your wine tasting experience.
To point out, the hosting of this wine tasting experience is private. Therefore, it offers a more intimate setting. Lasting for 30 minutes, you can ask questions openly. Comparing to a virtual group, you probably wouldn't get your questions in.
Through Zoom, the experience starts with a "scenic journey" of the company's property. Using a variety of photographs to highlight the landscape, you can learn about their method of farming.
Following that, your host takes you through a deeply engaging tasting of vintage wines (2013, 2016, and 2017). Primarily, your guide shares information about the origin of their winery, and winemaking beliefs.
Clos du Val Virtual Tasting
Offering 3 virtual tasting packages, you can enjoy a taste through some of their favorites. Or, taste a "flight of their current limited production releases."
Ultimate Virtual Tasting Pack – Reds ($395.00)
Tasting Pack (Ultimate) – Mixed ($385.00)
Single Vineyard – Introductory Tasting Pack ($240.00)
Each ultimate package includes " 4 current releases." Specifically, the Single Vineyard package offers 3 single-vineyard wines. Once you make your purchase, someone will be in touch to "schedule your live, one-on-one, personal tasting."
Far Niente Virtual Tastings
Chiefly, customers just need to "book a custom online tasting." Either call the specific number or just click on the given link to schedule your date and time. Guiding you through a "personally curated selection of wines," a wine educator will help you discover and enjoy the unique taste of the wines.
Given that this is a "private live video tasting experience," you can ask questions about the wines and the wineries. By the same token, Far Niente also offer "Virtual Group Happy Hours."
Connecting with friends, with family, or with teammates can make the tasting more fun. Everyone can coordinate a time that works for each person in the group. Together, you can all sip, and celebrate. Maybe, you can also learn about the wines too. Shipment orders go straight to each person's door.
Groth Virtual Tastings (Four-Pack)
Pricing: $250 Public
$225 Groth Wine Society
Here is another private virtual tasting with "four bottle sampler pack of their current release wines" (750 ml bottles: 2016, 2018, 2019). Simply, make a purchase of this sampler pack or they can help you with a custom set of wines.
Starting from 10 A.M. – 3 P.M. Pacific time, you can experience daily virtual tastings. First of all, you need to schedule a time with a member of their team. Before your tasting, you will get all the information you'll need for setting up. On the day of your appointment, a wine educator will guide you via Zoom.
St Supéry Virtual Tastings
Thursday is the day for St Supéry's virtual wine tasting. Out of their "Rutherford and Dollarhide Estate Vineyard," the company offers an interactive wine experience. Directly from the founders and winemakers, you can learn about St Supéry's wines. Apart from that, you can also learn about the flavors, the pairings, the recipes and get tips from the wine pros.
Even if you are a newbie to wine tasting, there is a lot that you can learn. Do you want St. Supéry to change your wine tasting from "novice to connoisseur?" Taking part in their InJoy virtual tastings, they bring their winery through online streams providing an array of virtual tours, tastings, and tidbits.
Registering for your virtual event, you can join them for a tasting adventure. Basically, you just click on the link for their contact and plan your private virtual tasting experience. Then you check your email for the Zoom link. A wine educator will take you through your tasting adventure.
Wente Vineyards Virtual Tasting
Now available on Amazon Echo and Google Home devices you can talk to Alexa to enable Wente Vineyards Wine Tasting. Likewise, you can ask Google to enable the tasting. Immediately, you can learn Wente's tips for tasting their estate grown wines. Watch this short video.
Particularly, the virtual tasting takes you through a short history of Wente Vineyards. Thereafter, you'll learn the basics of how to taste wine. Best of all, you will experience tasting 3 of Wente's most popular wines.
What a fun and unique way to use Alexa. For one thing, it is so engaging. Learning about the history of Wente is very informative. Moreover, tasting the different wines is so enjoyable.
Featuring Morning Fog Chardonnay, Riva Ranch Chardonnay and their delicious Southern Hills Cabernet Sauvignon are outstanding. Pairing well with your favorite appetizers, you can make this company your great new tasting platform.
Argaux Virtual Wine Tasting
$100 – $150 For Blind Tasting Kits (Quarantine Edition)
Want another fun and engaging addition to your virtual wine tasting? Trying Argaux Blind Tasting Kits will have you sharing guesses and interacting with each other. Energizing it is for sure.
When you receive the kit, you will not know the identity of the wines because of the wrapping. And you are not to unwrap them. Watching the video, and talking with each other make it feel like the virtual room is together because you are describing what you see, smell, and taste. Actually, this helps to bring your wine tasting experience to life.
Most exciting is when you "make that call and reveal the answers by texting an image of the label to your Pocket Sommeliers." This short video explains it well.
Bouchaine Virtual Wine Tasting
Would you like to bring Napa Valley to your home for a virtual wine tasting experience? Working with Bouchaine, you have 4 choices. Enjoying 50 minutes for either experience you'll have the view of the estate vineyards in the background.
Winemaker Kit
Join a virtual tasting with other Bouchaine fans
$59 for two 750 ml bottles
$1 ground shipping
Harvest Kit #1
$99 for two 750 ml bottles
Overnight shipping included
Kit #2
$135 for three 750 ml bottles
Includes overnight shipping
The Wine Club Experience
$150: Limited bottling of new wine club releases
Obviously, all the experiences have their own set of wines. Shortly after you make your purchase, your shipment will be right at your door. "The wines included in the experiences above are shipped to you with instructions on how to access the virtual contact via the internet. Each kit provides tasting notes and vintage summaries." (source: bouchaine.com)
Preferably by phone or email, you can schedule the date and time for your tasting as soon as you get your order.
Matthiason Virtual Live Tastings
$249 for six 750ML
Free shipping included
Like other wine companies, Matthiason wants to keep their wine tasting room open through virtual live tastings. Normally, you would taste 6 wines if you visit their tasting room. Important to realize that these are the same wines that you will pour for your virtual tasting.
Once your shipment arrives you can schedule a private live tasting via Zoom meeting. Friends and family may join in from different locations.
Stony Hill Vineyard Private Virtual Zoom Tastings
Bringing Stony Hill hospitality to you, this interactive tasting experience requires nothing more than your digital device (computer, tablet or smartphone), a tasting pack, and your time (45 minutes).
Providing all the instructions and computer support that you'll need, there is no need to be a techie person. Granted that you order one or more tasting packs, the delivery will be at your door within a short time. Coupled with a few friends and family, you can join Zoom and link up with a wine expert who will take you through the wine tasting experience.
Enjoying a birthday celebration, a graduation or any other special occasion can be a reality with this virtual wine tasting. Keep in mind that connecting with friends and family near or far is just a click away. The minimum order of 3 tasting packs is a requirement for each virtual tasting.
Lyon Virtual Wine Tastings
Sharing a glass of wine virtually with family and friends is a great way to keep up the connection. How often can you do this with Lyon? Virtual wine tasting is every 2nd Saturday at 12 P.M. eastern time. An expert wine teacher will take you through a wine tasting class. Either you drink whatever you have, or you can purchase wines from Lyon.
Globally, you can join others for this free tasting. Notwithstanding the free offer, you can enjoy a private wine tasting if you want to. Seriously, it's a "true VIP experience for a custom private tasting." Indeed, you'll learn so much about Lyon: It's history, the grapes, the wine making process, just naming a few things.
Consisting of 7 wines, your private tasting package has a charcuterie and cheese board. Needless to say, full customization is in the lineup. Is your interest in a specific region, or natural wine? What about the red wines or whites? Lyon wine expert teacher covers that too. Specifically, the choice of wines is chosen based on the quality and the region.
More Wineries With Virtual Wine Tasting
Four virtual tasting packs, each with 4 bottles of wine
Hang out on Saturdays for virtual tasting and "community conversation" at 3:00 P.M. pacific time (6:00 P.M. eastern time) For half hour you can join via the Bells Up Winery page on Facebook Live.
Allows you to create a custom experience
Celebrate Wine Wednesday with virtual tasting
Live stream wine events are free to join on Zoom. Learning about wine tastings, the process of wine making, tours of Israeli wineries are just a few focal points.
Mondays and Fridays are virtual tasting days.
Thinking of a party? Reserve your virtual event for 10 – 500 guests.
Explore the options to see what fits your needs then make a call for your booking
100 point wines (3 bottle wine kit with 2 day shipping)
Earn While Tasting Wine
Ever wonder how you can earn income from wine even though you don't own a wine company? Affiliate marketing makes it possible for you to promote other people's products. While you are enjoying your favorite wine, why not promote it and earn commissions from your sales?
Ideally, you can also check other Alcohol Affiliate Programs to boost your income even more. Creating your own website business can be a reality. This is the training that I use to create my websites. 
"A year from now you may wish you had started today." (Karen Lamb)
Concluding Thoughts
Overall, learning How To Do Wine Tasting At Home Virtually is a convenient way to enjoy wine varietals. Beginners and staunch wine lovers can become more knowledgeable about wine in general.
Markedly, virtual wine tastings are growing these days. Sip on vintage wines, discover new wines or stick with your favorite. Doing the sip virtually is still a great way to keep the social spark with friends and family.
Hope you are happy with your experience at theworkathomebusiness.com. If you have any questions, concerns or suggestions please let us know. Feel free to share this page or leave a comment.
Carol
theworkathomebusiness.com
P. S. Sign Up For My #1 Recommended Training Course And Learn How To Start Your Online Business For FREE. 
"If you don't try, you forfeit the opportunity." (Frank Sonnenberg)
P. P. S. Join in the first 7 days and Claim Your 59% Bonus.