Wondering What Companies Offer Affiliate Programs? Honestly, there are tons of them. Realistically, however, when you are researching these companies it's best to check those that relate to your niche. Do you have a website and want to monetize it? Definitely, you'll want to know What Companies Offer Affiliate Programs? Below, you'll see 10 awesome ones.
Notably, some of these companies do not run their own program on their website. Rather, they allow an affiliate network to run the program for them. At one time, I use to think that it is hard to find products to promote.
While doing this training, however, I realize just how easy it is. Maybe, you don't really want to do the training. But you can go it alone and use Google to help you. Just remember that going through training can make things easier.
Here is a typical example of a Google search.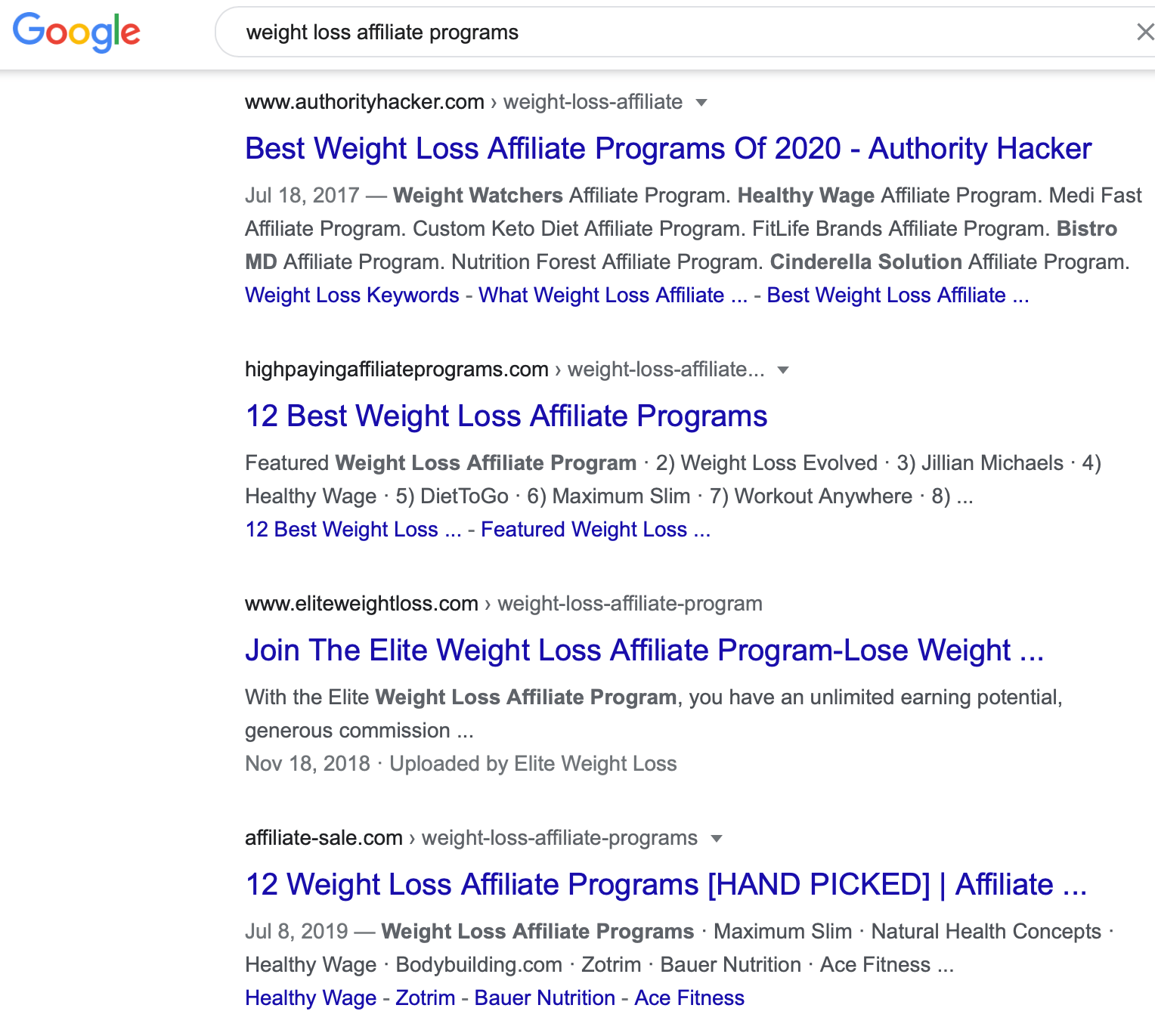 As you can see, many examples of weight loss affiliate programs are available. All you have to do is sign up with the companies that appeal to your niche. Be that as it may, not every company give automatic approval to promote their products.
Upon your request for approval, many of them check your website to see if it is in line with their requirements. For one thing, they are curious about your online marketing channels. Moreover, high traffic numbers to your website. Also, the quality of your content among others.
Need A Website?
Failing to meet the affiliate company's requirements, you can opt in for VigLink (Sovrn //Commerce). Truly, VigLink makes linking to various companies easy without requesting approval. Watch this short video for a demonstration.
Actually, before you start to promote products, it's a good idea to have a website up and running. Don't get me wrong here, you can really promote products without having a website. Usually though, the advertisers take a look at your website to see if your concept is in line with their vision to promote the products they offer.
Author's Note: Don't have a website yet? Ideally, this is one of the most important parts of your affiliate business. So, why not create your website for free Right Here?
"A year from now you may wish you had started today."
(Karen Lamb)

What Companies Offer Affiliate Programs? (10 Awesome Ones)
Before looking at these companies, do you know your website concept? And the audience you want to reach? Clearly, the answers to these questions can give you an idea of how well your niche idea is doing on the internet. In like manner, you can also get a better idea of the affiliate programs that are more fitting for you. Matter of fact, you can even look at similar websites to see which affiliate programs they are promoting.
Is there a special product that you would like to promote? Provided that the companies below have tons of products, there is no doubt you'll find it. The companies are in no specific order.
1. Rakuten Marketing (formerly LinkShare)
Ranked as the "#1 affiliate marketing network for 9 years in a row," you can certainly experience great results when you join Rakuten. Tapping into their global network, you'll have access to thousands of brand products. Needless to say that there are brands which consumers rave about.
Within their marketplace, there are popular merchants from every category: New Balance, Sephora, Udemy, Spartan, Jet Blue Vacations, just naming a few merchants.
Point is that you can promote products and services that can improve consumers' experiences. Consequently, enhancing lives and giving consumers products that are worth the money. Plus, they are inspiring and relevant.
2. Amazon
AMAZON IMAGE (Image credit: Amazon)
Undeniably, one of the easiest and most popular affiliate programs to join is Amazon. Generally, this huge marketplace attracts both small and large businesses. Almost everything that people want to purchase is on the marketplace.
Still, it is important to compare and see how the product category and the commissions can differ. Albeit, before you decide which products to promote, take a look at this table. Basically, it shows the "Fixed Standard Commission Income Rates for Specific Product Categories."
Whenever visitors on your website click on your Amazon affiliate link, the cookie duration is 24 hours. Correspondingly, this is just a method to track visitors' data. Chiefly to see if they will make purchases within 24 hour period. Provided that they make purchases, you will earn the qualifying commissions even if they did not buy the products you promote.
3. CJ Affiliate
Formerly known as Commission Junction, this affiliate network is one of the leading affiliate platforms. Operating for more than 20 years in the affiliate marketing business, many companies and affiliates trust CJ Affiliate.
Obviously, CJ Affiliate is well-established earning many top and best awards over the years. Like from Forbes and Fortune Magazine for instance. Too many accomplishments to note here, so you can check out the company's accolades here.
Among the many is the award for "Best Affiliate Network: 2019 Finalist" from Digiday Technology Awards. Plus being the "Preferred Network by Advertisers and Publishers: 2013, 2014, 2015, 2016, 2017, 2018, 2019."
Promote World Class Brands
Signing up with CJ Affiliate means that you can: "Earn commissions by partnering with the world's most widely recognized brands and successfully promoting their products/services."
Trusted by several "world-class brands," you'll find companies like:
Lowes
Overstock
Priceline
Office Depot
J. Crew
IHG Inter Continental Hotels Group
Barnes & Noble (just naming a few here)
Once you have approval from companies, you'll have access to all that you need to promote products. Banners and text links are quite typical. Despite all the positives, affiliates must make sales, or else they may deactivate your account.
4. ClickBank
Since 1998 ClickBank has been in operation. Throughout the world, the company has more than 6 million clients "becoming the 87th largest Internet retailer in North America." Discovering a product like Freelance Writing Jobs can eventually earn income for you. Learn more about the power of the ClickBank Affiliate Marketplace here.
Whether you are a well-established affiliate or a newbie, you can grow your "marketing career" with ClickBank. Super affiliate marketers have been promoting products from ClickBank for more than 20 years. Accordingly, their commission earnings have been over $4.2 billion.
Partnering with affiliates worldwide, you can sell to millions and millions of customers. No wonder, many affiliates choose ClickBank because of the "quality digital and physical goods." Choosing to promote products that have subscription options, or up sells is part of the purchasing process. Even after making original sales, you can continue to earn money.
To boost your online success, you can join the pros who offer training from the Clickbank University. Promising a 30-day guarantee, the cost is $47 per month for you to "follow in the exact footsteps of proven 7 and 8 figure ClickBank winners."
Noticeably, there is one negative feature to keep in mind. Mostly, the brands don't really stand out. Besides, many of the products are ebooks. Owing to that, some customers believe that many are on the lower end of the scale.
Pays Very High Commissions
Beyond question, the ClickBank marketplace pays some very high commissions. Up to 90% is some companies highest payout in the affiliate marketing business. Best of all, you can expect your commissions on time, and every time.
First of all though, you need to sign up for a ClickBank account. Product categories include various niche ideas, such as:
Arts & Entertainment
E-Business & E-Marketing
Games
Parenting and Families
Health and Fitness
Home and Garden
Languages
Self Help
Spirituality (only naming a few)
5. eBay Partner Network
Similar to Amazon, you earn commissions when visitors click on your eBay links and make purchases through your website. Different though is that you can also earn when you get clicks on a link that is a winning auction.
Depending on the product category, your commissions will vary. Generally, these are "based on a percentage of eBay's earnings for that transaction."
Markedly, partnering with eBay allows you to connect with millions of sellers. Simply sharing your links on your website and social media platforms, you can reach millions of buyers all over the world.
Granted that you have a website concept in mind, you can choose the best "affiliate model" to fit your online business. Joining the eBay partner network "offers a way for you to make money by referring buyers to eBay without having to sell or ship anything."
6. FlexOffers
Making over 12,000 affiliate programs available, you will find almost every product category. What's your niche focus? Chances are that you will find products to promote with FlexOffers. Choosing car accessories for instance can turn out to be a high potential niche for an online business.
Other areas to focus on can include vehicle repair and auto parts, car insurance and auto loans, car rentals, driving and training services. Or consumer electronics with a focus on gadgets, computer software, electronics accessories, personal computer components are just a few examples.
When you join FlexOffers, you will have access to their dashboard to see reports on how well you are doing. Along with that, you also have access to "FlexRev-$hare" where you can check your earnings, referrals, and other relevant information.
7. ShareASale
Connecting you to the opportunities that so many companies offer, you can sign up with ShareASale to get access to tons of products. More than 39,000 merchants are available on this affiliate network. Of course, commission payouts are different, so you can check to see which ones offer the highest percentage.
Rest assured that there is training and help every step of the way for you to succeed. Any questions that you need answers to, there is always assistance to help you grow your affiliate business. Likewise, lots of tips are in their newsletter publication every month.
Regardless of all the positives, there is a downside, especially for newbie affiliates. Specifically, your earnings must reach $50 to get a payout. Seriously, some people may not reach that threshold.
8. Tradedoubler
Want to get access to "Europe's biggest online marketing platform?" Particularly, Tradedoubler offers "access to advertisements from some companies biggest and most popular brands in Europe." Opening up the opportunity for new streams of revenue, you can learn more about the company here.
Operating as a global network out of Stockholm, Sweden, you can reach consumers far and wide. More than 2,000 advertisers offer top brands, so there are certainly enough products to promote.
Given that Tradedoubler is another global platform, you can earn from anywhere. Top brands include Budget Air, Condor, Dreams, Vayama, Vistaprint, Zipcar, naming just a few.
Delivering a range of tools you can get links and banners plus coupon codes for your website. Comparing to the other affiliate networks, you'll also need to request approval to promote the products.
9. Awin
Over 15,200 advertisers register with the Awin "affiliate marketing network." Empowering both advertisers and publishers of all sizes, you can grow your affiliate business with them. Are you a blogger/content creator, influencer, website owner or technology partner?
Why not partner with some companies "world's best-known brands" in multiple categories? Naming a few, you can find: Finance and insurance, fashion and retail, technology and travel. Well know brands include HP, BuzzFeed, Emirates, Forbes, The Motley Fool, SkinStore, AliExpress, Groupon.
Generating more than $150 million in 2019, Awin is huge. Having a "diverse network with global reach," you can connect with over 211,000 active affiliate partners around the world.
10. JVZoo
Helping people to earn extraordinary income for over 9 Years, JVZoo is one of the newest affiliate networks. Providing solutions for both super affiliates and vendors, you'll find over 18 million products. Starting in 2011, the average sales per day have been climbing and is about 6085. Evidently, the possibility to earn money with the JVZoo affiliate network is within reach.
Working to help you unleash your potential fully, the company strives to give affiliates and vendors all the tools they need to succeed with their business. Consistently, JVZoo has been on the Inc. 5000 list as one of the fastest growing companies in America.
Out of the 800,000 affiliates, many of them constantly see JVZoo as their "go-to solution." That is even more reason why the company is continuously being innovative and continues to grow. Watching this video shows you from the beginning how you can earn money with JVZoo.
Creating Your Website Concept
Now that you have a good idea of What Companies Offer Affiliate Programs, it's time for you to create your website. Do you have a concept in mind yet? See if this training can get you off to a great start.
Concluding Thoughts
Overall, these companies can certainly give you a great start for your affiliate business. Indeed, companies like having affiliates on board to help promote their products and services. Because of this, your chances of approval is more likely.
Not only are you sending them traffic, but also helping to grow their business with lots of sales. At any rate, some companies can be quite "picky" with who they choose to promote their products. Nonetheless, don't let this discourage you. Although these are just a few companies, keep in mind that there are hundreds more.
Hope you are happy with your experience at theworkathomebusiness.com. If you have any questions, concerns or suggestions please let us know. Feel free to share this page or leave a comment.
Carol
theworkathomebusiness.com
P. S. Sign Up For My #1 Recommended Training Course And Learn How To Start Your Online Business For FREE.
"If you don't try, you forfeit the opportunity." (Frank Sonnenberg)