What Is Thredup.com? The 6 Facts Revealed in this post can help you discover awesome deals to revamp your style. And you can save big on some of the top brand names. Mainly, Thredup.com is a consignment store that sells new and used products, especially for women, men, and children. When you discover the 6 Facts Revealed about What Is Thredup.com, you may just want to clear out your wardrobe or just upgrade it with some popular brands.
Probably, you just want to make some money by selling some of your gently used clothing, shoes, and/or accessories. And if you are really stretched for time to sort and label, Thredup may have the ideal solution to deal with it. Easy and convenient they take care of everything when you send your items to them.
Starting out with children's clothing thredup has grown tremendously. Now, there are thousands of apparel, shoes, and accessories for women. Matter of fact, you can find top brands at incredible prices. In some cases, up to a 90% reduction.
Table of Contents
What Is Thredup.com? 6 Facts Revealed
No doubt there are great deals on this website. Many people including myself enjoy shopping on the platform. Though the prices are above those that you'll find in a Goodwill store, the high quality is worth the purchase.
Why would anyone spend so much money on second-hand stuff though? The point is that they are stylish, top brands and you can get them at an incredible price reduction. Even the cute "must-haves" for little kiddos: Both for boys and girls.
After all, kids always want to look cute. Especially when they are having a birthday party. Or other special occasions. Albeit, they love to dress up in a cute little top or bottom even when going for an evening stroll in the park.
Visiting Thredup.com
Visiting the web page, you'll first notice the multiple categories to shop. Take for instance a few of the following:
Select the percentage reduction that you like (20%, 30%, 40%, 50%, up to 90%)
Outdoor brands
Leather jackets (up to 90% off at the time of writing this post)
Boots (from $12 at the time of writing this post)
Dresses (under $15 at the time of writing this post)
Shop by deals (starting from under $6)
Athleisure (activewear from $8)
Outerwear and knits
Deals (starting at $4)
1. Selling Your Second-Hand Clothing
Want to sell on thredUp? Right now, the company only accepts items for women and kids. Plus, the items should be of high quality. Generally, they maintain their standards, so keep that in mind. Watch this short video for more details.
Before you sell, you can use the "payout estimator" to get an estimate of how much money you can get for your items. Carefully following the instructions to see the clothes, shoes, and accessories that they allow is key. Failing that, they may refuse your items if they do not meet their expectations.
Once the company accepts your items, they may pay you right away. Or they may "sell them on consignment." Usually, these items sell really fast. Depending on the luxury brands, however, some of them may take a while to sell. Despite that, the store is always adding items, almost every hour or so.
2. Only Accepts High-Quality Items
Be assured that, you won't find low-quality products on this website. Matter of fact, out of the many items that people send in, less than 50% get the okay. Granted that there are many people who want to sell their items on the website, the company no doubt wants to keep its high reputation.
"Due to our high-quality standards, only 40% of the items received in Clean Out Kits are accepted. The remaining 60% are not accepted because they don't meet our trend or quality requirements. This includes clothes that are missing sizes, items with cosmetic defects (like a missing button or a small stain), brands or styles we have too much inventory of, and any men's clothing items." (source: thredup.com/)
3. Designer Brands And Size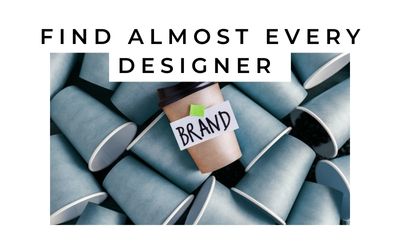 Quite noticeable is that you can shop for the designer and the brands that you love. Because it's mainly people reselling their stuff, you may find only one item in just a particular size. Consider it "the thrill of finding one-of-a-kind pieces." Right from the beginning, you may want to narrow down your search options based on size.
Clearly, there is a difference when compared to shopping in a regular retail store. Surely, you can end up with some great deals. All the items have price reductions on them. So there is always a sale on designer coats and jackets, shoes/boots and handbags, accessories, maternity wear, and kids' items, too much to mention here.
Almost every designer brand is on the platform. Literally, there are so many. Including among the brands, here are a few):
Ann Taylor and Anne Klein
Banana Republic
Kate Spade New York
Cache
Coach
Gap
Michael Kors
Lululemon Athletica
Talbots
4. Accepts All Brands
Typically, thredUP accepts all brands as long as the items match up to their requirements. Having a size tag is important because the platform lists items from many brands. Needless to say, sizes may be limited.
Besides, if they come across a brand that is not in their system, they list it as "Assorted." During your search for a particular brand, it may overwhelm you. Just remember to use the filters to make navigation easier.
From the many categories and prices to sizes and colors, you can navigate the platform until you find what you are looking for. Moreover, if you don't really have the time to browse, there are stylists that can pack a "goody box" for you.
5. Shop For The "Goody Box"
Ideally, you can shop for the "goody box" by themes: Like work from home, essentials to suit your workspace desk or sofa. Also, you can request your favorite colors. Not to mention trendy styles and pieces that can transition into a seasonal change.
Additionally, you can also request a customized "goody box." All box comes with 10 items that are like new. Of course, you only pay for the items that you are keeping. A "$10 styling fee" applies to the items that you choose to keep.
Can you believe that they offer free shipping and returns? Within 7 days you can return the items that you don't want. Already included in the box is a prepaid shipping label. That's how easily they make things for you.
6. Rescue Boxes, Reuse, And Recycling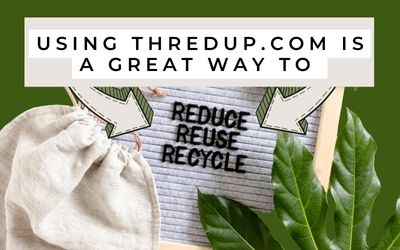 What happens to the items that thredUp refuses? Never will they throw them out. Rather, the company prides itself on recycling. They have "Rescue Boxes" because they believe in "keeping more clothes in circulation."
Obviously, that's why thredUp exists. "At thredUP, our mission is to extend the life of clothing for as long as possible, even items that don't meet our strict quality guidelines." (source: thredup.com/)
Following this further, thredUp only put 5% of the items they reject into rescue boxes. All other items qualify for reuse or recycling. By the way, if your items end up in the rescue box, you don't get any payment for them. Nonetheless, you can make a request to have them back with a shipping cost of $10.99 to you.
A Few Other Second-Hand Clothing Websites
Really looking for high-quality second-hand clothing? Similar to thredUp, there are several other websites on which you can sell gently used clothing. Below are a few of them.
Regardless of which website you use, one thing to keep in mind is that your items should be in good condition. Laundry and press them or just dry-clean them so that they look presentable.
Beyond being clean, also be mindful of missing buttons, stains, and zippers that don't work. Selling second-hand clothes online can work out well despite the low commissions from some websites. But do you know that you can create your own website business?
Realistically, you don't have to sell on other people's websites. Imagine shopping around at thrift stores and selling the products on your own website. Certainly, that can be satisfying. Learn from the pros and let them show you how.
1. The RealReal
Another website that is "making luxury sustainable" is The RealReal. According to the company, they are "curating the world's largest and most trusted marketplace for authenticated luxury." Everything on this website is a top luxury brand. Sure enough, some are quite pricey.
Being a "sustainable luxury company, " the goal is to empower consignors and buyers to extend the life cycle of luxury goods." Millions of shoppers, as well as consignors, enjoy selling and buying on The RealReal. Likewise, there are 13 retail locations which include 8 physical stores for customers to sell and shop.
At these locations, customers can meet up with the experts and get free valuations before they actually sell their luxury items. Styles and fashion are available for women, men, and kids. Some items include:
Fine Jewelry
Watches
Fine art
Home Decor
2. Vinted
One other website that offers tons of second-hand styles is Vinted. Over 37 million members use this platform. Thousands of top brands are available. With Vinted, selling is quite simple. First of all, you will need to "download the free Vinted app." Then take great photographs of your items and write a product description for each one.
Furthermore, you set your price and upload your listing for it to go live. As soon as a buyer makes a purchase, you will ship it to them. Although listing items on Vinted is free, they do take a percentage when your item sells. Once you list your item, you will see the sale price and how much money you will make.
3. Grailed
Specifically for men's clothing, this website makes it easy for men to build their wardrobes with stylish, high-quality items. Finding the ideal items with unbeatable prices can be a bit difficult for some men. No wonder this company sources every item directly from those who have "fashion-conscious" wardrobes.
Create Your Own Website Alternative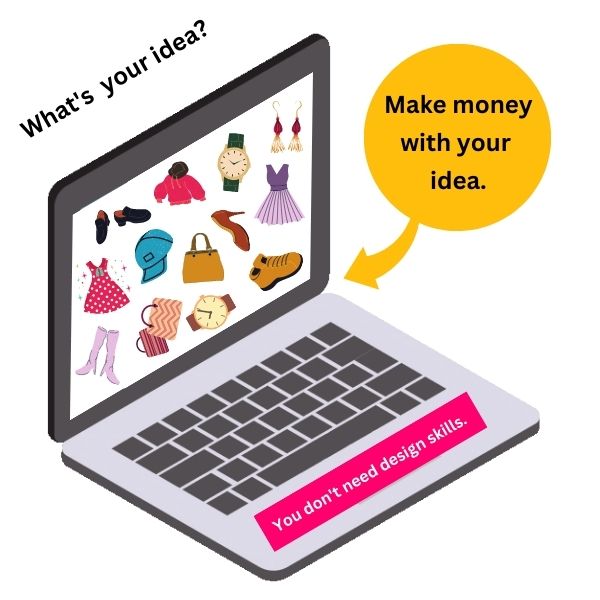 Seeing that ThredUp is not the ideal platform to make passive income, you may want to think about an alternative. Most ideally, you can create your own website. Building your own fashion website can certainly be a reality. Mainly, you can monetize your website with affiliate marketing links.
Essentially, you'll be promoting other people's products and earning commissions on your sales. Let me hasten to say that there are other ways to monetize your website. Still, you can also build your own website and sell gently used clothes.
Would you like to learn how to do this? You can actually start with free training. Soon after you start this training, you'll realize that there are many possibilities when you create your own website. Best of all, you can earn money from anywhere worldwide.
"A year from now you may wish you had started today."
(Karen Lamb)
Related: 10 Best-Selling Clothing For Women (Make Money With These)
Website Ideas
Provided that you have an interest in building your own website, you can start thinking of niche ideas. Remember, you don't have to focus on selling second-hand clothes. Granted that the fashion niche is so broad you can dig deep and find the ideal sub-niche that suits your interest. Rest assured that there are many ideas like Leggings And Fashion for example.
Stretched for funds? Focusing on a t-shirt business with J Elizabeth Boutique may be the ideal starter. Are you passionate about women's shapewear? See how Ruby Ribbon can help you get going. Probably, you may also want to see if you can make money with Amazon Women Fashion Clothing.
How about focusing on men's fashion? Based on the Amazon affiliate program, you can take a look at this post to see if you'd want to promote men's fashion. A great sub-niche to look at is Athleisure Clothing. Seems as if some men can't resist these, so you can promote them and earn commissions.
"It's not about ideas. It's about making ideas happen."
(Scott Belsky)
Related: What Is The Best Men's Clothing Affiliate Program? (Choose One Of These)
Concluding Thoughts
Overall, when you realize What is thredup.com and these 6 facts, you may very well want to upgrade your closet. Compared with items from a retail store, there is no doubt that the prices are more affordable. Showing off your secondhand clothes can make you happy. And no one needs to know that they are not brand new. 
Using second-hand clothing is not just about saving money. But it is also about saving planet Earth. Earning money may not work out so well on websites like thredup.com. Especially if you are looking for passive income. This is the training I use to learn how to earn passive income. It is my top recommendation.
Hope you are happy with your experience at theworkathomebusiness.com. If you have any questions, concerns, or suggestions please let us know. Feel free to share this page or leave a comment.
Carol
theworkathomebusiness.com
P. S. Sign Up For My #1 Recommended Training Course And Learn How To Start Your Online Business For FREE.
"If you don't try, you forfeit the opportunity." (Frank Sonnenberg)