Undoubtedly, Online School Affiliate Programs offer a great way to enrich your income. Considering that more and more parents are opting for homeschooling their children, it's definitely a good time to join Online School Affiliate Programs.
Presently, there are more than 3 million students learning in a home school setting. Every year, the number keeps growing. Why not get in on this opportunity now? Whenever you promote Online School Affiliate Programs you can help those who are undecided to choose a great school.
The key focus of this post shares some great programs that you can join if you'd like to increase your earnings. Keep in mind that education is a big deal. Needless to say that it is a multi-billion dollar opportunity that affiliates can tap into. Take a look at Google Trends.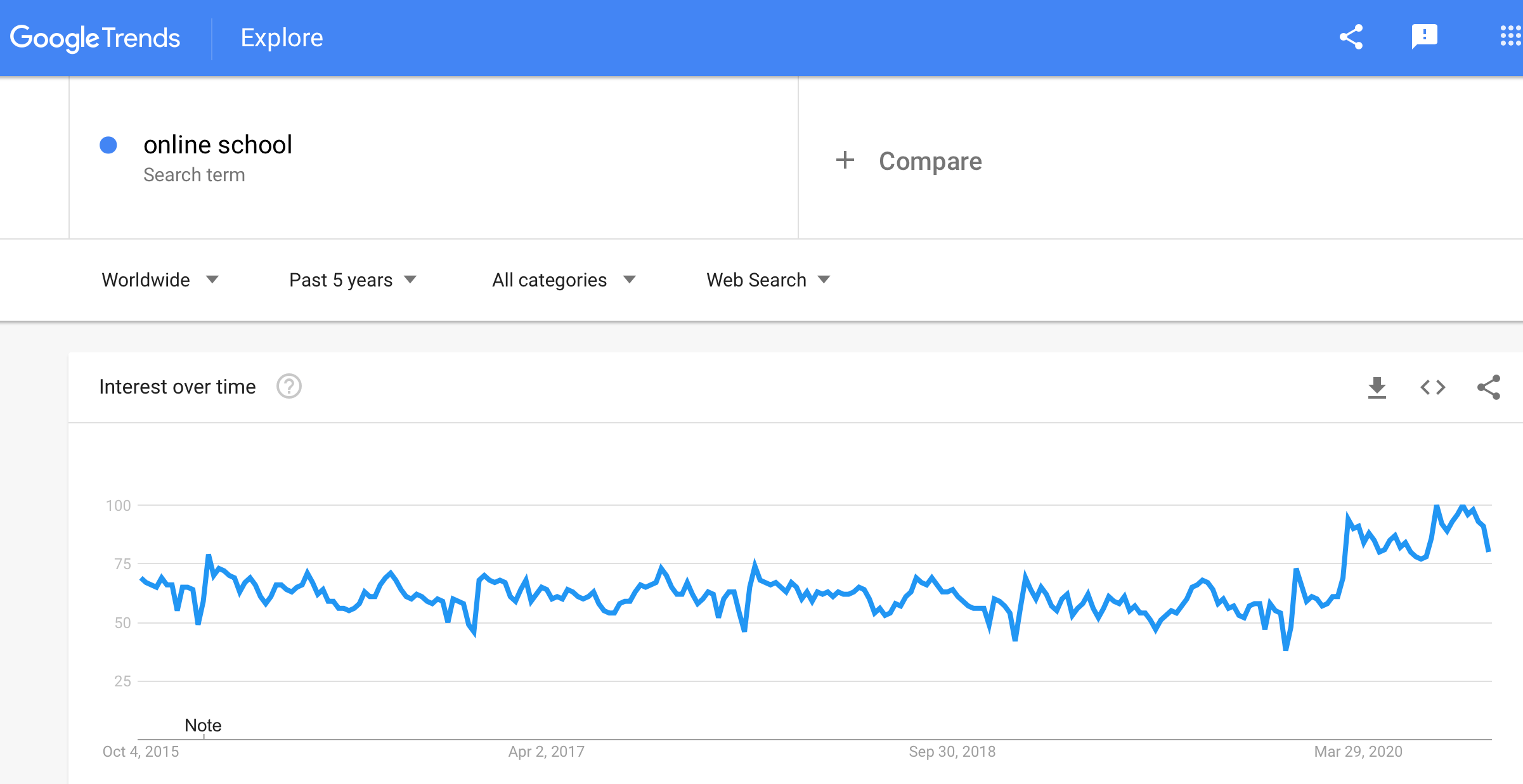 Since the commissions vary with the different affiliate programs, it's best to explore and compare the monetary benefits. Not to mention that you are connecting students to the program from which they can get the most benefits.
Writer's Note: Need Help To Start An Affiliate Website With Online School Affiliate Programs? Check Out This Training And Start Learning For Free.
7 Top Online School Affiliate Programs (To Enrich Your Income)
Given that online schooling appeals widely to students of varying ages, you can reach a huge audience. Literally, when you partner with these online schools, you are helping them to expand their reach. Below are some programs that you can think about. Each one has its own unique opportunity.
Due to their method of selection, their approval may not be immediate. See if any of the following programs appeal to you. Do you have a blog/website that gets a lot of traffic? What about your social media platforms and email marketing strategy? Typically, these are ideal for the promotion of any affiliate program.
1. American High School Affiliate Program
First of all, this online school has high accreditation and affiliation status. Among these are A+ from Accredited Business and Accreditation International. Here is a great opportunity to promote American High School and "earn 20% commission on every enrollment initiated from a link on your website or email." Plus there is a 90-day cookie duration.
"The courses offered by our Online Virtual School stretch in price from $525.00 to $795.00 (individual courses) up to $3,695.00 (full year of 6 courses). This means that your commission also can differ from 20% to 40%. The only thing that's certain is that after 25 sales your commission will increase from 20% to 25%." (source: americanhighschool.org)
With an annual growth rate of 30%, the school is constantly expanding. Both public and private schools use the American High School virtual program. Throughout the United States, the program is quite popular for homeschooling. Also in many countries all over the world.
2. Treehouse Affiliate Program
Are you really looking for an online technology school to promote? Specifically, Treehouse is ideal for students who want to learn about anything in technology. Examples include coding, web design, mobile app development. All the practical skills that students need to create web sites, build apps, and even start a business is available on this platform.
No matter the skill level, anyone can learn programming and design on their own time. One area to concentrate on is the evergreen technology skills. Definitely, there are many jobs that require technology skills, like coding and design. Based on the statistics in the US for instance, there is a 77% chance that many jobs will require some technology skills. Some of these jobs offer a starting salary over $70,000.
Partnering with Impact to run their affiliate program, you'll have access to an advertising campaign to promote. Typically, the focus is on "performance advertising." Basically, this is where you "receive large earnings for promoting high quality, unique products or services to your audience."
With Treehouse you can "earn over $150.00 per month with only one sale per day!" Depending on your performance you can earn $5 per lead and a 50% commission on subscriptions. Cookie duration of 45 days is also in order.
3. Soar Study Skills Affiliate Program
Obviously, the name implies that resources are available to help students succeed. So parents and educators can rest assured that if they have struggling students, this online school can help them to soar. In like manner, the students who are excelling also have resources to help them continue with excellence.
Offering several products, programs, and training affiliates can reach a wide range of people who have an interest in education. From elementary and middle school to high school and college, students, parents, and educators have access to a variety of resources.
Lots of (Free) Resources
Additionally, Soar Study Skills provide lots of free resources. Available as "opt-ins and follow-up sequences," these are great for your audience. Point is that when people opt in and make purchases through your specific link, you can earn a 15% commission. Particularly, the company is looking for affiliates who understand that Soar is committed to a high standard of customer service at every level."
"Study skills are essential to ensure that students can be competitive in a global economy. They are important for students who are struggling as well as students striving for excellence. Every parent and educational community can benefit from the life-long skills presented in Soar resources." (source: soarstudyskills.com)
Based on the founder's personal struggles in school, the focus of this program is on "excellence and effectiveness through simplicity and service!"
4. SchoolTutoring Academy
Right now, the school is accepting applications to their affiliate program. Matter of fact, they do so on a continuous basis. Benefits of becoming an affiliate includes:
As a SchoolTutoring Academy affiliate, you can earn cash for every person you sign on for the tutoring program. Plus, you can earn "50% of the first month's subscription price for every paid subscription referral."
Easy access to the school's marketing materials. Simply get their banner and promote it on your blog/website to start earning commissions right away.
Partner in delivering high quality educational services
Apart from earning commissions, you are also helping to deliver "valuable educational services that can help students achieve their academic goals."
Essentially, there are a variety of tutoring programs like home tutoring, specialized programs, skill building and preparation for state tests like SAT and ACT. Programs are specific to grade levels, different subjects and special areas like ADHD and dyslexia. Even help with homework is available.
Tailoring the prices to reflect the "student's schedule or specific academic needs," SchoolTutoring Academy has something for all budgets. Twice per week program for example is about $25 per hour. A free one-on-one academic assessment is available.
5. 7Sisters Homeschool Affiliate Program
Together with 6 home school mom-friends who are the founders, you can partner with them and earn money. Granted that you have a blog/website, you can promote their ebook curricula and other resources from 7SistersHomeschool.com.
Signing up is just filling out a simple form, but you need to register as a user on their blog. After filling out the form, you'll also need to email to sabrina@7SistersHomeschool.com. Generally, this is just to ensure your registration. Then, they will start the activation process.
"Upon approval, you will receive an introductory email, including login information and 7Sisters button links to display on your site." By the way, their affiliate program is now accepting new registrations. Commissions of 40% and a cookie duration of 90 days are great incentives to join as an affiliate. Also, their resources are easy to use.
Need To Meet Specific Factors
According to 7 Sisters Homeschool, their affiliate program is a "good fit for people who believe in designing unique home school experiences for their families, using ebook curriculum to pursue learning that stirs the spirit and avoids busywork." (source: 7sistershomeschool.com)
Furthermore, as an affiliate with 7 Sisters Homeschool you also need to meet the following factors:
"A mom who writes a blog or runs a website that highlights homeschooling regularly
The owner/administrator of a group site with homeschooling content
A distributor of digital curriculum looking for new publisher accounts
A home school or parenting newsletter editor
A fan of 7 Sisters Homeschool products" (source: 7sistershomeschool.com)
6. Penn Foster
Connecting with "Penn Foster's affiliate program manager" is the first step to become an affiliate with this school. Actually, it's a way to learn more about the opportunities of partnering with them. Notably, Penn Foster provides 3 online school options:
High School Diploma With 3 Options: Important to realize that their online high school has regional and national accreditation. Besides a "traditional high school diploma," students also earn a high school diploma with a career focus. Likewise, a "high school diploma with college prep courses."
Online College: "Offers nationally accredited bachelor's degrees, associate degrees, undergraduate certificates, and career diplomas at an affordable price. There are no set enrollment deadlines or seats to fill allowing for more flexible lead flow."
Career Diplomas and Certificates: Allows students to become more knowledgeable so they can begin their path to a new career. Designed with a budget-friendly factor in mind, students can learn valuable skills at a quick pace. Coupled with regional and national accreditation, both diplomas and certificates are well accepted.
Reasons To Partner With Penn Foster As An Affiliate
Their "affiliate program has been going strong for more than 20 years."
Options for both "link out and host\post campaigns are available"
Openly share data with their partners to optimize campaigns
Multiple options are available.
7. Udemy
An important point to keep in mind as an affiliate, is to promote products that are always useful to consumers. Equally important is that people must always want those products. That is to say, the products must be timeless. Ideally, Udemy has "thousands of online courses in hundreds of categories." Markedly, these courses come from some of the "world's top experts." Isn't this more reason why you'd want to partner with their affiliate program?
Searching and discovering great courses that appeal to you are just a click away for you to promote. However, you'll first need to apply for approval through the LinkShare network. Let me hasten to point out that approval is not a guarantee. Review of your application takes 3-4 business days.
Once you have the affiliate approval, you can access thousands of courses to promote. Choices for tracking include specific links for different courses, custom links, and creatives are just a few to mention here.
Tons Of Topics
Very noticeably are the numbers of "text links with deep linking capabilities, and the hundreds of banners." So are the "promotional assets and tools to help you drive sales." Tons of topics too numerous to mention here are available. Imagine categories like:
Development (web and game development, mobile apps, software testing)
Business (project management, entrepreneurship, human resources)
Finance and accounting (taxes, money management, investing and trading)
Lifestyle
Music
Like many other offer affiliate programs, Udemy's commissions are quite competitive with 20% commissions and only a 7-day cookie duration. Whether it's through your website/blog, emails, or newsletters, you can share Udemy's content with your tracking links. Needless to mention social media platforms.
Create Your Own Affiliate Website From These Ideas
Coming up with a niche affiliate website in the online school business is really a great idea. Is there a specific topic that you would like to focus on? Think about living with ADHD for instance. Especially kids (elementary or high school), your website can focus on ADHD coaching.
This is where you can promote all the online schools that offer private tutoring. No doubt, you can also extend your niche with treatment products for ADHD. Any way you think will work out best, just have a target audience in mind.
Do you realize that when many career-minded people lose their jobs, they choose to teach? On the other hand, some people who want to change their jobs choose to build an online business. Interestingly, many choose affiliate marketing. Indeed, the areas of interest are many: Online high schools and colleges are buzzing these days.
Boosting Your Earnings With Affiliate Marketing
Assuredly, whenever someone clicks on your affiliate links and purchase a product or service, you can earn commissions. Think about the possibility of making money with your own blog/website without creating your own product.
Remember, you don't need to write newsletters, or purchase any inventory. Writing an irresistible email that recommends the affiliate products and services is a great way to reach your audience. My recommended training to learn about affiliate marketing is available here. Giving you a free start, you can build an affiliate website and promote these and other programs.
"A year from now you may wish you had started today." (Karen Lamb)
Concluding Thoughts
Overall, these Online School Affiliate Programs can help to enrich your earnings. Helping to provide a virtual education solution for students can have a lasting effect. Can these programs really help those who want to learn online?
Will children who are experiencing issues with the traditional learning systems benefit from them? Or further help students who are already excelling? Try promoting them and see where it leads.
Given that online schooling appeals widely to students of all ages, can you see how you can reach a huge audience? Literally, when you partner with these online schools, you are helping them to expand their reach.
Hope you are happy with your experience at theworkathomebusiness.com. If you have any questions, concerns or suggestions please let us know. Feel free to share this page or leave a comment.
Carol
theworkathomebusiness.com
P. S. Sign Up For My #1 Recommended Training Course And Learn How To Start Your Online Business For FREE.
"If you don't try, you forfeit the opportunity." (Frank Sonnenberg)
P. P. S. Join in the first 7 days and Claim Your 59% Bonus.