Exploring these 8 Clothes Affiliate Programs is an excellent way for fashion enthusiasts and bloggers to monetize their passion. Seeing that clothes is a booming industry, it is a popular niche with a multitude of affiliate programs and a vast audience.  
By collaborating with reputable affiliate programs, you not only indulge in your love for fashion but also generate substantial revenue. In this post, I will unveil 8 Clothes Affiliate Programs that are among the best. Each program offers a unique opportunity for fashion enthusiasts and affiliate marketers alike. 
In this digital age, you can help others find their style, through the powerful avenue of affiliate marketing. Are you ready to turn your love for fashion into a lucrative online venture? Keep reading about these 8 Clothes Affiliate Programs. 
From professional and formal wear to casual attire and athletic clothing, you can promote any brand. Whether they are established giants like Rotita or trendsetters like PrettyLittleThing, we've got you covered. So, let's dive in and explore these exciting opportunities. Notably, the suggested programs in this post focus on women's clothes.
Related: How To Create A Fashion Business Online
Table of Contents
✅ Rotita: Elevate Your Style with Unique Fashion Finds
Being a fashion-forward brand, Rotita is known for its unique and trendy clothing collections. As a Rotita affiliate, you'll have access to a wide range of stylish clothing, from chic dresses to comfortable loungewear. With competitive commissions and a user-friendly affiliate platform, Rotita is an excellent choice for fashion bloggers and influencers.
Are you really into social media? Indeed, Rotita would like to have you join their affiliate program. Coupled with a wide range of women's clothing and accessories, customers can have access to eye-catching fashion above the curve. Moreover, they are offered at preferential wholesale prices. What's more? Globally, shipping is always free on every item you see. 
There is no doubt that Rotita has become a global online fashion phenomenon. Rest assured that thousands of fashion-forward enthusiasts find this their one-stop fashion center. Delivering an extensive selection of styles and high-quality products, they attract and satisfy the demand of their customers.
Committed Partnership With Manufacturers
Every day, Rotita seeks to source new products. They are always seeking the latest popular. Due to the strong relationship that Rotita has with manufacturers locally and abroad, they can pass on low factory prices to customers. So why join their affiliate program?
8% – 15% commission payout
60 days cookie duration
High conversion rate
New items arrive every day
Professional customer service
Right now, you can join Rotita's affiliate program through their website, on the ShareASale network, through AWIN, ADPUMP, or Webgains.
Offers A Drop Shipping Opportunity
Interestingly, the company also offers a drop shipping opportunity. Therefore, you can purchase their products at competitive prices. Who can join their program? Anyone who buys from their store regularly can join their drop shipping program. But you must first be a member. Before you sign up for this opportunity, see what is a drop shipping business first. 
Using the specific link that they provide, you can send a request to join if you are comfortable with the idea. Once the approval is given, you can start your dropshipping business immediately. However, it is important to note that they will end the business relationship within 30 days if you are not getting orders. An alternative drop shipping company is SaleHoo, which is not as rigid as Rotita.
✅ StyleWe: Where Fashion Meets Individuality
Celebrating individuality through fashion, StyleWe offers an affiliate program with a diverse range of clothing. Typically, some of their clothing includes designer pieces and independent fashion labels. If you're passionate about promoting unique and artistic clothing, StyleWe provides a great opportunity to earn commissions.
No doubt StyleWe aims to provide customers with top-quality fashion. Globally, the company connects directly with more than 400 independent designers. Customers can get original products. Watch this short video for a demonstration. 
Not only is StyleWe helping these designers to realize their financial dreams, but they are also helping people wear unique, yet affordable designs. Matter of fact, their method may very well change the "traditional fashion world."
Ready to help drive traffic to StyleWe? Offering a 14% commission on confirmed sales, the unique styles have a high conversion rate. Generally, the average sale is about $150. Shipping is free and delivery is fast. Other incentives include exclusive coupons and deals. Plus, banners, text links, and their latest data feedback.
How Do You Join StyleWe Affiliate Program?
Firstly: Choose an affiliate network (ShareASale or Webgains) and sign up as an affiliate or a publisher.
Secondly: Search their merchant ID within the affiliate platform.
Thirdly: Apply to join StyleWe and wait for their approval.
Fourthly: Given that you get their approval, you can get the links to promote the products and start earning commissions. Their cookie duration lasts for 30 days.
✅ Few Moda: Redefining Modern Fashion
Are you into fashionable trends? Do you like the sophistication flare of clothing? Especially for the young professional woman, you can find your next look at Few Moda. Primarily, Few Moda is all about modern, elegant fashion that empowers women.
Their affiliate program allows you to partner with a brand that values quality and style. Whether it's sleek office wear or casual weekend outfits, Few Moda has you covered. Certainly, they'll get you on trend with their special hand-picked garments. All from the best "luxury craftsmen and manufacturers."
From dresses to activewear and sleepwear, you can definitely find what you love. To promote products with this company, you will need to sign up with the Rakuten Marketing network. Basically, you can earn 8% commissions. Plus, you can also earn incentives based on your performance. Cookie duration lasts for 30 days. 
Helping to make your promotion easier, you'll have access to banners, coupons, and special deals for customers. Usually, the average order amounts to about $175 with a good conversion rate.
✅ Amaryllis Apparel: Embrace Your Inner Bohemian
Providing versatile looks, Amaryllis apparel is the go-to destination for those who embrace bohemian and free-spirited fashion. Their affiliate program lets you tap into the Boho trend and earn commissions while doing so. Share your love for flowy dresses, earthy tones, and unique accessories with your audience.
Uniquely transforming the newest trends in styles, Amaryllis apparel is comfortable. Essentially, they create the most important fashion pieces that you will need to be on top of the social trend. Of course, their clothing inspires everyday outfits.
Every week, customers can expect new releases of the latest fashion. Take a look at these items for instance. Want to be an affiliate with this company? Again the management of their affiliate program is powered by the Rakuten Marketing network.
In case you do not get approval from Rakuten, you may check the Amazon Associates Program and sign up with them instead. Lots of Amaryllis apparel are available on the Amazon marketplace. Commission earnings with Rakuten are 15% and cookie duration lasts for 10 days. On the other hand, commissions on your sales on Amazon are only 4.00% for apparel.
✅ Kiyonna: Celebrating Curves and Confidence
Sometimes, people who are plus size may feel that there isn't enough clothing on the market for them. But Kiyonna specializes in plus-size fashion, celebrating curves and promoting body positivity. As an affiliate, you can empower women by showcasing stylish and flattering clothing options.
Kiyonna's inclusive approach to fashion is not only rewarding but also socially impactful. Plus-size dresses range from 0x – 5x. Just to get an idea of how their fit can be flattering, watch this very short video. Together with a great fit and stylish designs Kiyonna wants to make the plus-size woman feel confident about her look. 
To partner with Kiyonna as an affiliate requires signing up through the ShareASale network. Thereafter, you can apply for approval to promote their clothing. Immediately after approval, you'll have access to banners, text links, and various promotion methods. 
Correspondingly, you will work with a very helpful "affiliate management team." Sales commission payout to affiliates is at 8%. Important to realize that those who have coupon sites get a lower rate. Generally, the cookie duration is 60 days. Be assured that the company has a good conversion rate.
✅ Tara Lynn's Boutique: Curated Elegance for All Sizes
Another fantastic option for promoting inclusivity in fashion is Tara Lynn's Boutique. Their range of clothing caters to all sizes, ensuring that every woman can look and feel elegant. Join their affiliate program to promote fashion that's both chic and accessible.
Known for offering a wide variety of trendy styles, Tara Lynn's Boutique caters to all sizes: From XS to 6 XL. Growing at a rapid pace, this online boutique provides for all lifestyles. Endorsing a positive body image for women of all sizes, the company has been one of Utah's fastest-growing online boutiques.
To help with their promotion Tara Lynn's Boutique is looking for affiliates whose focus is on women's fashion. Affiliates can earn 10% on the sales that they bring to Tara Lynn's Boutique website. Normally, the average order value is $80 and cookie duration is 30 days. 
Once again, you can request approval to promote their products by joining ShareASale. Ready to help Tara Lynn's Boutique spread its brand to your audience? Go ahead and sign up now.
✅ PrettyLittleThing: Stay on Trend with Affordable Fashion
Ever since its launching PrettyLittleThing has been growing quite rapidly. Across numerous categories, you can find more than 100 styles. Over 5000 of the latest fashion trends and they are all available at affordable prices. Affiliates can tap into the fast-fashion craze and offer their audience affordable yet stylish clothing options. It's an excellent choice for fashionistas who love staying trendy.
Currently, their affiliate program is available in several countries. Namely, the United Kingdom, Ireland, France, and the United States. Powered by the Awin network, you can simply follow a few steps and sign up to join their affiliate program. 
Following their approval, you can grab your affiliate links to start promoting their products. Whenever you send traffic to the company's website and generate sales, you earn a 10% commission on every sale.
Offers Several Perks
Amazingly, there are several perks for affiliates and these include:
Regular product feeds update with new, trendy styles
Wide range of new banners
30-day cookie duration
Tracking of your results
Tools for optimizing your activity to increase your income
Regular communication on the latest trends
Exclusive offers
✅ Joie: Effortless Luxury for the Modern Woman
Want timeless and luxurious fashion pieces for the modern woman? Joie's affiliate program is ideal for those who appreciate and want to promote high-quality clothing. If you're looking to associate your brand with elegance and sophistication, Joie may be the way to go.
Having the inspiration from Paris and California, women can always have that effortless chic look. The collection features cool floral dresses, bohemian-style tops, and soft warm sweaters. Although the Joie girl dresses in casual comfortable looks, her clothes look luxurious. Truly, clothes that reflect a woman's carefree and natural beauty.
Thinking about promoting Joie's modern and fashion-savvy products? Specifically, you'll be helping to reach customers who are looking for an overall wardrobe. Controlling their affiliate program is CJ Affiliate (formerly Commission Junction). Needless to say, you need to sign up for approval with that affiliate network. 
Program Features
Among the multiple features, you can find the following:
Competitive commission rate
Daily data-feed
Regular affiliate newsletters
Constant updates of creative banners and text links
Devoted affiliate managers
7% Commission
3 months EPC
Build A Website For Your Clothes Affiliate Programs
Noting all of these Clothes Affiliate Programs, how about starting your affiliate website? Because this can be a wide niche, you can narrow it down and be more specific. What can you focus on though? Thinking about these affiliate programs, you can have a target audience in mind. Either young professionals, more mature women, the casual sophisticated look, or any other target audience. 
Even if the companies above do not appeal to you, you can learn how to start an online boutique for free. Or you can probably join direct sales women's clothing companies.
Related: How To Create a Website For Affiliate Marketing
"The only thing worse than starting something and failing… is not starting something."
(Seth Godin)
Boosting Your Affiliate Income
Assuredly, these programs are just a tip of the many possibilities when you start your affiliate website. Surely, there are tons of affiliate programs that you can join to start boosting your income. Writing product reviews and creating how-to videos are just two ways to get going.
Albeit, you may need to take a look at this Free 5-day Training to get you off the ground. Only 4 simple steps to take. Best of all, it's free with no strings attached. This is the easiest step-by-step training that you can find.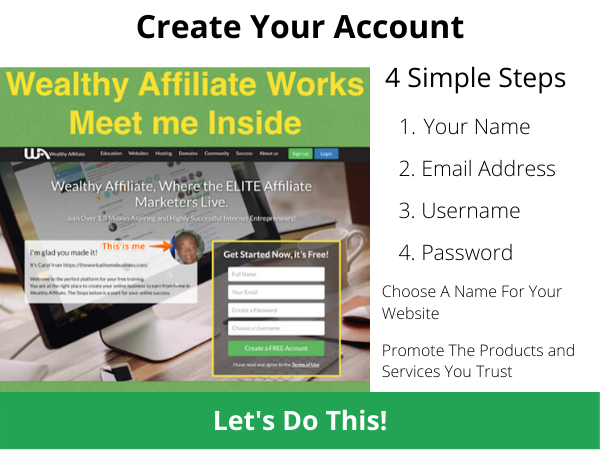 Concluding Thoughts
Overall, the world of Clothes Affiliate Programs is teeming with opportunities for fashion enthusiasts. Affiliate marketing has transformed the way individuals can earn income online, and the fashion industry is no exception.
Whether you're passionate about bohemian styles, body positivity, or affordability, there's a program to suit your niche. Start your affiliate journey today and turn your love for fashion into a profitable venture. Considering that many women like to refresh their clothing closet, you can help them find comfortable clothing.
Dressing them up with an elevated look, or dressing them down, you can rest assured that you're providing customers with valuable access to leading online retailers. No matter which clothing brand you choose, there is a target audience.
Particularly, your target audience may be plus-size women, or the petite, for those who are short and for those who are tall, the sophisticated, just throwing out a few thoughts. Provided that you have approval from the affiliate companies, you can promote their products and earn commissions.
Hope you are happy with your experience at theworkathomebusiness.com. If you have any questions, concerns, or suggestions please let us know. Feel free to share this page or leave a comment.
Carol
theworkathomebusiness.com
P. S. Sign Up For My #1 Recommended Training Course And Learn How To Start Your Online Business For FREE.
"If you don't try, you forfeit the opportunity." (Frank Sonnenberg)