Jewelry Direct Sales Companies offer one of the most popular work at home opportunity. For one thing, there are so many Jewelry Direct Sales Companies to choose from. So if you would like to start your own online business in jewelry sales, this post shares some great Jewelry Direct Sales Companies that you can think about.
Given that jewelry can be quite attractive, the interest level among sales consultants can be high. Seeing that jewelry makes elegant exhibits, it's easy to present to customers. Also, it is lightweight and easy to pack. Not to mention that many women adore jewelry.
One thing to keep in mind is the high competition among companies. Of course, each company tries to stand out above their competitor. And that is why many of them offer one of a kind jewelry.
Apart from hosting the usual parties, wearing the jewelry and person to person sales, you can sell more online these days. But usually, the online store is a copy of the company's website. Definitely, that is not the best way to sell online.
Discover How You Can Build Your Own Dot Com Website With Training From Wealthy Affiliate.
"Tomorrow is too late. Yesterday is over. Now is exactly the right moment to start." (anonymous)
Related: Create A Website Business
10 Jewelry Direct Sales Companies (Can You Earn Money With These?)
Despite the high competition, marketing of jewelry in the Direct Sales Business never seems to slow down. Just take a look at the data from Google Trend. Isn't this encouraging?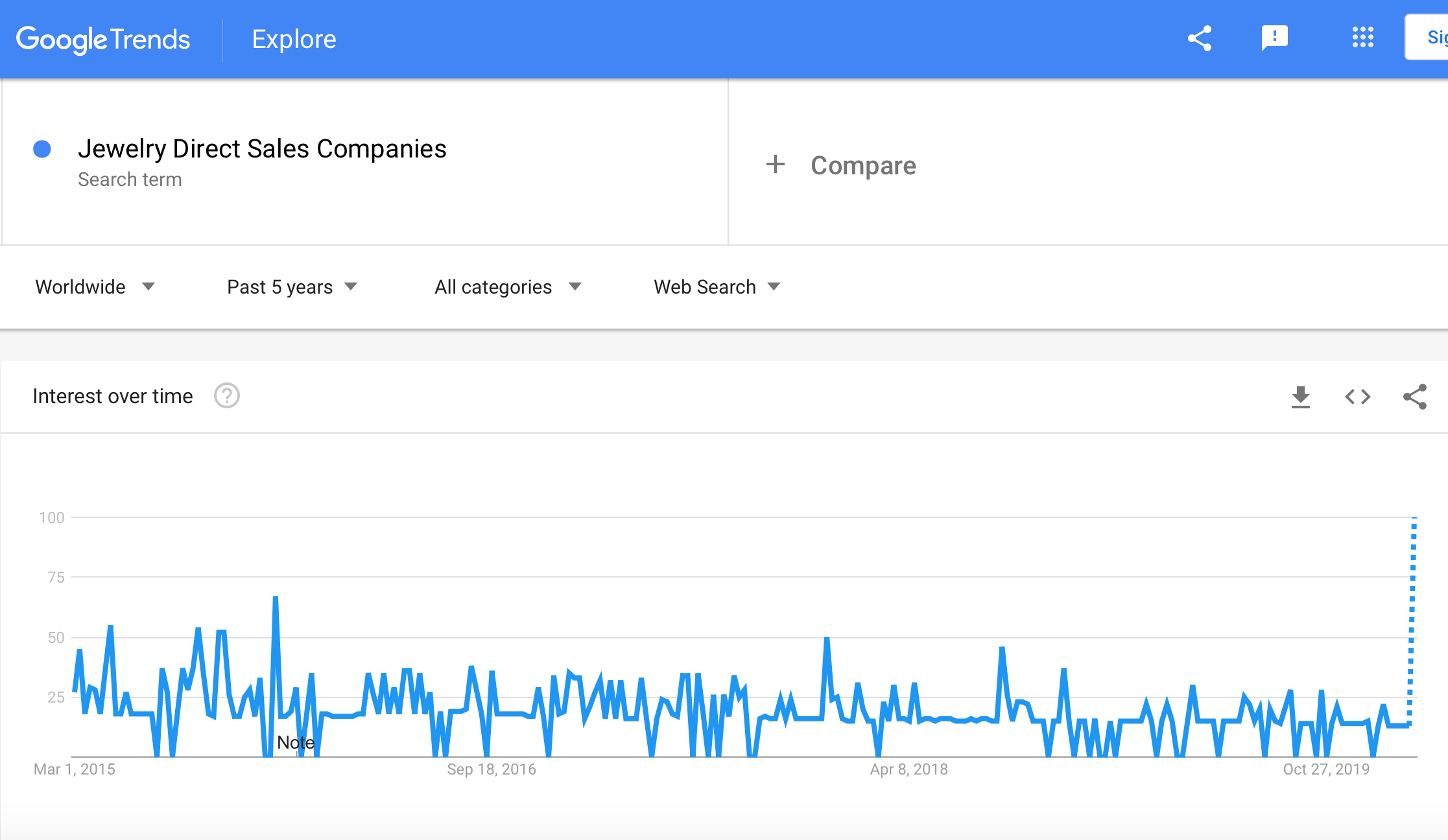 In no specific order, here are 7 great companies to check out.
Azuli Skye (Key Focus: Elegant and affordable Jewelry)
Selling with this company allows you to offer high quality and affordable jewelry to customers. All the supplies for your "first 6 jewelry parties" are in the consultant kit. No doubt the opportunity offers an attractive compensation plan. Matter of fact, you can "build your jewelry collection without spending a lot of money." Especially when you host a party you may end up getting your jewelry for free.
In case you want to sell trendy, high-quality fashion and sterling jewelry, this is a great company to start with. When you join Azuli Skye, you can start with a Mimzi Starter Kit which comes in 3 different colors (rose petal, midnight, breeze).
Each kit includes one "Sterling Silver Standard Mimzi Bracelet, 2 Sterling Smart Beads & 5 coordinating Mimzi's." Right now, the cost is $79. Usually, it sells for $129. More specific, Azuli Skye offers the following when you join:
Remit sales tax
Offer free training tools
Do free credit card processing
Charge no renewal fees
Give you a personal Azuli Skye website free
Rather than a replicated website, You Can Create Your Own. Let Wealthy Affiliate Show You How To Build Your Own Online Business.
"The secret of change is to focus all your energy not on fighting the old but on building the new." (Socrates, father of Western philosophy)
Related: Things You Need to Know About The Best Free Website Builder
Touchstone Crystal (Key Focus: Jewelry with Swarovski crystals)
Key focuses for this company is the use of the ever popular Swarovski Crystals and Zirconia in their jewelry. Specifically, this gives the sparkle. So if you would like to offer this type of jewelry to customers, then this is a great company to join. Watch this short video for a demonstration.
Important to realize that, "Swarovski crystals give the impression of being luxurious, sophisticated and elegant, whilst allowing the person wearing it or the item it is garnishing to display eye-catching beauty.
Swarovski is a brand name for a range of precision-cut crystal glass which is made only by its producers in Austria. They do not occur naturally in the Earth." (source: diamondrocks.co.uk)
Basic starter kit for Touchstone Crystal is $139. Plus, you can also have your own online store. Notably, the cost of the website is $12 per month. With this company, you can rest assured that the choice of jewelry is far-reaching.
Typically, there is a piece of jewelry for every season. Moreover, special occasions like those unforgettable moments of being a bride. Surely, this type of jewelry has competition from other companies. Sometimes, they even run sales with big discounts on these gems.
Paparazzi (Key Focus: Affordable costume jewelry)
Uniquely, this company sells each piece of jewelry for only $5. How many companies offer that? Needless to say, you'll need to purchase inventory. At wholesale prices, you can get a large amount of jewelry to sell and earn 35% – 45% commission on sales. Looking at the compensation plan gives more details.
Depending on how you want to start, you can purchase a starter kit from $99 – $499. Generally, the smallest kit comes with 35 pieces of jewelry. Following that, there is a kit for $299 with 120 pieces of jewelry. Then, the most costly kit at $499 has 200 pieces of jewelry.
Packing each kit with "marketing materials, business tools, and jewelry, your starter kit has everything you need" to start a business. Though many of the pieces are quite simple, the styles vary and there is something to compliment just about every occasion.
"The power of Paparazzi is in its simplicity. Paparazzi accessories are always fabulous, always fashionable, and always $5. Find that perfect pop of color, fall in love with a new statement piece, or step out of your comfort zone and try one of the hottest trends of the season – the choice is yours." (source: paparazziaccessories.com)
Because the jewelry is not very costly, you may never make the profit that you expect. Why not check the training at Wealthy Affiliate? Assuredly, they can help you Build Your Own Online Business. See what they have to offer.
"Yesterday is gone. Tomorrow has not yet come. We have only today. Let us begin." (Mother Theresa)
Plunder Design (Key Focus: Unique Vintage jewelry)
Do you have an interest for "all things savvy and vintage"? Plunder Designs offer that unique touch. Delivering jewelry that's more vintage in mind, you can purchase a starter kit for $99. Upon joining the company, you can also choose the upgrade kit which costs $145.
Keep in mind that being vintage may not attract a wide audience. Notwithstanding such limitation, you'll still be a "Bossbabe" consultant. Similar to other companies, you can pocket 20% – 35% commission on all your sales. Beside your monthly sales, there are extra bonuses that consultants can make.
Certainly, some customers may not like what you present to them. On the other hand, others don't mind the styles. Interestingly, customers can personalize their order. Like engraving a necklace or a bracelet for instance.
Park Lane Jewelry (Key Focus: Fashionable jewelry)
Since 1955, this company has been offering fashionable jewelry for men and women. Becoming a social stylist, means that "you can start your own business for as little as $15.00 per month. Commissions start at 20%."
Together with your starter kit, you can own a webstore for "quick, on-the-go-sales." Remember, this is just an exact duplicate of the company's website. Actually, do you really prefer that when you can create your own website?
Park Lane Jewelry offers 3 options for a starter kit:
Digital Kit: $99 (Choose your own jewelry to suit your business).
Standard Kit: $229.00
President Kit: $639.00
Ideally, the company offers a 30% – 50% commission on your sales. Other than that, there is no stress to meet a sales quota ever week or every month. Obviously, the styles and colors vary greatly. Either for casual or formal wear, there is a style for every occasion.
Due to the fact that the jewelry is so exquisite, prices can be on the higher end for some pieces. Sorting by price in ascending order for necklaces, the price range goes from $24 to $696. Likewise, earrings range from $16 to $214.
Magnabilities (Key Focus: Personalized magnetic jewelry)
Being that the focus is on jewelry that is magnetic and interchangeable makes it possible for easy customization. Chiefly, customers can express their personality through a combination of jewelry that is uniquely theirs. Or they can use clip art from the company's website.
"With our interchangeable jewelry, customers love to create several looks with one base piece of jewelry and a variety of interchangeable inserts." Watching this short video gives an idea of what to expect.
Can you imagine the memory of that precious photo insert in a piece of jewelry? Albeit, it can be a necklace, bracelet or ring. "Magnabilities captures those memories in special keepsakes uniquely designed to touch the hearts of those who receive them."
Through "virtual enrollment," you can join for $1. Or purchase a starter kit for $50. Markedly, there are "no monthly minimum requirements." Very much like other companies, there is a compensation plan for independent consultants: Earn 30 – 50% retail profit on your own sales. Equally, there are other rewards and bonuses that you can earn.
"Magnabilities allows you to sell in many ways. Home parties, where guests are able to choose the pieces they like from the Consultant's inventory and wear those pieces home that day. Other ways to sell are from the catalog and online. The Consultant will earn retail profit on those items as well!"
Don't limit yourself to this business model if you don't like home parties. More ideally is this alternative to create your very own online business.
"The value of an idea lies in the using of it." (Thomas Edison)
Origami Owl (Key Focus: Personalized jewelry)
Center of attraction for this company is its charm jewelry that you can personalize. As a designer, you can earn up to 50% commission on your sales plus there are "additional perks." Available kits include a start up for $49, an essentials kit for $99 and a signature kit for $199.
Wherever you are, you can use the "Living Locket Builder," and "create your own personal "Living Locket." Your locket can have any charm or various ones. Featuring several categories and styles, you can start with a charm that tells a personal story. Whether it's your birthday, your family, your hobby, vacation or just a personal message, there are numerous categories to build your locket.
Point in fact: You pay for each charm that you select. Additionally, you also pay for the locket base and the chain. Everything adds up and the final cost depends on the choices you make. Finally, save your design, share your story, and then design more.
Aside from the usual person to person sales, you can also sell online. Paying $10 per month gives you a clone website. Though this sounds easy, many people may find it hard to meet their sales quota. Kind of not so much the business model you want? Probably, you can check the training at Wealthy Affiliate to see if they offer.
"It's not about ideas. It's about making ideas happen." (Scott Belsky)
Threads Worldwide (Key focus: Artisan jewelry)
Would you like to sell artisan made jewelry? Without a doubt, Threads Worldwide offers a wonderful opportunity. Particularly, the company has a "unique fair trade collections of jewelry, handbags, and accessories…"
Ideally, the company partners with "artisans all over the world" to make their collections. Every woman who makes a piece of jewelry does so by hand. Individually, each piece tells that woman's story.
Do you have a passion for fair trade? Perhaps, your passion of sharing the stories behind each piece of jewelry can help to boost sales. This short video gives an insight and may inspire you.
"The artisan cooperatives we partner with employ women who have BIG dreams – yet little opportunity. Through dignified work in a nourishing environment, women pull themselves out of poverty and reinvest into a future that we can all get excited about. We are honored to be part of this global collaboration and connection." (source: Artisan Partners)
Launch Kits
There are 3 Launch Kits to choose from:
Inspire Launch Kit for $199
Impact Launch Kit for $399
Ignite Launch Kit for $599
Upon joining the Threads Movement, you become a "Fair Trade Partner to create life-changing work with women around the world." As a Threads Partner, you can earn up to 30% commission on your sales.
"Every piece in the Threads line has the power to bridge the gap between the woman who wears it and the woman who made it, creating threads of sisterhood across the globe. As a Fair Trade Partner, you'll share about our jewelry as an invitation to creating a fair, connected, and thriving world." (source: threadsworldwide.com)
"Some people dream of success, while other people get up every morning and make it happen." (Wayne Huizenga)
Vantel Pearls (Key focus: Pearl jewelry)
Unlike other companies Vantel Pearls is definitely one of a kind with "the magic of the oyster opening." Inside each oyster is a genuine pearl. They come in a various colors and sizes. Each is "one-of-a kind."
To join, you can either choose the starter kit for $99 or the pro kit for $149. Given the distinction of the Pearl Kit, you can actually present to your audience "genuine freshwater cultured pearls" in oysters. Starting off with a 25% commission on all your sales, you can expect to grow from there if you keep making more sales.
Sabika (Key focus: Exquisite jewelry)
Focusing on unique hand crafted jewelry, this company puts great emphasis on women. With the intent to "bring beauty, joy and opportunity to women of all ages and diverse backgrounds," you can find several styles.
"Sabika is hand-crafted by female artisans and limited in quantity." With skillful design the artistry of each collection is as "unique and distinguished as the women who wear it, make it and sell it."
Although quite simple, the jewelry pieces do have some elegance to them. Many designs of the Sabika Cut is in collaboration with Swarovski. Providing that you decide to join this business opportunity, you can purchase one of 3 starter kits:
Essentials kit for $100
Boutique kit for $250
Entrepreneur kit for $650
On your product retail sales, you can earn 20% – 30%.
Concluding Thoughts
As you can see, the outlook for Jewelry Direct Sales Companies remains largely undiminished. Hence, it's a strong business model to keep in mind. Notwithstanding the popularity, it is important to do due diligence before you join. By the same token, the jewelry should not only be affordable, but should also appeal to your audience.
Regardless of the company you choose, this business will not work for everyone. Like me for instance. I have tried quite a few and they never work out. My #1 recommended training is now helping me to build an online business.
Hope you are happy with your experience at theworkathomebusiness.com. If you have any questions, concerns or suggestions please let us know. Feel free to share this page or leave a comment.
Carol
theworkathomebusiness.com
P. S. Sign Up For My #1 Recommended Training Course And Learn How To Start Your Online Business For FREE.
"If you don't try, you forfeit the opportunity." (Frank Sonnenberg)
Popular Posts
10 Best Direct Sales Companies (Health and Wellness)
Don't Start Direct Sales Company Before Reading These Tips
12 Best Direct Sales Companies
Believing These Direct Sales Myths Prevent Success
Learning How to Sell Online Without Inventory
Facts Everyone Should Know About Discovery Toys
Where Buy CBD Oil: Next Big Thing For Home Business
Now is the Time to Sell CBD Oil Online
Sell Items Amazon Consumers Always Want
Recommended For You
My Experience at Wealthy Affiliate
Reasons People Laugh About Wealthy Affiliate
What About Wealthy Affiliate? These Shocking Facts Review
Secret Opportunity Exposed: Freelance Writing Jobs Beginners
Effective Way to Earn Cash From Home