Knowing the Top Direct Sales Companies Women Choose may inspire you to select the most profitable ones. Owing to the fact that this business model offers an ongoing opportunity, this post shares 6 Top Direct Sales Companies Women Choose.
Considering that the work at home business is very popular these days, many women are drawn to these companies. Generally, the Top Direct Sales Companies Women Choose to have products that they feel good about. Thereby, they'll highly recommend them to others.
Writer's Note: In the event that you would like to look at another business model, you can check Wealthy Affiliate to see how they can help you. These guys are the pros on Affiliate Marketing. And they can show you how to start an online business.
"The important thing is not being afraid to take a chance. Remember, the greatest failure is to not try. Once you find something you love to do, be the best at doing it." (Debbi Fields)
6 Top Direct Sales Companies Women Choose (Increase Your Profit)
Clearly, the observation on Google Trend, shows that there is an interest in these companies. Amazingly, many women who like to host parties to showcase products make ideal sales people.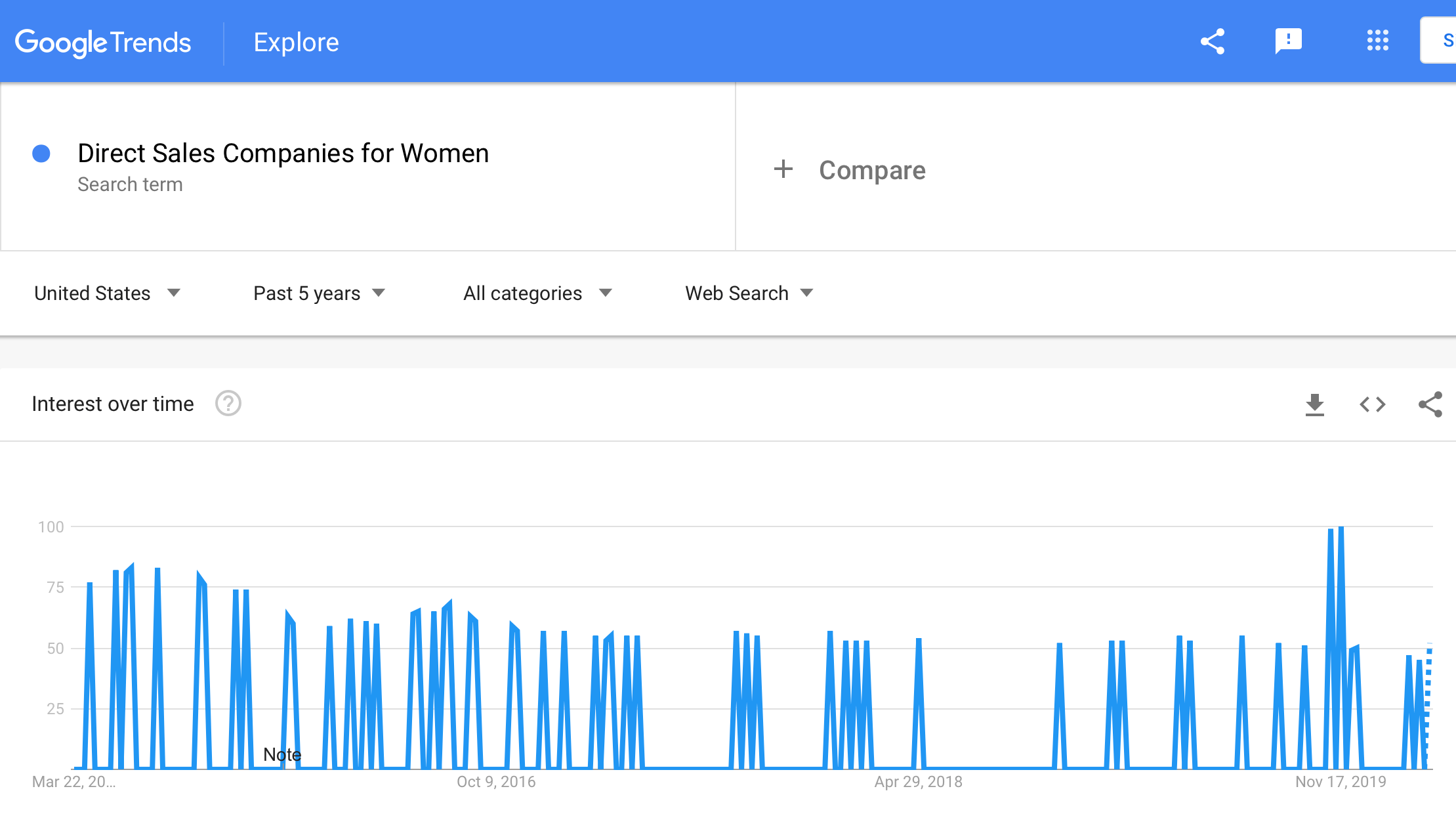 Keep in mind that there are so many direct sales companies around that it can be overwhelming to choose the right one. So what are the most profitable direct sales companies? Or, which ones are the best? Here are some top ones that you can give serious thought.
1. Alice's Table
Especially for those who love flowers, you can start a side hustle with Alice's Table. Notably, the company provides the opportunity for women to start their own flower arrangement business. All the tools and training are available for you to make your dream a reality.
Accordingly, you can "learn new skills, and live a social and creative lifestyle." As a result, you can host your own floral workshops to present the business model to others. Not to mention attending floral events to share demonstrations.
Best of all, you don't need to know about floral arrangement to start. You see, everything you need to know about flowers is in the training. Throughout the training, you'll learn the creative skills to be successful. Ensuring that you have the skills to launch your business with confidence, the training is comprehensive. Both video and virtual training are available.
Starter Kit
Launching your business requires a starter kit as usual. Either a one time payment of $805, or you pay in 4 equal installments of $201.25. Contents in the kit include reusable materials for 20 people at an event. Things like:
Aprons
Clippers
Rose strippers
Large buckets
Trash buckets
Watering cans
Spray cans
Plant food
Ideally, you can "take home up to 70% commission on ticket sales before the cost of flowers. On average, supplies cost $22 per person, per event. Your earning potential is huge!" (source: alicestable.com) Check out your earning potential here.
To set your mind at ease, this company is not multi level marketing (MLM). They handle basically everything that has to do with your sales: "Payment processing, customer support, platform access and more for your business."
"The future is not some place we are going, but one we are creating. The paths are not to be found, but made. And the activity of making them changes both the maker and their destination." (John Schaar)
2. La Bella Baskets & Gifts
Opening up a gift business can definitely be fulfilling. Imagine the many smiles that gift baskets bring. Forthwith, there is exceptional potential with this opportunity. Helping people send gifts to those they love can bring absolute pleasure. Moreover, the joy to the hearts of those receiving them.
Important to realize that signing up for this business opportunity allows you to open a gift boutique. Before you open a store, you'll go through training of course. Apart from helping others with their gifts, you can earn commissions every time you send gifts to friends and family.
One special thought about this company is that they care about single moms. Specifically, the company has a "Basket of Smiles" program where they deliver beautiful gift baskets to them. Likewise, there is a monthly gift basket giveaway. At La Bella, they believe the "reason for living is giving!"
Own a La Bella Personalized E-Commerce Store
Membership for a gift boutique is $24.95 per month. Or $200.60 for the entire year. A saving of $98.80 if you pay annually. Once you become a gift consultant, you'll have your own personalized Ecommerce store. Showcasing more than "400 gourmet and specialty gift baskets," you are sure to delight others. More products to showcase include:
Fresh Flower Bouquets
Cookie bouquets
Sterling silver charms
Scented jewel candles
Scented wax roses
Plantable Greeting Cards
600 personalized gifts (always free to customize)
Basically, your online store will have loads of gifts with your own shopping cart. Immediately after becoming a consultant, you may very well have orders coming in. Actually, you can download catalogs so you can take your business with you while on the go.
Offers Lots of Perks
Simply, when you join a business like this, there are certain advantages. Primarily, you don't have to do many things like purchasing products for inventory. Essentially, the company works "behind the scenes in the warehouse." Along with that, they take care of:
Compiling the gifts
Packaging and shipping
Engraving orders when customers make requests
Ongoing addition of new gifts to your store
Apparently, the company also help you market your business, assisting with:
Free marketing lessons to help grow your business
Expert tools and techniques
Basic advice for internet marketing strategies
Weekly newsletter with tips and tricks to market your gift business online and offline
Ready for this business? All in all, the business allows you to "go paperless, don't need space, inventory, or staff." Albeit, it is a "hassle-free way to own a business. Earning residual income, bonuses and commission twice a month" may just be what you would like with a business.
"Some people dream of success, while other people get up every morning and make it happen." (Wayne Huizenga)
3. Heritage Makers (merged with Youngevity International)
Anyone who wants to build a business around family memories may find this company useful. Chiefly, their focus is digital family stories. Emphasizing a "valuable heritage now and for future generations," you can encourage others to do the same. Starting a business with this company allows you to:
Share projects in custom booklets or brochures
Print beautiful fliers
Reach out to others through Heritage Makers party
Emphasize family values and connect with the past
Give unique gifts
Send personalized greeting cards to customers
Personalize address labels
Start With Easy Steps
Starting this business requires 2 easy steps. Firstly, you'll join as a Youngevity Distributor. Secondly, you will use your assigned "Youngevity ID" to sign up for a "free Heritage Makers account."
"Heritage Makers offers four fantastic kits: $25.00 Consultant e-Welcome Kit – lifetime consultant, Virtual Office and Consultant website." (source: heritagemakers.com)
Several categories are available to create lasting memories:
One of a kind storybooks (to add special moments)
Custom greeting cards and invitations
Home and office decoration (favorite faces on items for instance)
Photo gifts, family recipe books and calendars
Holiday ornaments
Digital scrap booking
Lifetime Memories
DIY anthology
When you sign up to join the business, you become a "Youngevity Memory Keeping Distributor." Because the business offers flexibility, you can can do it "online, on the go, in person, or at workshops."
"Today's accomplishments were yesterday's impossibilities."
(Robert H. Schuller)
4. Tula Xii
How about a business that can help people organize their lifestyle? Tula Xii provides a "personalized planner" business opportunity. Seeing that many people lack "simple and flexible planning options," Tula Xii shares the passion of organizing. Becoming a Brand Ambassador allows you to share this passion. Despite the lifestyle, people can organize and be more productive. Seriously though, they are quite stylish.
Through a replicated website or hosting parties at home or online, you can present their products to prospective customers. Compared to other direct sales companies, Tula Xii is quite new. But the company is growing. Like many others, they offer training and learning for you to see the possibilities.
As a Brand Ambassador, you can "earn 25% base commissions on sales, up to 10% in sales bonuses." Plus, if you build a team, you can earn commission on your team's sales. Taking a close look at the compensation plan can give you a better idea.
Sign on Kits
Three options are available for sign on kits. Joining starts at $49 with the mere minimum of materials. Thereafter, you can purchase a $99 kit or go for the maximum price of $149.
Shortly after joining the company, you can have your website up and running. Sure enough, there is a monthly fee of $8.99 for the website. Payment for this website after your first month.
All the training, tools, and support for your business are available. Maintaining an active status may sound simple. "By selling at least $250 within a rolling three-month period, you will be considered an active Brand Ambassador." (source: elleetula.com)
Usually, the starter kit includes everything you need to succeed:
Product samples
Business supplies
Training
Community support
Personal website (first month is included in the cost of your kit. $8.99 per month after your first month).
"Organize your life around your dreams – and watch them come true." (Unknown)
5. WineShop at Home
Do you love wine? Would you like to start an "in-home wine tasting" business? WineShop At Home offers a great opportunity to do so. Different from just shopping for your favorite wine, you can become more knowledgeable about wines in general.
Being an independent wine consultant allows you to share the company's wines with others. Throughout your wine presentations at home, guests can discover more about each wine as they taste 1 ounce samples. Such tasty treat will most likely turn into purchases.
Choosing any one of the 3 kits can have your business up and ready in a short time. Prices range from $39.95 – $149. Coupled with your kit, you'll also have a monthly fee of $19.95 which gives access to the following:
Training materials
Mobile app
Personal website
Marketing and social media tools
Monthly newsletter
How do you Earn With WineShop at Home?
Just starting out, you can earn a commission of 20 – 35%. Leaders earn between 29 – 44%. Similar to other direct sales, there are other team bonuses that you can work towards.
Wondering if you will need a liquor license or certification? Certainly, not. First off, you place the orders with the company. Following that, they handle everything and ships directly to customers.
By the same token, you do not need to be a wine taster expert because of the intensive training that's available. Resources include training videos, plus weekly training calls. Extra support is also available to guide you. Subsequently, you'll learn a lot about different wines and tastings. Surprisingly, there are also "virtual wine tastings."
"It is common sense to take a method and try it. If it fails, admit it frankly and try another. But above all, try something." (Franklin D. Roosevelt)
6. Traveling Vineyard
Another wine business that you can check out is Traveling Vineyard. Interestingly, this is one company that offers up to 5 free bottles of wine for your "in-home wine tasting." Truly, the company believes that consumers need to taste before they buy.
"Traveling Vineyard is a unique direct selling opportunity operating on a party plan model. Wine Guides conduct in-home wine tastings and market our award-winning wines, which are shipped directly to customers."
(source: travelingvineyard.com)
Success Kits
Initial expense to start your wine tasting business with this company is either $99 or $179. Sometimes they have a special deal in the month of May. According to the website: "Traveling Vineyard, the nation's innovator of free home wine tastings and a leading social selling job creator has announced a new Independent Consultant sign – on promotion for the remaining month of May – "Let's Make It Free in May"
(source: travelingvineyard.com)
Whichever kit you choose, you'll get 10 bottles of wine for tastings. In addition, the success kit includes all your training materials. Among the contents you can also find 18 Tasting Glasses, wine accessories, tools for marketing, just naming a few.
"Nothing has ever been achieved without trying" (Alex Munoz)
Concluding Thoughts
Overall, these are just a few of the Top Direct Sales Companies Women Choose. Sure, they are awesome ones. Remember that direct sales can be a bit pressuring. Especially if you don't want to be a bother to anyone. Furthermore, some of these companies only appeal to specific audiences. Take for instance, the wine companies and Tula Xii. Particularly, your targeted audience must have a great interest in the products.
Let's face the reality. Most times, sales representatives want that push start. Therefore, they tend to ask friends and family to join the business first. Typically, asking your loved ones to do this can have a negative strain on those close relationships.
Point in fact, here are some key factors to note when you choose to do direct sales:
Love hosting parties
Don't mind recruiting people to join a company
Have excellent sales skills to persuade people to make purchases
Chief focus on the business opportunity is making money
Make monthly purchases and pay monthly fees to stay active
Satisfy with a low percentage commission
Can you put a check mark beside each one? If for any reason you don't feel comfortable with these factors, you can check out Affiliate Marketing. Here is my #1 recommendation for training.
"A year from now you may wish you had started today." (Karen Lamb)
Hope you are happy with your experience at theworkathomebusiness.com. If you have any questions, concerns or suggestions please let us know. Feel free to share this page or leave a comment.
Carol
theworkathomebusiness.com
P. S. Sign Up For My #1 Recommended Training Course And Learn How To Start Your Online Business For FREE.
"If you don't try, you forfeit the opportunity." (Frank Sonnenberg)
Popular Posts
Is Nu Skin Amazon Products Or Direct Sales?
Can You Make Money With Craft Direct Sales Companies?
Jewelry Direct Sales Companies (Can You Earn Money With These?)
10 Best Direct Sales Companies (Health and Wellness)
Don't Start Direct Sales Company Before Reading These Tips
12 Best Direct Sales Companies
Believing These Direct Sales Myths Prevent Success