Undoubtedly, Free Direct Sales Companies offer a great way to try out this business model. Wondering if these really exist? They certainly do. Though there are not many, you can find great ones. Starting off with Free Direct Sales Companies can help you decide if this is the business you want to pursue. Key focus of this post highlights some Free Direct Sales Companies that you can actually try.
No one denies that direct sales companies offer an incredible opportunity when you partner with the right company. More important, is that you want to sell a product that people believe in. Not to mention solving a problem that people are seeking a solution for. Whether it is health and wellness companies or fine jewelry companies, you'll definitely find products that offer solutions to consumers.
Usually, if you want to be a sales representative, many direct sales companies charge a start up fee to join. Nevertheless, you can find some companies that do not have fees for starter kits. Interestingly, many of these free companies do not require door to door sales. Moreover, the house parties.
Related
Best Way to Start Online Business Free
Nu Skin Amazon Products Or Direct Sales
"Doing the best at this moment puts you in the best place for the next moment." (Oprah Winfrey)
10 Free Direct Sales Companies (Can You Earn Money With These?)
Evidently, people have an interest in these free companies as shown on Google Trends.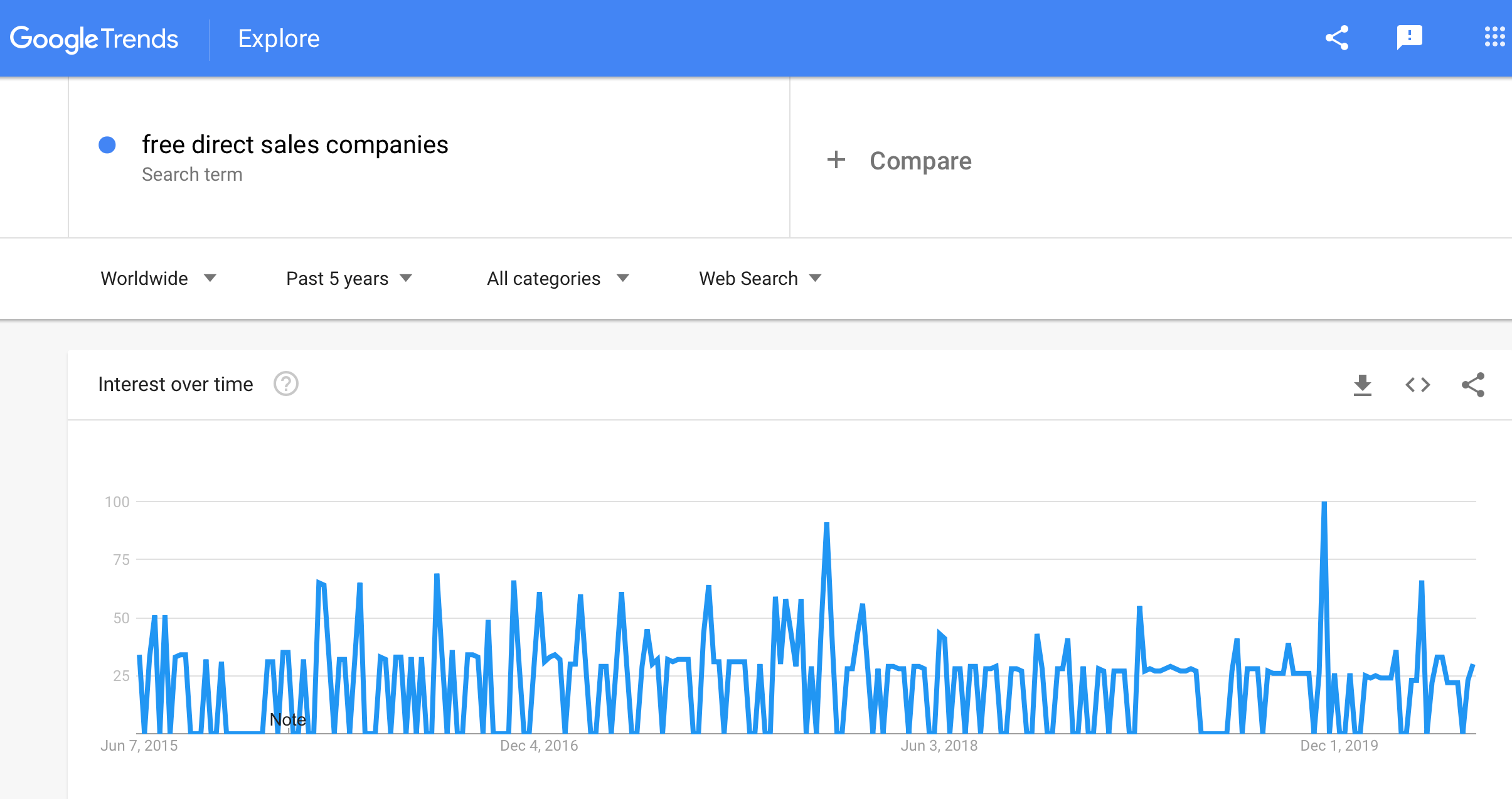 Normally, these free companies allow you to set up an online store. Once you make sales, you earn commissions. These companies carry products such as:
Candles
Footwear
Hair care
Clothing
Handbags and accessories
Promotional products
Below are 10 companies that are promising. Although they all offer a "free to join" opportunity, a few of them still have a monthly cost for the website. Despite the minimal cost, they are still worth a try.
1. Country Scents Candles
Markedly, some people can't resist the calming scent from some candles. In case you love candles and want to get in the business, you can see what Country Scents have. This company allows you to sell their products without having to pay a start up fee. Neither are there are any monthly fees.
Primarily, you'll create an online store to sell the company's products. Based on the sales that you make you'll earn commissions from them. Additionally, you can earn "extra giveaways and bonuses throughout the year."
Related: Can You Make Money With Craft Direct Sales Companies
2. fibi & clo Footwear And Accessories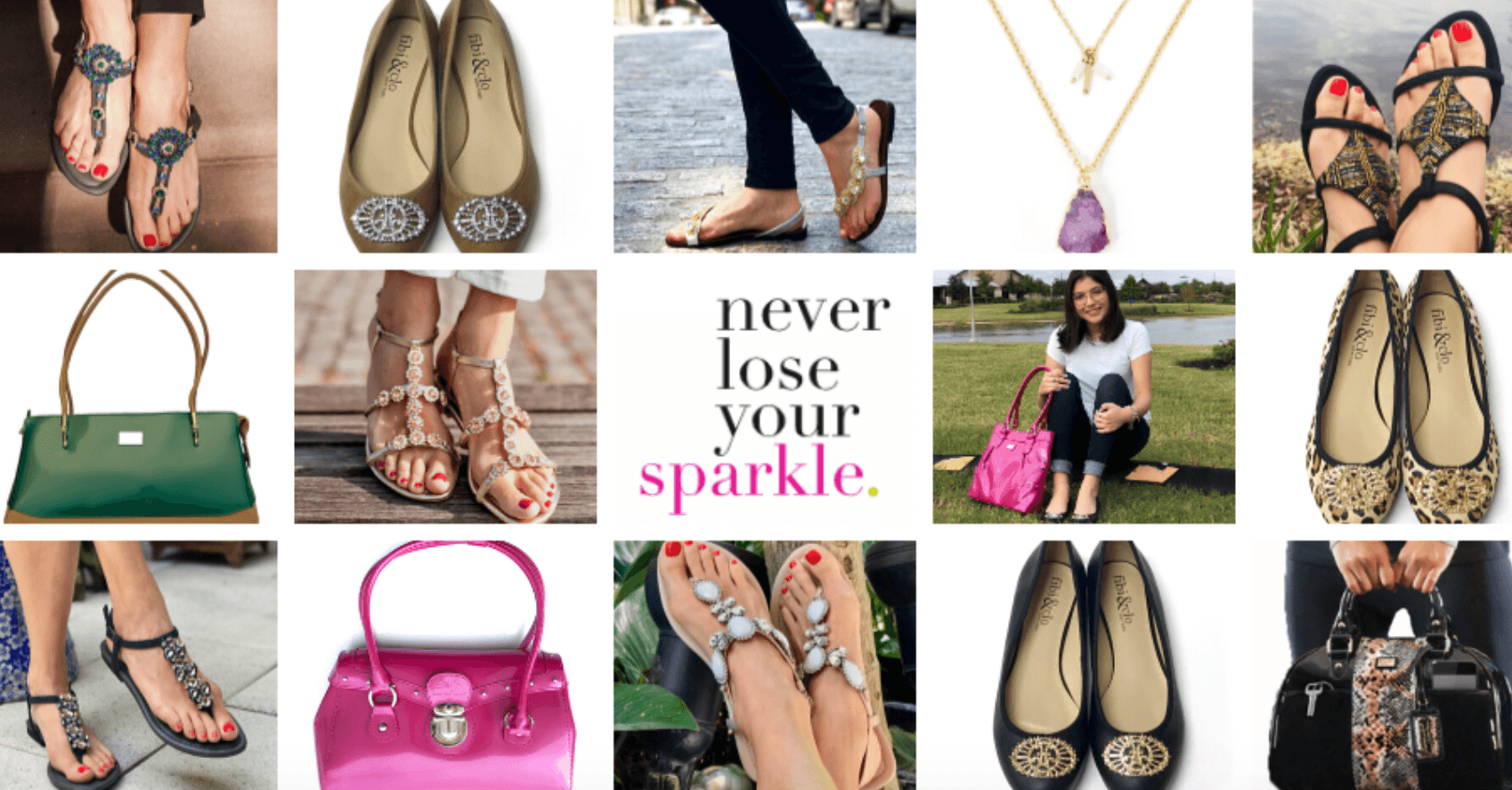 Without a doubt, this is one company that will attract those who are passionate about fashion. Furthermore, if you are keen about social media, fibi & clo could very well be the right company for you.
Again, this is another company that offers a business opportunity for you to become an ambassador free of cost. Unlike so many other direct sales companies, there is no start up kit to pay for. Likewise, there is no need to buy and store inventory. Really, it's zero upfront cost.
Generally, if you join the company's affiliate program, you can generate income in two ways:
Using their specific affiliate link, you can refer people to make purchases from fibi & clo.
Invite people to join the affiliate program. "By doing so you'll also receive commission from any sales they generate from their efforts."
"A dream is your creative vision for your life in the future. You must break out of your current comfort zone and become comfortable with the unfamiliar and the unknown." (Denis Waitley)
Statement About The Ambassador Program
Would you like to earn money with this company? Sharing fibi & clo brand gives you that opportunity. Take a look below at what the company has to say about the opportunity.
"We actively seek passionate people to help promote our products, and in return we provide an extremely generous rewards program that provides an excellent, continuous, and attractive source of additional income. We will provide access to your own software that tracks every lead, sale and commission payment due to you. Everything you need to start is available right now." (source)
Sign up now to become an Ambassador. Just scroll to the bottom of the page, click on Ambassador and fill in your information. Simply, it's just your name and email address. Immediately after signing up, you can start promoting the company. Watch this short video for more information.
Writer's Note: Learn How To Create A Website Business
"Tomorrow is too late. Yesterday is over. Now is exactly the right moment to start." (anonymous)
Read More: Believing These Direct Sales Myths Prevent Success
3. Mayvenn Hair care Products
Have you ever thought about a hair care business? With Mayvenn, you can become a hair distributor. Joining this business opportunity is free and there are no other cost to think about. Hence, this is one way that you can get your feet wet in the hair business.
One notable factor to keep in mind, is that you'll need to have a hair stylist license. That's a requirement if you want to become an affiliate. To start, with Mayvenn, you just have to fill out a simple form. Soon after you visit the website the form pops up. Within a short time after you submit the form, someone will contact you. Rest assured that you'll learn about the fundamentals of the business and how to move forward.
Clearly, your contact person will discuss the benefits of being a hair distributor with Mayvenn. No doubt, the issue of how much money you can earn will come up in the discussion. Also, how to handle possible problems that customers may have with the product.
4. J. Elizabeth Boutique
Ever thought of running an online t-shirt business? Provided that you love graphic t-shirts, J. Elizabeth is definitely a company that you can check out. Because there is no start-up fee, it is really easy to start. Matter of fact, the "only cost to you is for your website, which is $14.99 per month." 
Working as your own boss from home on your laptop or on your phone can satisfy the desire indeed. Truly, the t- shirts are very cute, and there is a wide variety of colors. Needless to mention the styles.
Granted that customers make orders from your website, the company prints the shirts, collects payment, then ships the order to your customers. By the way, there are a few perks to get you going: You don't need to carry inventory. Neither do you have to meet monthly quotas. Plus, you can create your own t-shirts.
Watching this short video gives more details about the business.
"Don't worry about funding if you don't need it. Today it's cheaper to start a business than ever." (Noah Everett)
5. Kaeser & Blair Promotional Products
First of all, let me point out that this company is not completely free. Particularly, they offer the opportunity for you to try out their business before you commit to any investment. Correspondingly, the focus of this company is on promotional products.
According to the company: "The Free Trial Launch Package allows you to put Kaeser Blair's business opportunity to the test. By filling out the form below, we will send you an array of product samples and our Best Buys Catalog FREE OF CHARGE.
These products will include:
Javelina Pen
Pocket Calendar
Folding Custom Coolie
Quick Slit Letter Slitter
Key Tag
Once you receive the trial kit, you can then take these products along with the catalog and see how you might be able to sell promotional products." (source: https://kaeser-blair.com/
6. She Anna Bella
Firstly, this opportunity is especially for Canadians. Although there is a $0 online kit, they do have different price points for 3 other kits. Key products for this company include handbags, scarves, jewelry, plus other accessories.
For the free online store, you only get the basics which include:
Full access to the online store
Earning commissions on all the sales that you generate online
Get "basic business support (email, monthly phone call, weekly business tips)"
Access to "business training and marketing materials"
"Some people dream of success, while other people get up every morning and make it happen." (Wayne Huizenga)
7. Style Chest
There is no doubt that when you are an influencer of style and fashion you can appeal to a large audience. Besides, having a large social media following is an ideal way to reach out to your audience. So if you have a passion for style and fashion, Style Chest has an opportunity for you. Nonetheless, there are some requirements that you have to meet:
Be professional in your promotion of the brand
Show that you are passionate about marketing
Presence on social media is engaging and have a strong following
Eager to learn to market best practices and also for social media
Responsibilities
Above and beyond the basic requirements, here are the expectations for this company.
"Drive sales by sharing photographs of yourself wearing Style Chest products on your social media
Host events and trunk shows
Attend industry networking events
Stay on top of industry trends
Build your fashion network" (source:

mystylechest.com

)
"When you find an idea that you just can't stop thinking about, that's probably a good one to pursue." (Josh James)
8. Stylevate Clothing
Who wouldn't mind earning extra money by just doing something simple? Plain and simple, you can just enroll with Stylevate and become a "Stylevator." Would you like to spread some enjoyment or just inspire others with fashion?
Signing up with the company doesn't mean that you need to make a purchase. Only browse around the website to shop and then "Share Fashion With Friends and Earn Income."
To a great extent, this is how it works: "Wear something you bought from the latest drop and now when your friends ask, "Where'd you get that?" simply pull out your phone and share a link to that item. You earn 20% on anything they directly buy from your very own Stylevate store link. It will be shipped directly to them and you will get notified."
(source: stylevate.com)
9. Country Naturals
Selling CBD oil products is surely a great way to start a business these days. Regardless of the competition, there are consumers who are looking for pure natural products. Country Naturals offer a free to join business opportunity. But knowing how to sell CBD oil is advisable before you commit to the business.
Despite the fact that you have access to an E-Store, there are no website fees. One great perk is that whenever customers make purchases, shipping is always free. From the sales that you make on your website, you can earn up to 25% commissions.
More For You
Discover more about CBD oil from these popular posts. Maybe the information can help before you commit to starting a business in CBD Oil.
Now is the Time to Sell CBD Oil Online
10. Mellouise Graphic Apparel And Accessories
Mellouise is always welcoming new consultants. Focusing on print on demand products, the company is looking for individuals with a high level of motivation. Among the many benefits that this company offers are the following:
"Free to join and no experience is necessary
Goal oriented individuals
Strong interpersonal and communication skills
No website fees, no back office fees, no quotas
Excellent support structure
Earn a minimum of 20% commission
Sell online or in person"
"Get five or six of your smartest friends in a room and ask them to rate your idea." (Mark Pincus)
Important Questions For Thought
Checking exactly what a direct sales company is about can make it or break it for your business with them. Here are some key questions to consider:
Is the product high quality?
What is the demand for the product? High, low or in between?
Which social media platform is the company presenting on?
How is the company educating customers?
Do you feel good about the sales people who are bringing this company to you? Are they optimistic?
Does the company offer a fair compensation plan?
Knowing the answers to these questions can influence your success if you do business with them. Obviously, you want to find the best company to sign up with.
Related: Don't Start Direct Sales Company Before Reading These Tips
Concluding Thoughts
Overall, the product and the compensation plan are important factors to consider when you select Free Direct Sales Companies. Best of all, you want to partner with a company that offers products to solve consumers problems. Actually, don't forget to check out exactly how much money the company will pay you every month.
Setting aside the compensation plan, you still have to remember to partner with a company that offers products that are relevant to people's needs. Frankly, this is vital for your success.
Keep in mind that Direct Sales is not suitable for everyone. Still, there is an alternative. Wealthy Affiliate can show you how to start your own online business. Training Is Available For You To Start Free.
"A year from now you may wish you had started today." (Karen Lamb)
Hope you are happy with your experience at theworkathomebusiness.com. If you have any questions, concerns or suggestions please let us know. Feel free to share this page or leave a comment.
Carol
P. S. Sign Up For My #1 Recommended Training Course And Learn How To Start Your Online Business For FREE.
"If you don't try, you forfeit the opportunity." (Frank Sonnenberg)
Popular Posts
12 Best Direct Sales Companies
Quick Way to Find Work From Home Opportunity
Boost Your Working At Home Jobs With These Opportunities
Understanding How to Sell Crafts Online
Discover How to Sell Online Free