Undoubtedly, CBD Direct Sales Companies offer a great way to earn income. In recent years, CBD Oil has become a hot commodity. That's why people are capitalizing on the opportunity to earn money with CBD Direct Sales Companies.
Ideally, this business method eliminates the hardship of building your own company from scratch. So CBD Direct Sales Companies make it so much easier for you to start a business. All over the world, CBD is getting a buzz. And independent sales associates are helping to make that possible.
In case you are looking to get into the CBD business, this post shares some great companies that you can consider. The point, in fact, Can The Best Direct Sales Businesses Survive today? Seemingly, even the best ones are struggling with what is happening in today's world.
Over recent years, the marketing of CBD oil and its products have seen an uptick. Just looking at Google Trends is a clear indication of that. No wonder people are gravitating towards the opportunity.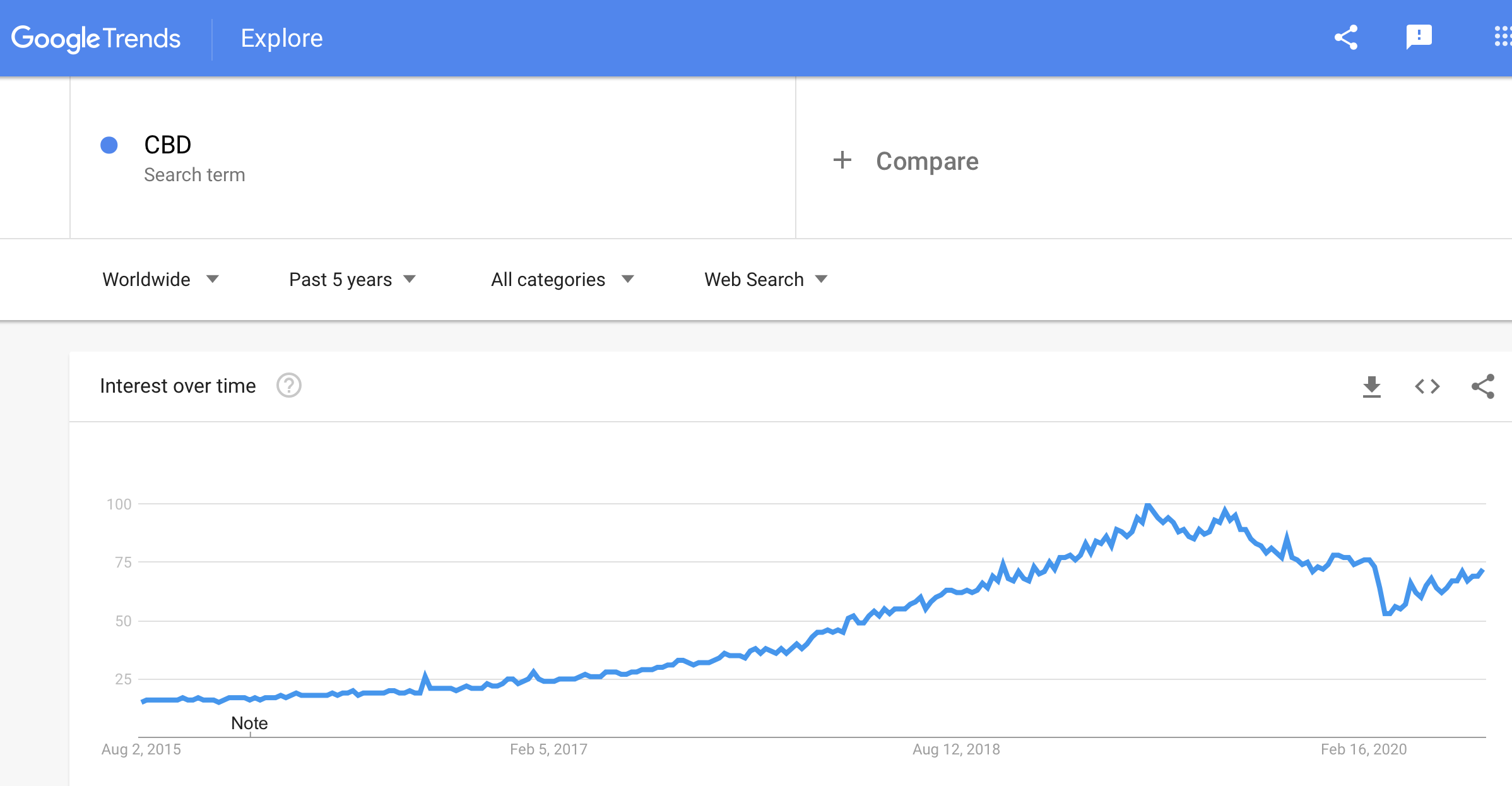 Several companies have come on stream. Because CBD oil sales have been growing, these companies may just offer the help you need to earn an income. Significantly in 2018, the CBD direct sales companies hit more than $300 million in the sales of CBD oil and related products.
(source: businesswire.com/news)
Being an independent associate, you can purchase the products and resell them at a markup price. Or you can recruit other people to join the business. Usually, the company gives you access to an exact copy of their website.
Related: Where Buy CBD Oil: Next Big Thing For Home Business
7 CBD Direct Sales Companies (Start Anyone Right Now)
Chiefly, these companies focus on helping people to improve their health and wellness. Forthwith, they make health and beauty products. Needless to say, our beloved pets are in on the products too. Joining a company actually means that you intend to promote the company and its products.
Recruiting other people to join the company is certainly a key factor. Depending on how many people you recruit and how well you make sales, you earn commissions.
Similarly, buying wholesale and reselling at a markup price provide the opportunity to earn a profit. By the way, the companies below are not in any specific order.
1. CannaBliss Farmacy
Specifically, this company offers products such as:
Topical
Tinctures
Gummies
Soft gels
Bath products
Beard care
Pet care
Do you have a store and want to sell CBD oil and related products?
Here is what Cannabliss Farmacy has to offer:
"The CannaBliss Columbia Hemp Oil Wholesale & Zero THC CBD Product Reseller program is designed to allow retail business and independent entrepreneurs to capitalize on the rapidly growing Full Spectrum Hemp Extract market by offering the CannaBliss line of premium, pharmaceutical grade Full Spectrum Hemp Extract products."
Steps to Join the Reseller Program
Apply to partner with the reseller opportunity
Get a special promo code only for you
Shop and apply the promo code at checkout.
Quite noticeable is that "reseller orders must be a minimum of $500."
Related: Miracle CBD Hemp Oil Benefits
2. Changing The Future Outcome (CTFO) CBD Oil Company
Primarily, CTFO produces organic hemp oil products grown in the U.S.A. To ensure high product quality, the company uses the services of a 3rd party laboratory. They do their own packaging as well.
Would you like to join this company? It is actually, free to join the CBD oil business with this company. Products include CBD drops, sprays, and capsules. Also, skin and hair care products. So if you have an interest in this opportunity, you can do so without any obligation.
From the sales on your replicated website, you can earn 20%. Take a look at the compensation plan and see all that this company offers. Again, if you are doing wholesale, you'll sell products at a markup price to reap the financial benefits. Keep in mind that you can also earn from team building.
Related: Make Money Selling Hemp Oil
3. Kannaway
Notably, this company is the first to offer CBD products using the direct sales business model. From 2014 the company has been marketing "hemp-based" products.
Its parent company is Medical Marijuana Inc. which is a big deal. Furthermore, Kannaway has been collecting quite a few awards from global businesses. Read the stories here.
Among the top 100 MLM companies in 2020, Kannaway ranks at #33. Although the company has its base in California, its products and business opportunity are popular in many European countries.
Signing up with the company as a brand ambassador comes at a cost of $54.98 per year. Remember that you have to be at least 18 years old to join. Likewise, paying the Annual Brand Ambassador fee to remain an active member.
Buy For Yourself And Resell
Becoming a brand ambassador gives you the opportunity to buy and resell the company's products. In addition, the company allows you to have a replicated website.
Therefore, customers can purchase various products like:
Pure CBD oil topical
CBD oil Capsules
Edibles
Skincare products infused with CBD oil
Essential oils
Hemp oil for pets
Super Greens
Power Protein
Reading more of the compensation plan can give you a great idea of how you can earn an income with this company. Undoubtedly, Kannaway is present in many countries. Especially in Latin America where direct sales are very strong. Albeit, the potential is great.
4. CBD BioCare
Again, this is another company based in the United States. Key point is that they focus on using organic hemp. Similar to other CBD oil companies, their products are mainly for wellness, pain relief, skincare, and pet care.
Including among the product line are full-spectrum CBD oils, CBD liquid capsules, and gummies. Plus products for skincare and pets. Spreading the word about these products can work out as an income earner. Generally, sales reps can earn up to 40% commissions. Looking at the commission structure gives a clearer picture.
Accordingly, you can join free of cost or pay up to $349. Typically, the free option does not give much access to the real business opportunity. Except for the website's dashboard as usual. Nonetheless, it may be hard to earn money with the free option.
Paying $349 gives much more as anyone would expect. Immediately after you pay, you'll get a landing page. Right away, you can log on as a sales representative, load your picture, and complete your profile page. Thereafter, you'll have more access to the platform, even coupons to give away to customers.
Partnering with the company, you can also purchase wholesale products for resale. Take a look at the wholesale information here where you can look closely at the wholesale price list.
5. HB Naturals
Coming out of Kentucky, HB Naturals ensure that all of their CBD products are organic and non-GMO. Setting itself apart from other CBD companies, they offer "Love Boxes." Some of these boxes have a variety of their best-sellers or family essentials.
Available also are "Love Boxes" for the heart, the liver, and overall wellness. Different from these love boxes, there are CBD infused products for weight loss, personal care, and pet care. Just naming a few.
Does this sound like a company you would join? Signing up for a free member account is available. Following that, you have access to a "free ShopHBN.com/username website."
Granted that you make sales from this website, you can earn 50% commissions on all the orders from your customers. This, however, is just one of several earning options. Viewing more options may just give you a boost to join immediately.
6. My Daily Choice (HempWorx)
First of all, this company goes hand in hand with HempWorx. Some people may think that they are separate companies. Truth is that:
"HempWorx is a product brand inside of MyDailyChoice. By becoming a MyDailyChoice Affiliate, you are able to purchase and market HempWorx products along with any other MyDailyChoice products available."
Chiefly, this company focuses on full-spectrum and THC products. "When joining MyDailyChoice, there are many affordable options that give you a lot of value and a turn-key business as soon as you enroll. You have the option to select any of the MDC products with packages that range from $39.00 – $599.00 depending on your product choice."
(source: mydailychoice.com)
Joining Options
Important to realize that this company depends greatly on "Preferred Customers." Mostly, they consider this as "the core of their business." Either join this company as a preferred customer or as an independent affiliate.
A "Preferred Customer" makes purchases every month and they "pay member prices." Correspondingly, they have access to a "replicated website so they can share the MyDailyChoice products with their friends."
"In exchange for the referrals, MyDailyChoice gives Preferred Customers free product each time they refer (3) Preferred Customers. Once a Preferred Customer has referred (3) Preferred Customers, they will be able to have (1) of the MyDailyChoice products shipped to them at no cost."
As a retailer, you purchase products at the member price and resell them at a markup price. For example: Get 20 sprays at the member price of $299. The suggested retail price is $399. Profit at $100.
Various products that you can offer includes:
Tinctures
Topical
Softgels
Gummies
Pet products
Bath bombs
Haircare
Coffee
7. Reliv
Ever feel passionate about having a wellness business? Is your desire to work for yourself? Reliv has an opportunity for you as an independent distributor. Literally, joining this business opportunity is at a small cost of $20. Moreover, there is a 20 – 40% discount on products. Seriously, they even have a zero-risk guarantee.
At Reliv, they are always doing research studies to assess how well their products can give desired results. Needless to say that they have a strong commitment to making their products the best in the nutrition business.
Especially, products include "full-spectrum hemp extract" and you can get these at the Master Affiliate prices. Hemp Full Spectrum 750 for instance is $60.00 at the Master Affiliate price. Therein, the suggested retail price is $100.00.
Five Ways To Earn With Reliv
Ways to earn with Reliv Include the following:
Considering that you purchase products at a discount, you can "earn up to 40% retail profit" on your sales to your customers.
Once you get other people to join the Reliv business, you can earn 5% – 20% in wholesale profit.
Given that you recruit others you can: "Earn overrides when you reach our core position Master Affiliate and bring others into the business as Master Affiliates"
Start qualifying to earn cash bonuses and trips from the moment you start
Teaching other people how to build a great business with Reliv can give you a place on the Ambassador Team.
Alternative For CBD Direct Sales Companies
Are you really earning enough from CBD Direct Sales Companies? Sure, making money with direct sales is not as easy as so many people think. Would you like an alternative? Rest assured that affiliate marketing is an ideal alternative. For one thing, it is:
Cheap
Fast
Easy
Free from recruiting
Not necessary to build a team
In case you have an interest in this alternative, Wealthy Affiliate can help you realize your financial dream. Assuredly, this training platform is the very best you'll find online.
More than that, they offer training for free. Isn't this a great idea especially for newbies? Besides, free training allows you to make a comparison with what you are presently doing. Definitely, this is my #1 training recommendation to start an online business.
"A year from now you may wish you had started today." (Karen Lamb)
Concluding Thoughts
Overall, these are truly 5 great CBD Direct Sales Companies that you can start a business with right now. Indeed, if you would like to be in the health and wellness niche, CBD oil and its related products are hot.
Are you stretched for funds? Why not try affiliate marketing? After all, doing business for yourself doesn't have to cost an "arm and a leg."
Hope you are happy with your experience at theworkathomebusiness.com. If you have any questions, concerns, or suggestions please let us know. Feel free to share this page or leave a comment.
Carol
theworkathomebusiness.com
P. S. Sign Up For My #1 Recommended Training Course And Learn How To Start Your Online Business For FREE.
"If you don't try, you forfeit the opportunity." (Frank Sonnenberg)