Usually, Direct Sales Women Clothing is of high quality and quite unique. For many women, fashion is a big deal. Since there is much competition with styles in the clothing stores, many people look to direct sales companies for their fashion wear. Starting a business in Direct Sales Women Clothing has its ups and downs. So the key focus of this post shares some recommendations that you can check out.
Matter of fact, you can check Google Trends to see the likelihood of having a direct sales clothing business.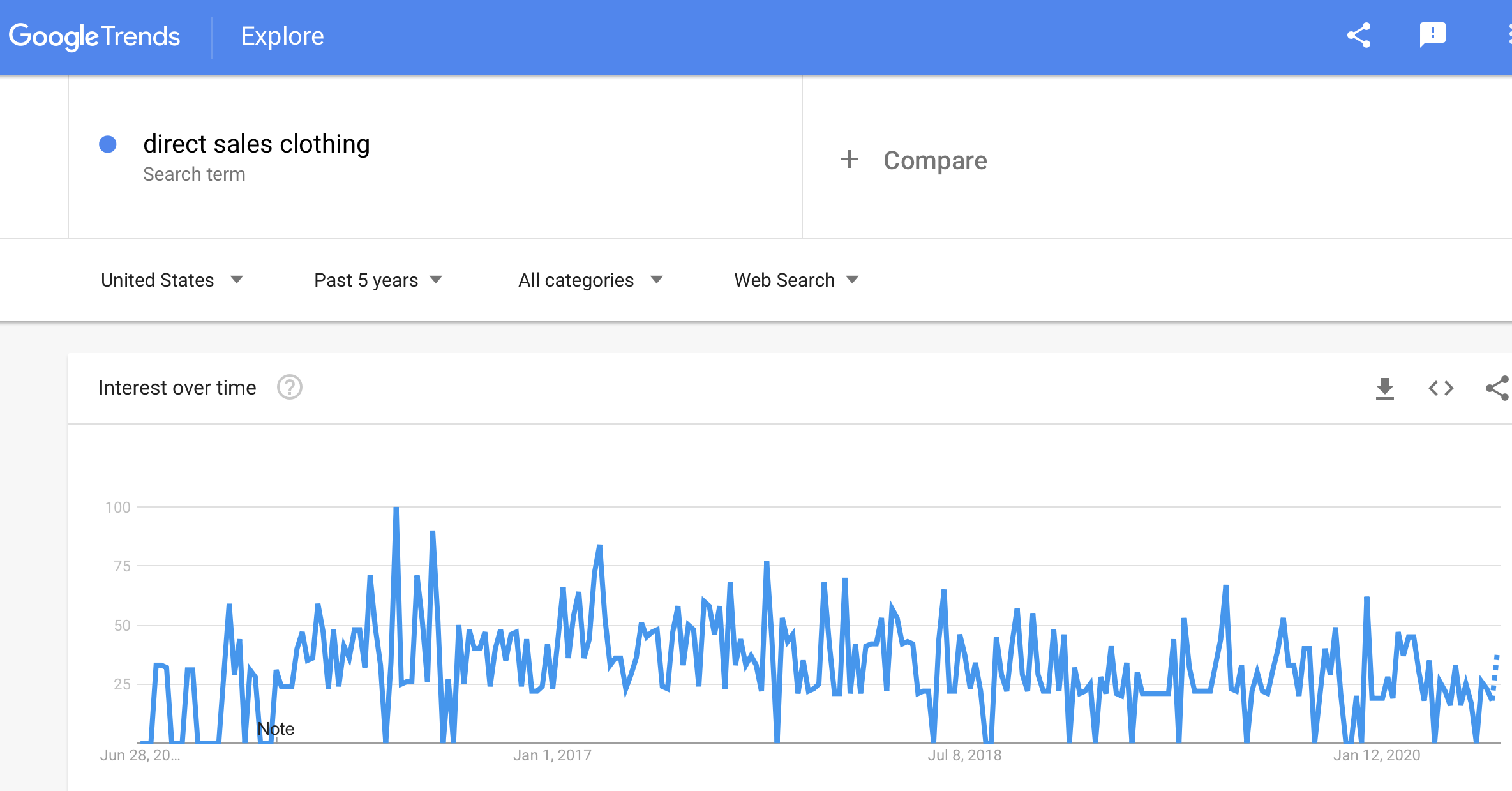 Undoubtedly, this business idea offers some convenience. One notable advantage is providing customers the comfort to purchase clothing in their own homes. Because these companies often sell one of a kind styles, it's hard to find them in the stores.
Related: How To Start An Online Boutique For Free
"Don't worry about funding if you don't need it. Today it's cheaper to start a business than ever." (Noah Everett)
Discovering How to Create A Fashion Business Website can be a great inspiration.
Due Diligence Before You Invest
Working with these companies requires careful thought. Before you invest, it is important to check out the long term possibility. Some of these companies do require a substantial amount of investment. Yet, they may eventually close down. Having to purchase inventory can be a win or a loss. Why not consider free boutique companies to start with? They can certainly give you an idea about the business.
Obviously, when you make sales on a regular basis, your earnings can definitely add up. On the other hand, sales can be slow, and you are stuck with costly inventory. That's why you may want to think about companies that offer affiliate marketing as well.
7 Direct Sales Women Clothing Companies (Fashion Business Ideas)
1. CAbi (means Carol Anderson by invitation)
Firstly, the clothing line for this company is quite classy and of course top quality. Needless to say, starting a business with CAbi is really pricey. With an investment upfront of about $2,750 you basically get enough samples for one season. Point, in fact, you need a new inventory for each season.
Targeting an audience of professional women who like stylish clothing, you can offer a smart casual look for work. Being well tailored, women can get clothing that can help to improve their physique. Whether you want a taller or skinnier look, the clothes have that kind of design.
Price range is usually over $50 even for a simple tank for instance. And a blouse can cost over $100. Notably, the selection does not have too many options. Supposedly, because the clothing line is really seasonal.
Earning from commissions is 20% – 33% on all your sales. This depends on your progression and working with your team. Depending on how well your team does, you can also earn extra commissions from the sales.
Only Accept Serious Sellers
As a stylist, you are not just selling clothes. Rather, you are helping customers to choose the right fit for their body. Thereby, helping them to look real good. If you have an audience in mind and a passion for this kind of business, then this company may suit you well. Only those who have serious intentions to sell though.
Do you see yourself selling $2,500 of clothing within the first season of joining? Thereafter, can you sell $3,500 for the other seasons? Meeting these goals are important or else, you can consider yourself out of the business. Watching this short video may just inspire you.
Before you invest, the company clearly points out how much you need to make in sales to remain active. Sure enough, the high expectation can be a bit intimidating. As a result, many people back away from the opportunity. Hence, there are fewer distributors and a reduction in competition.
Related: Best Products Sell Online (20 Examples Plus Tips)
"The important thing is not being afraid to take a chance. Remember, the greatest failure is to not try. Once you find something you love to do, be the best at doing it." (Debbi Fields)
2. Peach
Primarily, this company brings to customers simple, casual and comfortable clothing. Among the items of clothing are athleisure wear for "gym, work and play." Essentially, they are quite versatile so you can mix and match. When you become a Peach stylist you get to own your own website.
"Peach launches stylish collections of apparel and accessories four times a year and offers a line of perfect basics, called Essentials, year-round." (source: discoverpeach.com)
The minimum cost to start your own business is $199. Including in the kit are "clothing to wear and share." Virtually, you can sell through social media. Also, sending out emails.
Noting the prices for simple items may deter customers. Take for instance a tank top costing $39, shorts for $55, crop pant for $89. Sure, these prices can cause customers to have second thoughts about purchasing. From all your sales, you can earn 25% commission.
3. Carlisle Collection
Chiefly, this company focuses on giving women a classy look. Either professional or causal, women can find jackets, dresses and stylish separates for different occasions. Seeing that the clothing line is quite exquisite, the prices do match the quality.
So if you have an audience for this type of clothing, you can expect to present prices over $175 for a sleeveless top to over $540 for a dress. Needless to say prices depend on the style and the item. Due to the high prices, the earnings can definitely add up as long as you are making sales.
Typically, you will need to purchase inventory for each season. Forthwith, you may want to consider offering end of the season discounts throughout the year. Considering that you get special discounts as a distributor, you can certainly resell and still make a profit.
Related: 10 Free Direct Sales Companies (Can You Earn Money With These?
"A dream is your creative vision for your life in the future. You must break out of your current comfort zone and become comfortable with the unfamiliar and the unknown." (Denis Waitley)
4. Ruby Ribbon
Foremost for this company is women's intimate apparel especially shape-wear. Designed to enhance women's shape, you surely have an audience for this kind of clothing.
Regardless of a woman's physique, there are various styles and pieces to fit all sizes. From extra small to triple large. Rest assured that the fit does bring satisfaction.
Starter kit is from $149 – $399. Apart from shape-wear products, you will have access to a website, plus business supplies. Product prices are generally above $50 for many items. Generally, you can earn between 20 – 40 percent commission on all your sales.
Progress as usual, involves team work. Also, active recruitment of other people to join the company. Don't forget that making sales are most important. Moving from the first rank to second for example needs over $750 in sales. Getting to the other ranks also have sales requirements and personal goals. But things can be complex for the latter ranks.
5. La Senorita Jolie
How about a business with casual clothing, jewelry and accessories? Surprisingly, the starter kit for this company doesn't require much upfront cost. Looking at the Ambassador kit for instance costs only $34. Seriously though, there is not much in it. Only one legging or a top and one stainless piece of jewelry.
Deciding to become a stylist gives "access to discounts from 25% – 50% off retail." Albeit, the commissions that you can earn are 25% for clothing and 35% for jewelry. Additionally, you can also earn bonuses, and that's another 12% from their team.
Doing business with this company requires purchasing inventory. Chiefly, Pop-Up shows are the popular method for selling. Also, through a replicated website from the company. On a quarterly basis, your sales need to hit at least $200 if you want to remain an active stylist.
6. Ava Rose Designs
Here is another company that offers casual and reasonably prices for their clothing. A mini kit costing $149 can get you off the ground. With a few products in the kit, you can check to see if the quality is ideal for your business.
Prices range from just over $20 for a tee to over $100 for a dress. Though there are no seasonal collections, they are consistent with new arrivals. Nonetheless, the variety is not wide.
Once again, commission on your sales is 20%. Referring members to the company can increase your earnings to 30%. Remaining active means that you'll have to make sales amounting to at least $300 for the year.
Related: Working At Home Jobs That Are Legitimate (These Pay Well).
"There is no success without commitment and action." (Vantel Pearls)
7. Matilda Jane Clothing
At the top of the list for this company is clothing for girls. But, they offer some clothes for women as well. Even though the company does not offer clothes solely for women, it's worth mentioning here.
Setting up business with this company can be costly. According to the company's website, the starting cost of $1,600, gives you everything you'll need to start your business. With an assortment of clothing and accessories for girls, plus promotional resources and marketing tools," you are ready to showcase.
Notwithstanding the cost, many distributors adore Matilda Jane Clothing. Often, the collections are cute with some being bright and stylish. Despite the selection there are always new styles which is great for some customers. Markedly though, others think some styles are just odd and not so attractive.
Unlike so many other companies, Matilda Jane Clothing offers "financing and payment plans." Inasmuch as you may want to start a business with this company, it's best to keep in mind your target audience.
Independent Consultants or Trunk Keepers
Joining the company involves two options:
Work as independent consultants
Be trunk keepers
From your monthly sales, your commission earning is 20% if it is less than $2,500. Similar to other companies, you can also earn more when you go the extra mile beyond your personal sales.
"End-of-season sample sales can create revenue—and a fun touch point with your customer base. And by recruiting new Trunk Keepers and building your own team who sell inventory, you can take part in the sales success of the group!" (source: matildajaneclothing.com)
Alternative Backup
By the way, you can build your own boutique website to start a clothing affiliate marketing business. There are so many companies that you can join to promote their products.
Keep in mind that you can earn commissions on all your sales. A company like Stitch Fix for instance allows you to join their affiliates program. Through Viglink you can have access to various affiliate companies. Whenever new customers do business with Stitch Fix through your affiliate reference, you can earn money.
Writer's Note: You Can Learn To Create Your Own Affiliate Marketing Website Here.
Promoting your favorite products from various companies can definitely add to your income stream. Unlike direct sales, you don't have to bother with the recruiting and the downline tangle. Just go ahead and create your clothing website to kick start your business.
Maybe affiliate marketing is not what you would like. Probably one of these learn to earn from home jobs may be the ideal.
Related: Create A Website Business
"Tomorrow is too late. Yesterday is over. Now is exactly the right moment to start." (anonymous)
Concluding Thoughts
Overall, these 6 Direct Sales Women Clothing Companies are among the best that you can join. Remember that due diligence is important. Before you make any investment check to see if the opportunity is really viable.
Bear in mind that you can actually start an online business without investing all that money in direct sales. Best of all, free training is available for you to build your own online clothing business. Remember that you can invest in direct sales and don't even make a penny.
Hope you are happy with your experience at theworkathomebusiness.com. If you have any questions, concerns or suggestions please let us know. Feel free to share this page or leave a comment.
Carol
theworkathomebusiness.com
P. S. Sign Up For My #1 Recommended Training Course And Learn How To Start Your Online Business For FREE.
"If you don't try, you forfeit the opportunity." (Frank Sonnenberg)
"A year from now you may wish you had started today." (Karen Lamb)