Hear about Azuli Skye? Notably, this is a jewelry company that offers customized collections. Accordingly, you can personalize your own jewelry, even for a loved one. Without a doubt, the collections that Azuli Skye offers are not only beautiful and affordable, but the jewelry comes in a variety of colors.
Do you like sterling jewelry? Assuredly, you can start your own trendy jewelry business with Azuli Skye. Chiefly, they offer fashionable, high quality products. When you join the business, you have the option of getting all the supplies for your "first 6 jewelry parties."
Related: 10 Jewelry Direct Sales Companies
Writer's Note: Want To Learn How To Start Your Own Online Business? Click This Link For Free Training.
"The important thing is not being afraid to take a chance. Remember, the greatest failure is to not try. Once you find something you love to do, be the best at doing it." (Debbi Fields)
Free Jewelry?
Once you join this company, you can get your jewelry for free when you host a party. Of course, you would need to meet the requirement. Specifically, the requirement refers to the "Success Challenge and Sponsoring" opportunity.
Through this challenge, you can earn free jewelry. Basically, that is what will cancel out your start up cost of $159. Looking at Google Trend, you can see that people have a steady interest in Azuli Skye.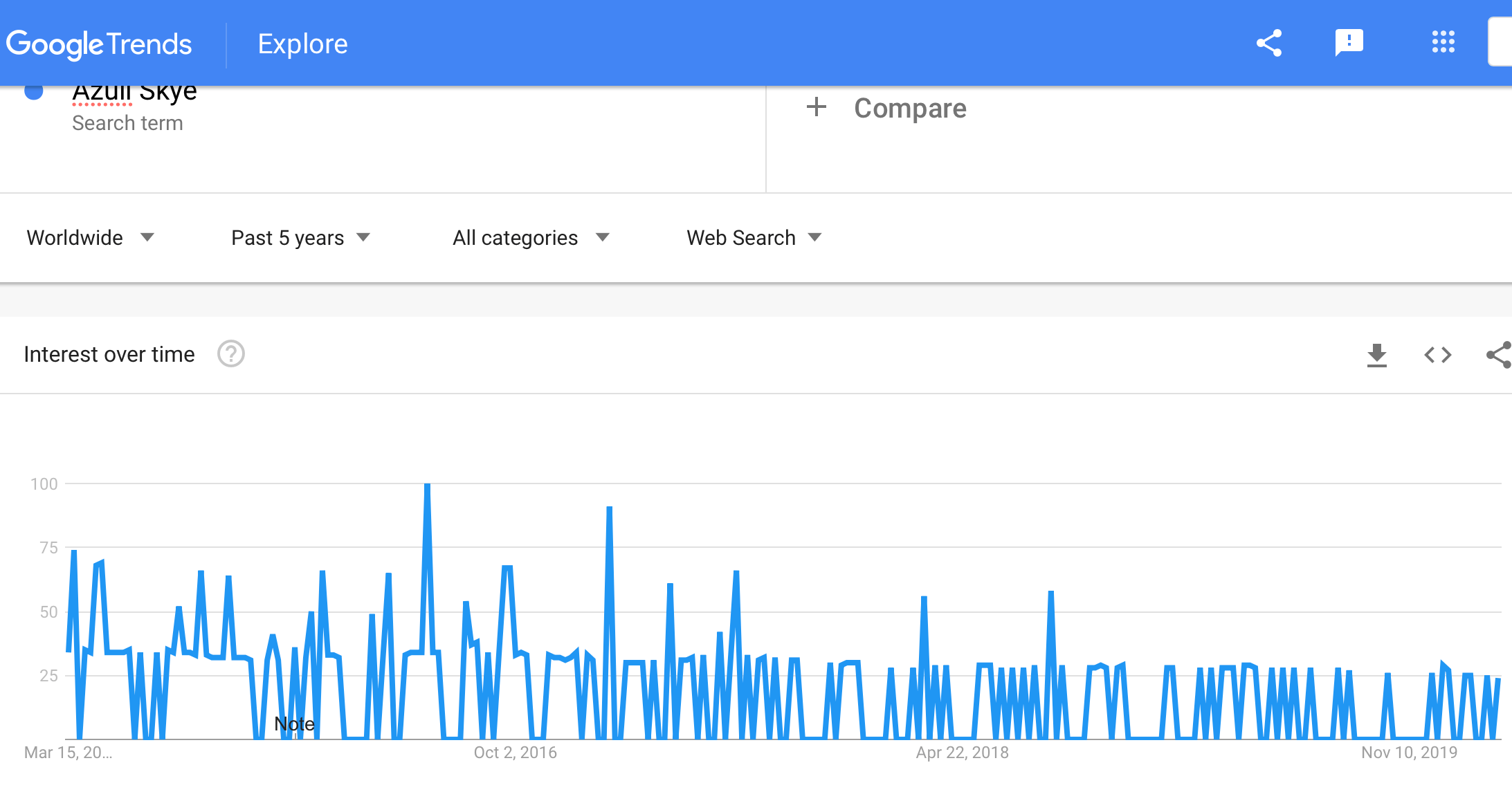 Can You Make Money With Azuli Skye? (Facts Revealed)
Company Name: Azuli Skye
Headquarters: North Carolina, United States
Founder: Deb McNaughton
Year Founded: 2008
Products: Sterling silver, fashion jewelry, Swarovski crystals, semi-precious stones
Business Type: Direct Selling
Method of Selling: Person to person
Commission: 25% on retail sales 
Founder's Dream: "To provide high quality, affordable jewelry that would appeal to a variety of personal styles and an opportunity for women to find financial freedom through owning their own business." (source: azuliskye.com)
Watch this video to see how Deb McNaughton the founder explains about the company. Seeing some inspirational collections may just give you the motivation you need. No doubt the business opportunity seem quite attractive especially if you love jewelry.
Know The Compensation
In addition to the 25% commission, there is a 5% sales bonus on personal retail sales which is $1,500 or more. As an active consultant, you also need to make $250 or more in personal retail sales in the calendar month.
Furthermore, you need to "submit at least $250 in personal retail sales every rolling 3 months and receive your personal website for free." Checking the compensation plan to see if this is the business you would like is definitely important. 
Does this sound far-fetched? Perhaps you can Check The Online Business Alternative That Wealthy Affiliate Offers.
"Unless you walk out into the unknown, the odds of making a profound difference in your life are pretty low." (Tom Peters)
Reinvent Yourself With Azuli Skye Jewelry
Similar to other Jewelry Direct Sales Companies, you can find "beautiful, unique jewelry" to revive any outfit. No matter what your daily outfit is, you can dress it up with "crystals or go a bit edgy. By adding leather and stylish jewels, you can create the perfect look." (source: azuliskye.com)
Offering quite a speedy and cost effective way to reinvent an outfit, women can change their styles with just pieces of jewelry. Forthwith, their clothes can look like new once more. Typically, you can find various designs that women can express their individual style. Truly, this may very well help to boost women's self-confidence.
Ways To Wear Azuli Skye
Dress For Work At The Office
To compliment your work outfit, you can find a piece of jewelry to add color or just to tone it down. Take for instance bright pinks with adorable pink hues. Easily, you can beautify a light gray professional pants suit with a soft-hued top.
Socializing Night Out With Friends
Styling with sophistication in that little black dress can get the glamour look with a hot pink jewelry set. Finding a pair of necklace and earrings with "silver undertones" can complete your night out on the town.
On the softer side, "pink and brown tones" can help to brighten up any neutral outfit. Really, you can quickly put your outfit together with the ideal burst of color.
Eye-catching Ways To Accessorize
Quite noticeable is that the company shares various ways of how you can wear different pieces of their jewelry. Below are a few suggestions that you can share with customers.
Getting a versatile metal mix set is ideal for an every day or a night on the town look. Accessories like these make it easy to put "cool and warm tones" together. Keep in mind that you can mix these metals with a unique cuff as well.
Different shades can give a great look with almost any bracelet. Looks can be quite stylish with a burst of color. Accessorizing with a metal mix set can take you straight from work to a more casual night out with friends.
Golden Tones Look
Ever watch the sunset and see the different shades of gold? Getting a golden necklace and earring set reminds me of that. Pairing this set with a "wrap watch and element ring" gives a fresh warm tone look.
Following this further, you can complete the look with a cream or off-white casual dress. Pull on that pair of sandals and you have a smart casual wear to the supermarket. Or any store. As a night wear for the town, you can go with bold colors.
The Crystal Studded Necklace
Wearing a starfish necklace reminds me of the beach. Moreover, when you wear it with a blue dress the crystal studs stand out. Finishing the look with a pair of light brown flats gives a real chic look.
Author's Note: Remember, you can check out the free training that Wealthy Affiliate offers in Affiliate Marketing.
"A dream is your creative vision for your life in the future. You must break out of your current comfort zone and become comfortable with the unfamiliar and the unknown." (Denis Waitley)
Wearing Artisan Jewelry
Any artisan jewelry can add a touch of fancy to a casual outfit. Pull on a bold color top and "white capri or slacks" make a gorgeous look. Together with medium heels and a black jacket, you are sure to highlight your look.
More specifically, you can add some radiance if you choose to wear a multi-colored bead necklace. Polished beads can add elegance and style to any outfit. Again, it's either with that little black dress or just go casual with jeans and t-shirt. Undoubtedly, it can be good-looking.
Charming Pieces For Every Season
Offering playful and carefree pieces can help customers to feel ready for any season. As every season approaches, you can pep up your look with simple yet charming pieces. Beyond any doubt, completing the look with jeans, boots and a t-shirt give that smart casual look.
Coupled with a lively dress and brownish wedge sandals, you can dress up your look for any season. Especially on those warm summer days when you want to take a stroll in the park. Maybe for a picnic too.
Bookings: Key Focus of the Business Opportunity
"Bookings provide you with an environment to present your products, opportunity, and superior personal service, as well as the chance to turn your prospects into customers and business associates.
In essence, bookings transform you from an outsider into a professional because they give you the time and place to conduct business." (source: azuliskye.com)
Offers Jewelry For Every Occasion
For every occasion that you can think of, there are pieces of jewelry to fit. Not to mention the many colors. Rest assured that there is no shortage of trendy styles that's appealing to the eyes. Whether you want:
Jewelry that relates to nature
Bold eye-catching pieces
Shimmering styles to illuminate your look
Any occasion chic styles
Simple effortless styles
Classic statements
Artistic expressions
Everyday sophistication
Lifetime Guarantee
Granted that this business doesn't seem like what you are looking, you can check out my recommended alternative here.
"The secret of change is to focus all your energy not on fighting the old but on building the new." (Socrates, father of Western philosophy)
Personalize Signature Collections
Being that the company's business model is in Direct Sales, the method of selling is mainly person to person. Through this business model, you can help customers personalize their jewelry style. Signature Collections to choose from include: Mimzi, Pixi and Loxi.
Mimzi Collection
Under this collection, here are a few pieces that are available:
Essentials
Bling Bling
Crystals
Sterling Silver
Glass
Strictly Silver
Naturals
"Our Mimzi collection features hundreds of adorable Sterling Silver charms and glitzy, colorful spacers to mix and match for a look that's uniquely you. Personalize your bracelet or necklace to celebrate what's important in your life. Choose from a large selection of stunning Mimzi's designs and themed charms that express who you are…what's your story?"
(source: azuliskye.com)
Mimzi Starter Kits
With these kits, the possibilities to personalize jewelry seem endless. From a pop of color to your favorite purple, green, blue, red: just naming a few. Basic kits come as:
Originally, the price for each kit starts at $129. Presently, it is going for $79. Each kit comes with sterling silver jewelry like bracelet and beads. Plus, the "5 coordinating Mimzi's."
More Signature Collections
Pixi Collection
In this collection the Pixi's themselves come in various shapes, sizes and colors. Also, there is the Mini Pixi version. Pixi basics include:
Sunglasses
Tie bracelets
Stainless steel rings
Pendants
Necklaces
Loxi Collection
For this collection, there are the basics, floats and crystals which come in various shapes and colors. More notable are the Swarovski crystals.
SkyeDreams Kit 
Among other things, this selection has jewelry, training materials and business supplies for your first 6 parties. Choosing this kit allows access to an "exclusive online Consultant Cafe which allows you to connect with other consultants throughout the country." (source: azuliskye.com)
High Rating
Interestingly, the Better Business Bureau has given the company an A+ rating. So when you join this company, there are quite a few perks you can expect. Here are a few things that they help with:
Sales tax remittance
Provide tools for training
Processing of credit card
Free website
No charge to renew membership
"Yesterday is gone. Tomorrow has not yet come. We have only today. Let us begin." (Mother Theresa)
Prominent In The News
Interestingly, the media seems to have a liking for this jewelry company. Often, the founder Deb McNaughton will get a number of interview requests. Ideally, that's an opportune time for her to share her story.
Including in these requests are interviews by:
Dr. Jane Greer on the Healthy Life Radio Network
WFIN (1330 AM) radio station broadcasting
TheFamilyGroove.com (profiled with Mompreneur)
Woman's World magazine (up to 8 million readers each week)
KCMN (Colorado Springs) interview with Tron Simpson
Mostly, the topics she discusses are important to women. Some of these include:
How to start your own business
Finding what you love
Embracing change
Achieving work and family balance
Making extra money in times of trouble (for women)
Alternative For Azuli Skye Direct Sales
Despite the nice things you hear about direct sales, it can be very challenging to make money. Especially if you don't like person to person sales. Doing Affiliate Marketing does not require the typical things for direct sales:
Monthly purchases
Meeting monthly sales requirement to remain an active member
Paying an annual fee
Using a duplicate website
Having house parties to introduce customers to a product
Recruiting others to build a team
Don't think you are ready for the Azuli Skye business opportunity? Probably, you are not so much into the recruiting business. Or you don't like the idea of a duplicate website. Not to mention monthly purchases which can be costly.
Important to realize that there is a Better Choice. Free Training Is Available. Click This Link For Instant Access. It Will Take You To My #1 Recommendation For An Online Business. There Is No Need For Any Credit Card Information. Start Learning For Free.
"Don't worry about funding if you don't need it. Today it's cheaper to start a business than ever." (Noah Everett)
Concluding Thoughts
All in all, Azuli Skye does offer some gorgeous pieces of jewelry. If this is where your interest lies, it is one company that you can think about. Nonetheless, there are a good deal of other jewelry direct sales companies.
Provided that you put in the hard work, you can surely make money with Azuli Skye. Seriously though, if you are thinking about a jewelry direct sales business, do think about the specifics that you need to meet.
Truth is, many people like myself discontinue this business model within a short time. Earning money in jewelry direct sales can be highly competitive. For this reason, I now do Affiliate Marketing. Actually, to do this right, you need the right training. Here Is My #1 Recommendation.
Hope you are happy with your experience at theworkathomebusiness.com. If you have any questions, concerns or suggestions please let us know. Feel free to share this page or leave a comment. 
Carol
theworkathomebusiness.com
P. S. Sign Up For My #1 Recommended Training Course And Learn How To Start Your Online Business For FREE.
"If you don't try, you forfeit the opportunity." (Frank Sonnenberg)
Connect with me on Social Media.
Instagram
Popular Posts
Amazing Natura Brazil Products To Try Right Now
What Are Infinitus Products (Too Good To Be True?)
10 Best Direct Sales Companies (Health and Wellness)
What Is the Amway Opportunity? (Facts Revealed)
Ultimate Direct Sales Companies List (120 To Choose From)
Don't Start Direct Sales Company Before Reading These Tips
12 Best Direct Sales Companies
Believing These Direct Sales Myths Prevent Success
Facts Everyone Should Know About Discovery Toys
Where Buy CBD Oil: Next Big Thing For Home Business
Sell Items Amazon Consumers Always Want
Recommended For You
My Experience at Wealthy Affiliate
Reasons People Laugh About Wealthy Affiliate
What About Wealthy Affiliate? These Shocking Facts Review
Secret Opportunity Exposed: Freelance Writing Jobs Beginners
Effective Way to Earn Cash From Home