Don't Be Fooled By Work Home Assembler Jobs! Do these jobs really exist? For one thing, they don't need any significant ability to do them. As a matter of fact, some companies will offer the job description as a cut-and-squeeze-and-glue activity. That is to say, if it sounds too good to be true, then it is best to stay away from them. Truly, Work Home Assembler Jobs" rarely exist.
Nevertheless, you may be lucky enough to find an opportunity like "Disciple's Cross" which is a legitimate company. Actually, they really offer a Work Home Assembler Job opportunity. Ideally, if you can get the sales going, you may make up to $2000 a month. Just by putting the cool little crosses together.
In the event that you should ever want to get in on such an opportunity, remember due diligence is necessary. Most important is that you contact the company before you commit to doing this kind of business.
RELATED: Earn From Home in Wealthy Affiliate
Legitimate Work Home Assembler Job Opportunity
Considering that I have spent much time researching and digging deep to see if these jobs really exist, I think this one called Disciple's Cross is legit. Sure enough, I don't want anyone to be fooled by these so-called opportunities. That's why the key focus of this post is on this one company that I eventually came across.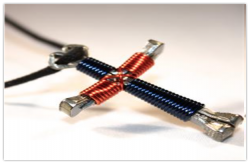 Since the research was so exhausting with little result, I am left to believe that not many of these companies seem to exist. Seemingly, Disciple's Cross stands out as genuine. Certainly, this one is worth a try and it is not a scam.
RELATED: Earn Extra Money Home
What is Disciple's Cross?
Product: Necklace
Company: Disciple's Cross
Starter Kit: $129.95
My Star Rating: 4.8 out of 5 stars
A pastor by the name of John Raymond is given credit for starting this company. Be assured that it is trustworthy. One summer, he allowed kids at a youth camp to make cross necklaces. Surprisingly, the kids fell in love with their handmade jewelry. Seeing that they were very popular the company was born.
Then came a big television opportunity for Pastor John. He appeared on the popular CBS television show: "Survivor Thailand." As he embarked on his survivor journey, he wore one of the cross necklaces. Obviously, this piece of jewelry was eye-catching.
Expectedly John had to answer quite a few questions. From the discussion, he got many requests. And so the demand grew and Disciple's Cross was fully established.
With the success of Disciple's Cross, Pastor John is extending this opportunity to others. Therefore, if you want to work from home and benefit financially, then you can definitely do business with Disciple's Cross.
RELATED: The Work-at-Home Business
Thriving Assembler Job Opportunity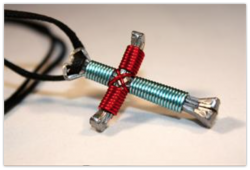 Unlike some other assembly companies, you do not have to ship the completed products to the company. Instead, you can just market them on your own. Especially if you have your very own website.
Plus, you can sell them at fairs or festivals, at bookstores Not to mention other online marketplaces. By the way, if you are involved with school clubs or a sports team, you could even check the possibility of getting some sales with them too.
RELATED: How to Money From Home
Disciple's Cross at a Glance
Starter Kit Contents
1 completed sample cross
25 Cross necklaces
Instruction DVD
Color Spectrum card with 31 available colors
Additional Tools Required
Notably, the kit does not include some tools, and you need to purchase them separately.
A pair of 10-inch curved jaw-locking pliers (available on the Disciple's Cross website)
One pair of long-necked needle nose pliers
More Helpful Tools
These other pliers can be helpful too.
7-inch medium wide mouth vice grips with a wide square jaw
5-inch needle nose vice grips
5-inch needle nose pliers
Clear coat acrylic: The company recommends "Delta Ceramcoat Gloss Exterior/Interior Varnish." You can purchase this at a craft or fabric store. Likewise, checking online, and also local hardware stores.
Do you need more ideas? This book offers over 250 Home Assemble and Crafts Jobs.
RELATED: Secret My Success
Pros
Needless to say that these necklaces are fun to make. Once you have the right tools, they are easy to complete. Moreover, you can finish one in just a few minutes. The size of each cross is about 1 & 1/2 inches tall and 1 inch wide.
RELATED: My Experience at Wealthy Affiliate
No Quotas or Monthly Fees
Another key point to note is that this company does not have any quotas that you have to meet. So you do not have to worry about the minimum amount to purchase. Neither is there a monthly fee.
If for any reason, Disciple's Cross is not what you like, you can learn how to create your own business from home with Wealthy Affiliate, the most popular online training. Specifically, you can start by building your website for free and start selling these products.
RELATED: What is VIPKID Teacher?
If you really want even more advice, I highly recommend you check out Wealthy Affiliate. These guys are the pros on how to build your website so you can have a successful online business.
Among the many online training platforms, Wealthy Affiliate is the most popular recommendation to build a successful business online. It gives you step-by-step training to build your website and shows you how to monetize it. Even though they offer a free starter, you can upgrade to their premium and get access to all they offer.
One Caveat For Disciple's Cross
Keep in mind that the kit does not come with tools.
RELATED: Facts Everyone Should Know About Discovery Toys
Who else wants to make $2000 a month with these cool little crosses? Why not give it a try?
Concluding Thoughts
Given these points about Work Home Assembler Jobs, I highly recommend Disciple's Cross. Surely, there are several companies on the internet offering these opportunities.
Certainly, most of the names don't even exist at the time of writing this post. Click on the link they provide and it takes you to something totally different. Instead, you get a list of other links to click on. Keep in mind, due diligence is key.
Hope you are happy with your experience at theworkathomebusiness.com. If you have any questions, concerns, or suggestions please let us know. Feel free to share this page or leave a comment.
Carol
theworkathomebusiness.com
More For You
SaveSave
SaveSave
SaveSave
SaveSave
SaveSave